90 Day Fiancé: Angela & Libby Potential Collab Discussed By Fans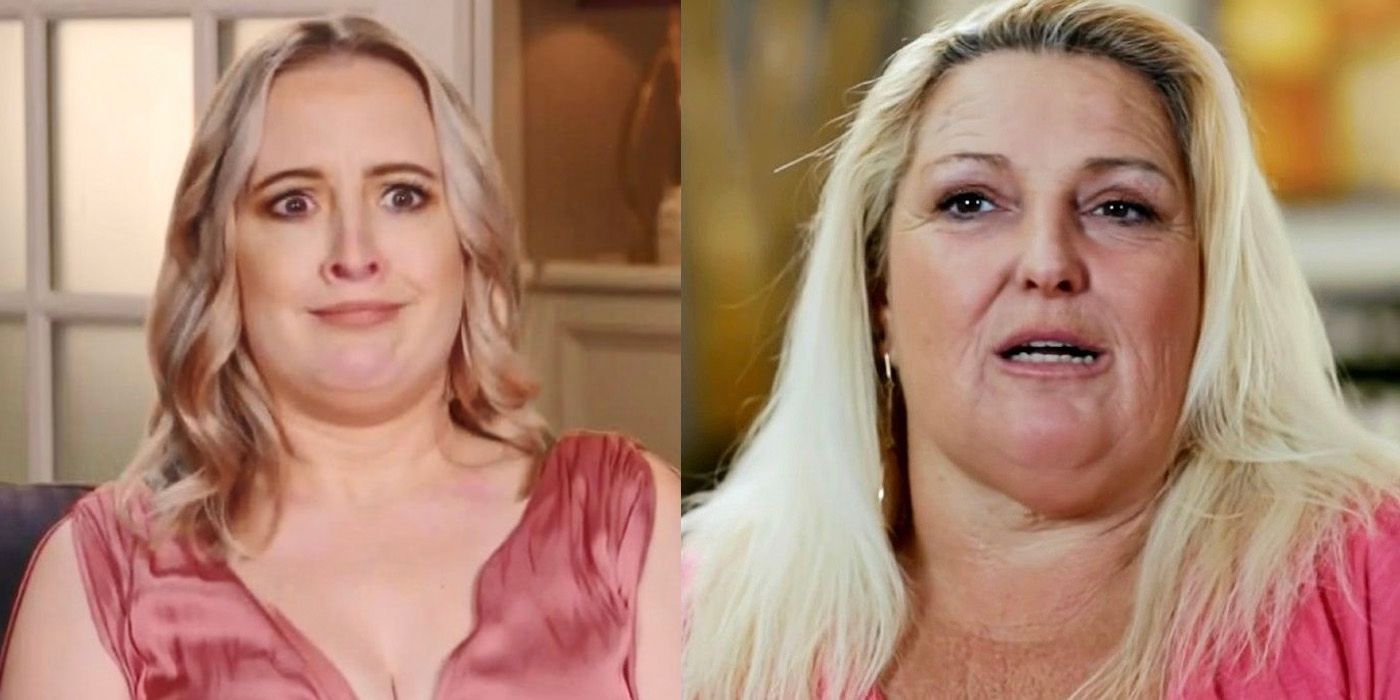 90 Day Fiancé: Happily Ever After? cast members Angela Deem and Libby Castravet are involved in separate drama on the show, but the two women might be connecting in real life. Both franchise regulars are being called out by fans for their bad behavior. While Angela's behavior towards her husband, Michael, has been deemed abusive by many viewers, Libby is criticized for her messy, vulgar and entitled family. Viewers had fun guessing about the nature of the two women's potential collaboration.
Both Libby and Andrei are annoying viewers with their Happily Ever After plot lines because of their stale and repetitive drama. Angela's plot has moved very far away from the K-1 visa process, as she instead focuses on an extensive plastic surgery transformation. Meanwhile, Libby is still showcasing family drama after many 90 Day Fiancé seasons of bad blood between her husband, Andrei, and her siblings. She recently threw fists with her sister Becky in an underwhelming fight that was called trashy by many fans. Though both women continue to lose fan support, they appear to be staples in the hit TLC franchise.
Related: 90 Day Fiancé: Biggest Rivalries Among Current & Former Cast Members
90 Day Fiancé Instagram fan account @tote_the_memes reposted a photo Libby shared with a comment by Angela Deem circled. Angela wrote, "Hi Elizabeth check your dm plz" on a photo Libby shared of herself, Andrei and their daughter. "I wonder what Angela wants to collab with Libby about? Any ideas? Libby didn't like the comment (maybe she hasn't seen it)," the fan account captioned the image. Commenters immediately had fun guessing why 90 Day Fiancé's Angela was reaching out. "Wants her to donate an egg and at the point probably 'tote' too," one pinned comment read. Angela's fertility journey has been chronicled in the franchise before she turned to plastic surgery instead of trying to have a child with her husband. "She's asking for an egg from Libby," another commenter wrote. You can view the post below:
"Probably giving Libby and her sisters the name of her plastic surgeon," another joking fan commented. Angela's plastic surgery journey has been extensively covered on Happily Ever After, while viewers have also noticed the plastic surgery changes in some Potthast family members. Libby's sister Becky, in particular, was called out by 90 Day Fiancé fans for seemingly purchasing a new face. Others joked that Angela was interested in Libby's wealthy father. "She did say at the tell all she should have met Chuck before Myyyykuullll," another pinned comment read. Others joked that she wanted a loan from Chuck as Andrei did. "Michael is out and she wants to hook up with Chuck," one fan wrote. "Probably about joining boom bod," another joking commenter chimed in. Overall, commenters had fun joking about the collaboration.
While Angela and Libby are not well-liked among franchise fans following their chronic bad behavior, the two women do continue to have large followings. Many viewers are curious about their potential collaboration, as their drama is watched by many. However, 90 Day Fiancé fans overall miss when the franchise focused on the K-1 visa process and showcased authentic romances rather than lowbrow drama or makeovers. Viewers are hoping to see future seasons of 90 Day Fiancé: Happily Ever After? reflect the initial charm that made the franchise popular in the first place.
90 Day Fiancé: Happily Ever After? streams Fridays on Discovery+ and airs Sundays at 8pm on TLC.
Next: 90 Day Fiancé: Cast Members That Fans Never Stop Rooting For
Source: Tote_the_memes/Instagram