Death of Doctor Strange Gets Mysterious in New Marvel Cover Art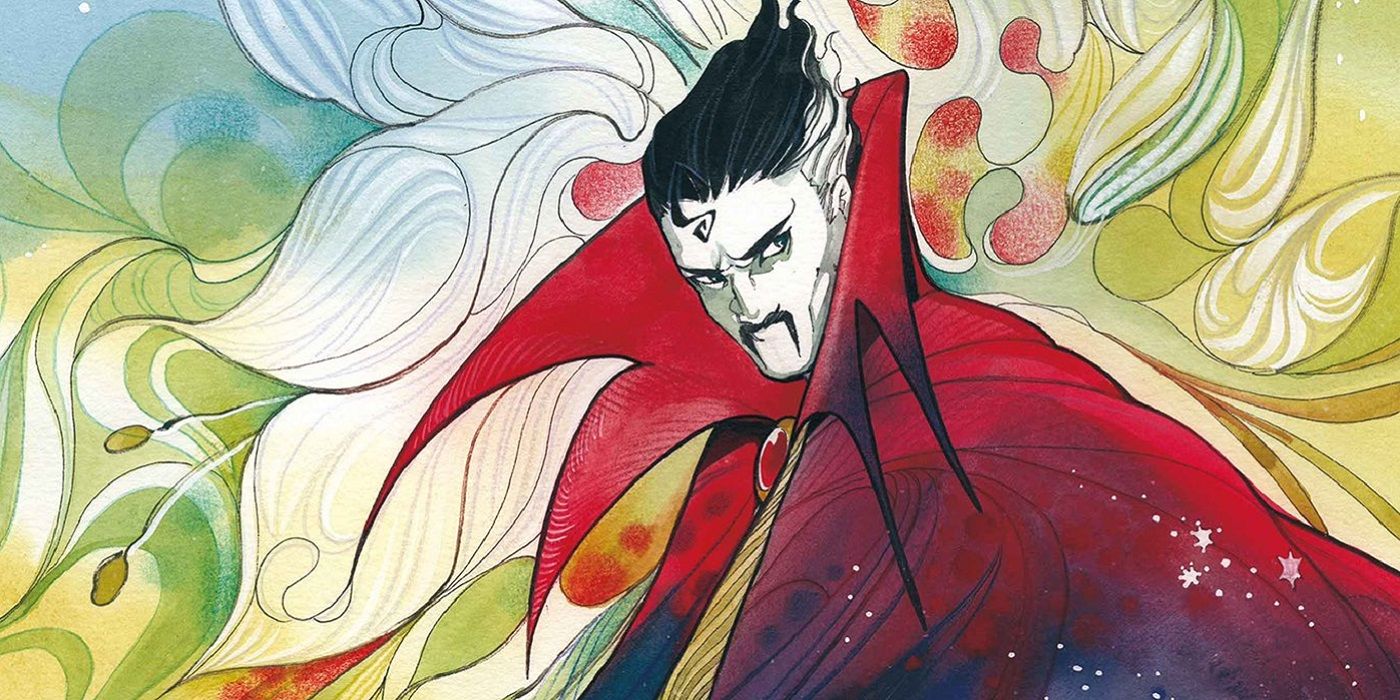 A gorgeous variant cover from Peach Momoko has been revealed for The Death of Doctor Strange #1. Apparently killing off the titular Doctor Strange in this new five issue-miniseries, Marvel teased the event as the "final saga" of Stephen Strange. While they haven't leaked how he will actually be dying, the description for the first issue does beg the question of who killed Doctor Strange, so readers can infer that he was murdered.
The story arc will also focus on what happens to the Marvel Universe after Doctor Strange dies, including who will take up the fight against the supernatural threats facing Earth's greatest heroes. The series will be written by Jed MacKay, who is also writing Moon Knight's new solo series. The artwork is by Lee Garbett, the artist for Marvel titles such as Loki: Agent of Asgard and Captain Marvel. The only cover art revealed so far is the main cover by Kaare Andrews (Iron Fist: The Living Weapon) and the newly unveiled Peach Momoko variant. But other artists listed for variants of the first issue include Michael Del Mundo's Mile Morales tenth anniversary tribute cover, Skottie Young, and a Stormbreakers variant by Natacha Bustos.
RELATED: Spider-Man Gets New Costumes Inspired By Marvel Heroes
The official Twitter account for Peach Momoko shared the jaw-dropping cover for The Death of Doctor Strange. Quickly becoming well-known for her gorgeous water-painted cover art, Momoko is part of Marvel's Stormbreakers group, an initiative launched by the company to showcase rising talent and get a new generation of voices into their comic book creative teams. She gained critical acclaim with her manga-inspired Demon Days saga.
Momoko has done numerous anime-inspired variant covers for Marvel's titles, tackling many classic Marvel characters in her unique style, including the likes of the Green Goblin, Gwen Stacy, Captain Marvel, and Wolverine. She's an example of the wonderful talent that can be found in Marvel's Stormbreakers initiative. She's also certainly made a name for herself at other publishers such as Fantagraphics, Boom! Studios, Dynamite Entertainment, IDW Publishing, and even DC comics.
The Death of Doctor Strange is a rather surprising move for Marvel considering the character is being killed off in comics before he appears once more on the big screen in Doctor Strange: Multiverse of Madness. Typically, an upcoming Marvel movie would prompt more series revolving around the character in question rather than Marvel getting their eulogies ready. But based on the fact that comic book characters rarely stay dead, it's highly unlikely Stephen Strange will be gone for long. Readers can check out the beginning of the Sorcerer Supreme's "final saga" as well as grab Peach Momoko's mysterious cover when it hits comic book stores on September 22, 2021.