John Cena's Suicide Squad Butt Joke Teases The Villain's Weirdest Feature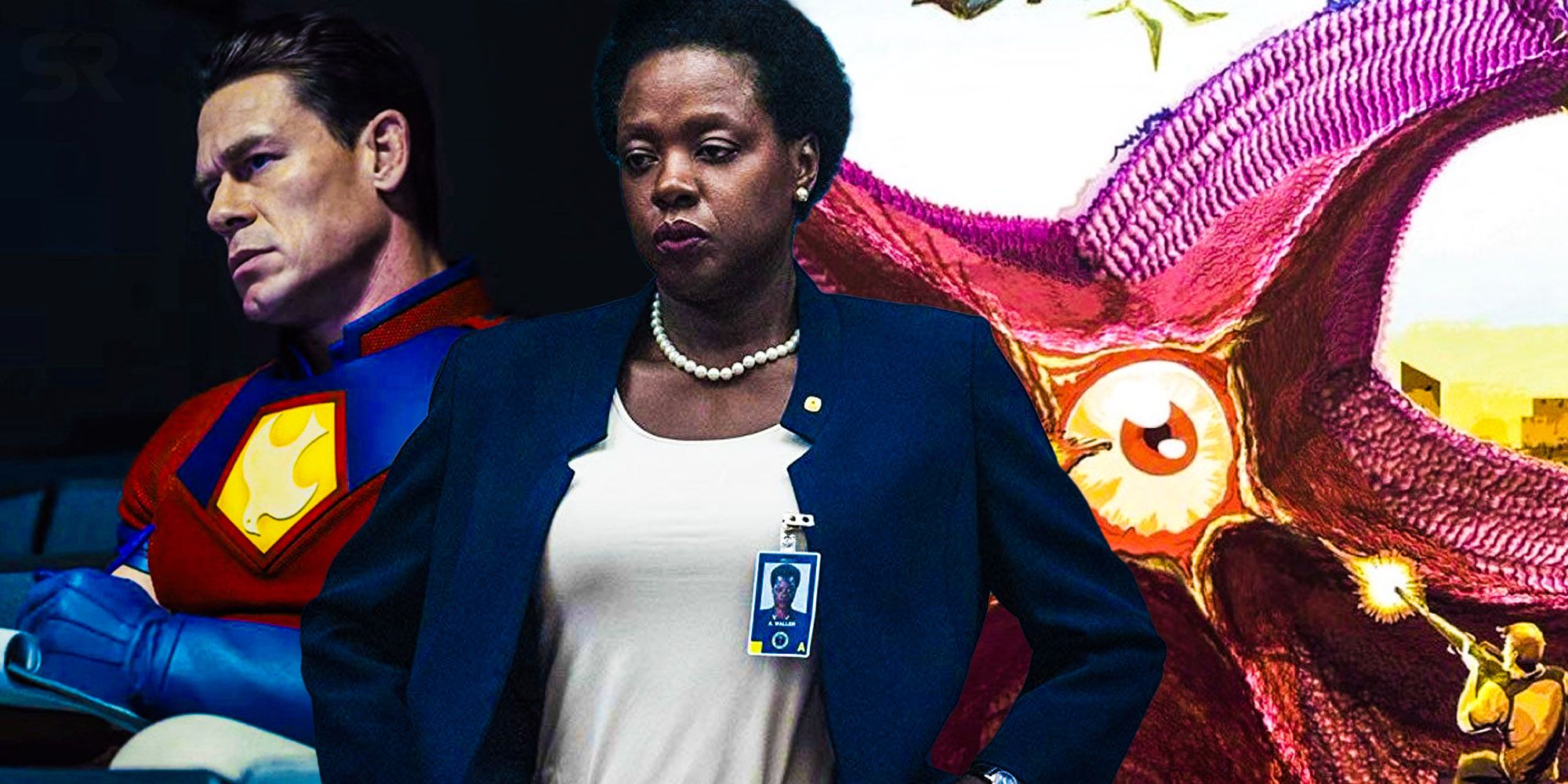 The new trailer for The Suicide Squad features a crude John Cena joke about butts, and it may actually reveal something about the movie's villain. The latest trailer for The Suicide Squad gives fans a deeper look at the upcoming film. New footage reveals more of the backstory for Idris Elba's Bloodsport, showing Viola Davis' Amanda Waller using his daughter to make him join her squad of criminals, amongst a myriad of other reveals. Additional scenes also feature the camaraderie among the villains-turned-heroes of Task Force X. However, the moment that steals the show in the trailer is a joke delivered by John Cena's Peacemaker.
Peacemaker may be making his DC Extended Universe debut in The Suicide Squad, but the character already has a TV series on the way as well. Cena's character wants peace in the new film, and it doesn't matter how many people he has to kill to get it. It might not make much sense, but Peacemaker's weirdness lends itself nicely to the other oddball characters appearing in The Suicide Squad. Cena describes the character as a "douchey" Captain America, which is evident in the new trailer. In fact, Peacemaker's particular brand of bravado takes center stage in one of the trailer's most bizarre moments.
Related: Suicide Squad 2: Every Character NOT Returning For Gunn's DC Sequel
In the new Suicide Squad trailer, Peacemaker makes a joke that may reveal more than it seems. At one point, Waller debriefs her criminal task force about their mission, which is to destroy all traces of something called "Project Starfish." "Any questions," Waller asks, prompting Peacemaker to raise his hand. "Starfish is a slang term for a butthole. Think there's any connection?" he says. "No," Waller replies. While it simply seems like a funny moment, perhaps Waller spoke a bit too soon.
Starro the Conqueror, a giant extraterrestrial being resembling a starfish, is the villain coming in Suicide Squad, and Cena's butt joke may be teasing its weirdest feature. "Project Starfish" is likely a reference to the villain. Though Waller claims the mission has nothing to do with butts, DC comics begs to differ. It's all thanks to 2018's Dark Nights: Metal #5. In the comic, Green Lantern wants to kick Starro's butt, but there's doubt that the villain even has one. Eventually, it's revealed that, yes, Starro has a butt, and editor Rebecca Taylor makes a note confirming that it actually has five butts. That's one per tentacle. The information makes Cena's joke a bit more relevant, and—on some level—shows that perhaps the criminals in the DCEU's new Suicide Squad don't know what they're getting into. After all, despite what Waller says, Project Starfish has a lot to do with butts. DC makes that clear.
The alien's weirdness doesn't end at butts. Starro has immense strength, which is on display in the new trailer; it can regenerate, and it may even fly. The trailer also shows Starro sending out countless starfish-like spores. In the comics, Starro has the ability to reproduce asexually, and its spores can control its victims. Even with the additional footage, the trailer only offers glimpses of the villain, so it's apparent there's more weirdness coming in The Suicide Squad. There are no ifs, ands, or butts about it.
More: Everything The Suicide Squad Needs To Change About The Original