Sonos & Ikea $199 Picture Frame Speaker Is The Most Interesting Collab Yet
Following a tease of the product back in April, Sonos and Ikea have announced the Symfonisk Picture Frame Wi-Fi Speaker. While it's more like a piece of wall art than a picture frame, the latest collaboration from the two companies looks to be the most ambitious (and interesting) yet.
In June 2019, Sonos and Ikea teamed up to introduce the Symfonisk lineup — products that combined Sonos speaker technology into everyday household items. That partnership initially resulted in two products, including the Symfonisk table lamp speaker and bookshelf speaker. They feature iconic Ikea designs, excellent audio quality as expected of Sonos, and seamless integration with the rest of the Sonos ecosystem.
Related: How Much Is The Sonos Roam?
Two years after the lamp and bookshelf speakers were introduced, Sonos and Ikea have returned with their picture frame/wall art speaker. While the two companies are marketing it as a 'picture frame,' this isn't a product people can place their own photos in. Instead, it's a rectangular frame that can be used with proprietary art panels that Ikea has custom-designed for it. There are two fairly basic white and black panels available right out of the gate, but additional ones will also be offered for $20 apiece so folks can customize the speaker as they see fit.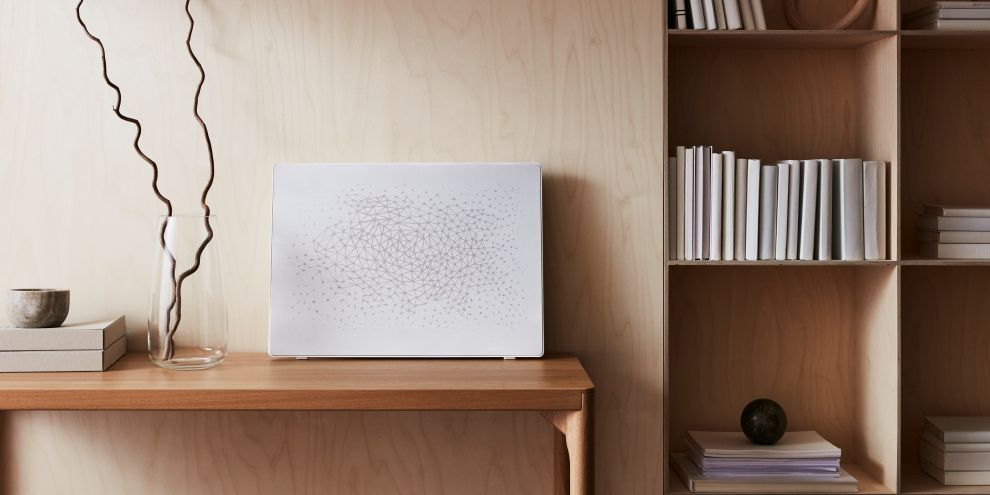 In addition to ample design options, Sonos and Ikea have also created the speaker to be incredibly functional. While it can obviously be hung on a wall, it also comes with built-in feet to be placed on the floor or a table/desk. Furthermore, the power cable can be re-routed to come out of the left, right, or center to best accommodate where someone decides to place the gadget. Sonos and Ikea have also placed play/pause and volume controls behind the left side of the frame, offering easy access to playback controls at all times.
Since this is a Sonos speaker, most people will likely control it from the Sonos mobile app. It works just like any other Sonos speaker, meaning users can use the app to begin playback, adjust volume, connect to the hundreds of integrated music services, listen to Sonos Radio, adjust EQ settings, and more. The picture frame speaker also supports AirPlay 2, Spotify Connect, and can be paired with an additional picture frame speaker to provide stereo playback.
Sonos and Ikea are selling the picture frame speaker for $199, with sales beginning July 15 both online and in-store. The idea of a picture frame speaker may not be for everyone, but as an extension of the Symfonisk line, this looks like a solid next step. The speaker appears to be quite functional, has all the Sonos integrations people have come to expect, and the $199 asking price isn't outrageous given the traditionally high cost of Sonos gadgets. So long as the speaker sounds good and Ikea can crank out new art panels at a regular pace, there could be a lot to like here.
Next: How To Stream Stations On Sonos Radio
Source: Ikea