A Pregnant Man And Melting Face Are Among 2021 Emoji Finalists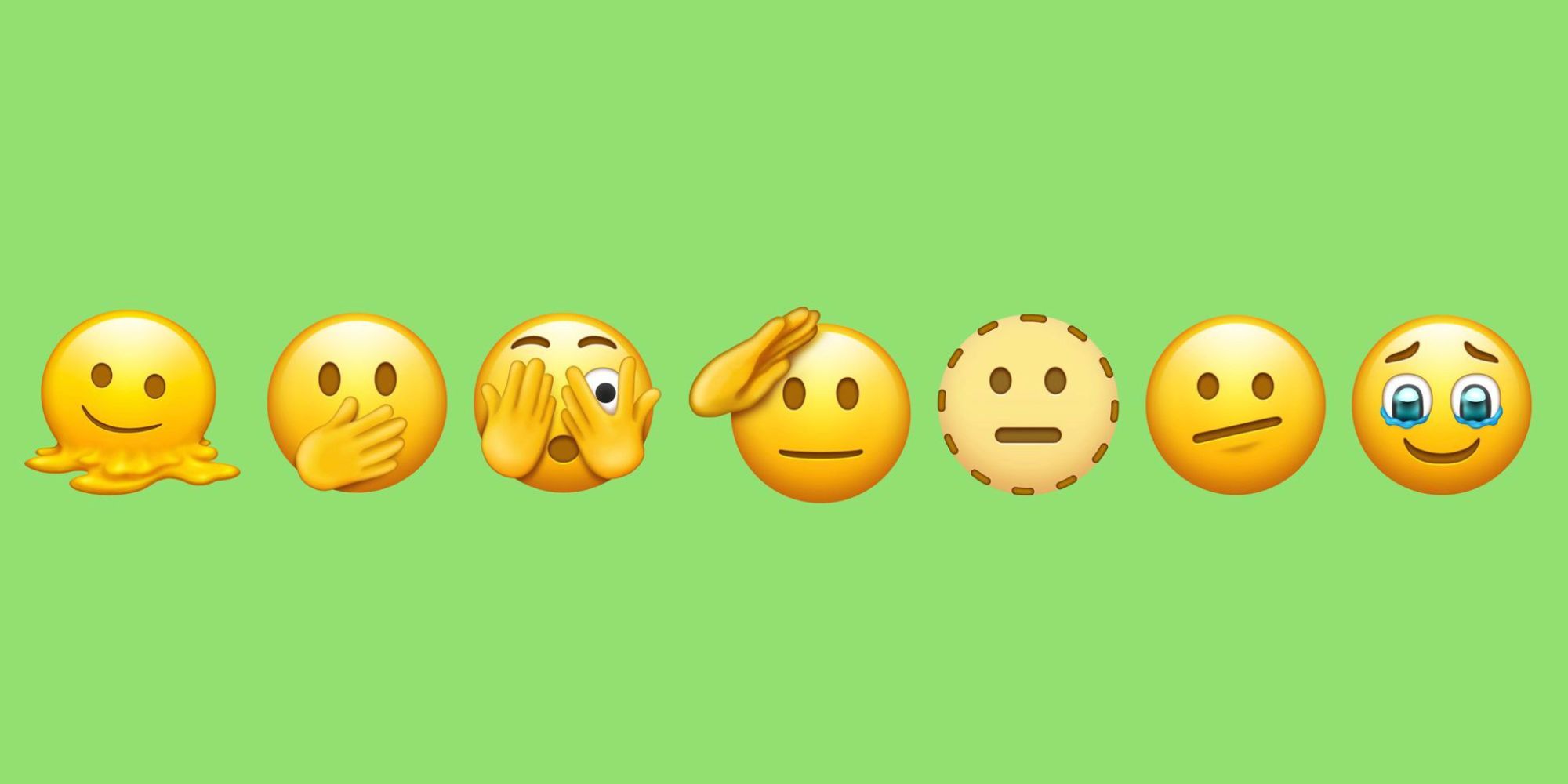 Finalists for Emoji 14.0 update have been revealed, including everything from funny faces to more gender-inclusive options. Once per year, the Unicode Standard is updated with new emoji that are added to Android smartphones, iOS, Twitter, Facebook, and everywhere else emoji are used. New emoji are drafted up, voting occurs to finalize the new additions, and they're then sent to companies to implement via software updates so people can start using them. It's a process that takes place every year, ensuring there are always new ways for people to express themselves.
Taking a look back at last year's Emoji 13.0 update, a ton of new options were made available. Some highlights from Emoji 13.0 include the pinched fingers emoji, a ninja, black cat, an accordion, and — of course — bubble tea. Emoji 13.0 also put a lot of focus on adding more gender-neutral options to exisitng emoji, such as a man wearing a veil, a woman in a tuxedo, and more. In total, Emoji 13.0 added 117 new emoji.
Related: Should Twitter Add Emoji Reactions Or Leave Them To Facebook?
With Emoji 14.0, it looks like it's going to be another year of welcome additions. There are a little over 100 new emoji chosen for the update, ranging from silly emoji to more inclusive/welcoming ones. The selections are currently part of a draft list that could change between now and September when the final version is approved, though it is expected that all of the choices will remain as is. Once the final list is approved, it's up to companies to start implementing them in future updates. Google Pixel phones will likely be among the first to receive Emoji 14.0 between October and December, followed by the likes of Apple, Samsung, Twitter, and Facebook between January and June 2022.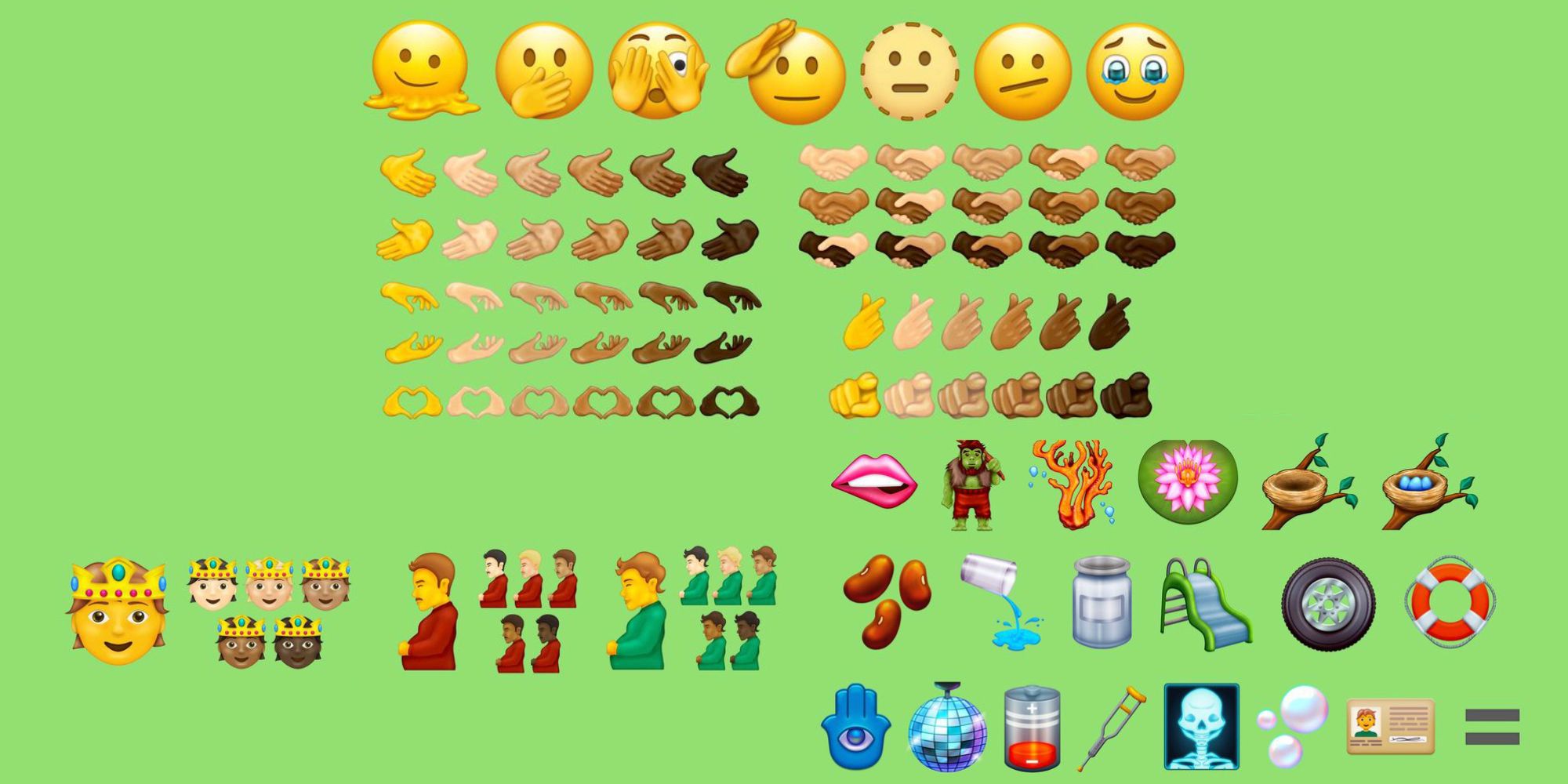 Now that all the boring stuff is out of the way, what new emoji are actually included in Emoji 14.0? When it comes to the standard face emoji, all of the following are included: Melting face, face with peeking eye, saluting face, dotted line face, face with diagonal mouth, and face holding back tears. There's also a new emoji called 'face with open eyes and hand over mouth,' which is replacing the current 'face with hand over mouth' emoji. This is due to the current one often looking distinctly different on certain platforms, such as having a serious face on iOS but smiling on Twitter. The melting face emoji and its ironic smile is bound to be a highlight for a lot of people, so expect to start seeing it everywhere in the months ahead.
Emoji 14.0 comes with many new hand emoji. This includes rightwards/leftwards hands, palm down/palm up hands, heart hands, hand with index finger and thumb crossed, and index finger pointing at the viewer (all of which are available in multiple skin tones). There are also 15 new skin tone options for the handshake emoji, which was previously limited to the standard yellow color.
On the note of inclusivity, Emoji 14.0 changes how gender is treated for certain exisitng emoji. Rather than having separate princess and prince emoji, Emoji 14.0 replaces them with a standard 'person with crown' one. The pregnant woman emoji is also gaining two new variations, including pregnant man and pregnant person. As Emojipedia points out, "Pregnant Man and Pregnant Person are new, and recognize that pregnancy is possible for some transgender men and non-binary people." Rounding Emoji 14.0 out, the rest of the additions feature a troll, coral, lotus, empty nest, nest with eggs, beans, pouring liquid, jar, playground slide, wheel, bing buoy, hamsa, mirror ball, low battery, crutch, x-ray, bubbles, identification card, and a heavy equals sign.
Next: What Does The Fire Emoji Mean In Snapchat?
Source: Emojipedia