Aladdin: What Robin Williams Could've Looked Like as Live-Action Genie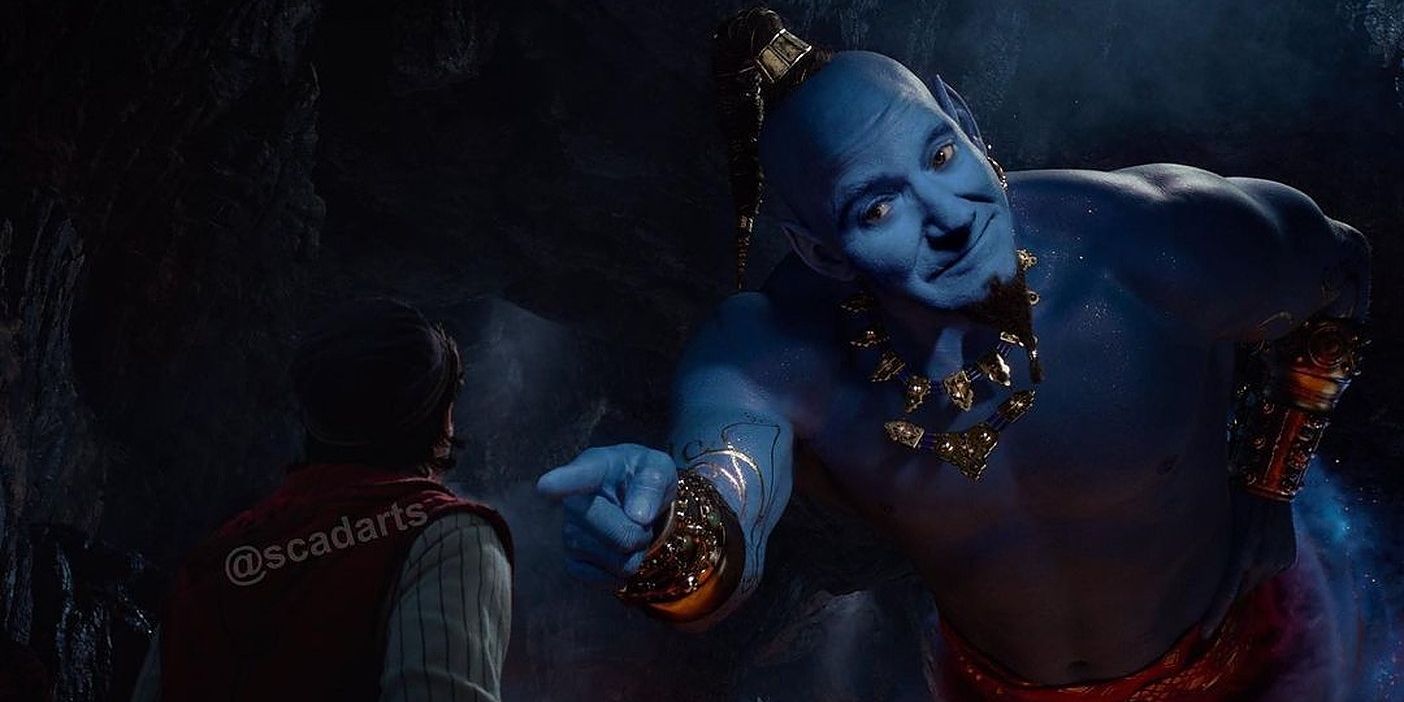 A piece of Aladdin fan art imagines what Robin Williams could have looked like as the genie in Guy Ritchie's 2019 live-action take on the animated Disney film. Williams starred as Genie in the 1992 hit, delivering a performance that arguably made the movie what it was. In the lead up to Ritchie's decision to take on a live-action remake of Aladdin, many who enjoyed the original were upset that Disney could even consider remaking the film without Williams.
As one of the most famous and beloved comedic actors of all time, Williams tragically died in 2014 at the age of 63. Understandably, the roles which made Williams so revered became even more special to audiences in light of his passing. Aladdin was no exception in this respect, so when it was announced that Will Smith would be playing the Genie in the live-action film, it was clear he had big shoes to fill. In the end, Smith gave a solid performance, but for those who loved Williams' work in the 1992 version, there was no comparison.
Related: Why Robin Williams Didn't Voice Genie In Aladdin 2
What would have been Williams' 71st birthday recently came and went and with it were heavy hearts the world over. The legacy of what the iconic comedian/actor achieved throughout his extensive career remains just as strong as ever, but this year, Williams fan scadarts used their Instagram account and a carefully manipulated image of the live-action Genie to pay tribute to Williams. Along with the image, which can be viewed below, scadarts also included a statement that all Williams fans are sure to agree with:
Click to view the original post
The thought of Williams playing the Genie again is an emotional one and considering what it would have been like had he starred in the live-action film is perhaps too much for some to take. It's also worth noting there are simply too many variables to take into account before assuming that Williams would have been the top choice to star in Ritchie's Aladdin. That being said, even if Williams hadn't been cast in the live-action Aladdin, he could have given his blessing to whoever was chosen. That alone would have meant a great deal to those who love the original film. But as it happens, Smith did his best to respect the role and the brilliance of Williams' performance.
Ultimately, it is perhaps best not to become too caught up in considering what-ifs. Seeing Williams as Genie in Ritchie's live-action Aladdin would have been wonderful, but the animated version will always exist, as will William's catalogue of inimitable work. As such, a major part of who Williams was will forever be accessible to all, and that in itself is a pretty great thing.
Next: Mulan & Aladdin Remakes Were A Missed Opportunity For Cultural Collaboration
Source: scadarts