Black Adam Set Photo Highlights The Movie's Massive Scale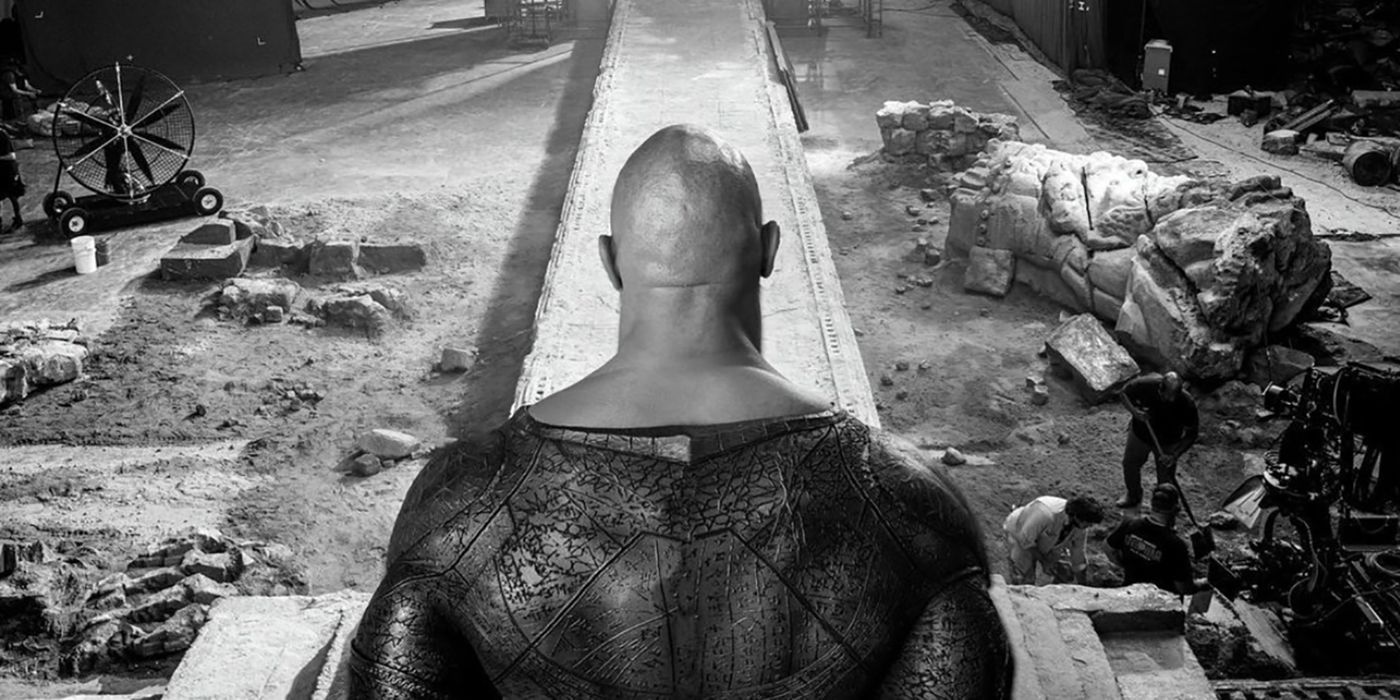 Dwayne "The Rock" Johnson shares a new photo from the set of Black Adam, teasing the massive scale of the long-awaited DC Extended Universe project. The next film in the franchise will center on Johnson's titular antihero, a former slave from Kahndaq who was given superpowers by the wizard Shazam. After being imprisoned for 5,000 for abusing those powers, he becomes the archenemy of the superhero Shazam, who is the wizard Shazam's new champion. The project had languished in development hell for nearly 20 years prior to the start of the DCEU.
Johnson's interest in portraying the character began in 2007, though he wasn't properly confirmed to star in Black Adam until late 2014. After working with director Jaume Collet-Serra on Disney's Jungle Cruise, Johnson recommended him to take the helm and production was fast-tracked by Warner Bros. and New Line. With a cast including Aldis Hodge as Hawkman, Sarah Shahi as Adrianna Tomaz, Quintessa Swindell as Cyclone, and Pierce Brosnan as Doctor Fate, the crew finally began filming in early April and is almost finished.
Related: Every Upcoming & In-Development DC Film
As the film enters its final week of shooting, The Rock took to Instagram to share a new photo from the set of Black Adam. Including a new tease of his still-unrevealed supersuit, Johnson hinted at the massive scale of the film's production and the destruction his character will bring. Check out the new image below:
Click here to see the original post.
Given that Black Adam is one of the most powerful characters in the DC Comics universe, a large-scale production is needed just to remain true to the antihero. But when the film is led by a star as large in stature and name as The Rock and the filmmaker leans more heavily on practical effects in comparison to the poorly-received, CGI-heavy early installments of the DCEU, the production design department certainly needs to think big in scale. This is not the first time Johnson has offered a glimpse at Black Adam's massive sets, and his behind-the-scenes insights are exciting for those who have waited nearly a decade to see the star take on the mantle.
Just as interesting as the scale of the set photo is the massive destruction on display in the image. With both Johnson and Collet-Serra having confirmed the film will explore his darker side as much as his heroic, the Black Adam set photos certainly seem to point towards a proper balance in introducing the character to the DCEU. As DC FanDome is set to return later this year and production set to wrap this week, fans can hopefully look forward to a teaser or footage from the film in the near future.
More: Black Adam: How DCEU's JSA Will Be Different From Stargirl's
Source: The Rock/Instagram