Xbox's Phil Spencer Reveals Reason Behind Nintendo Switch On His Shelf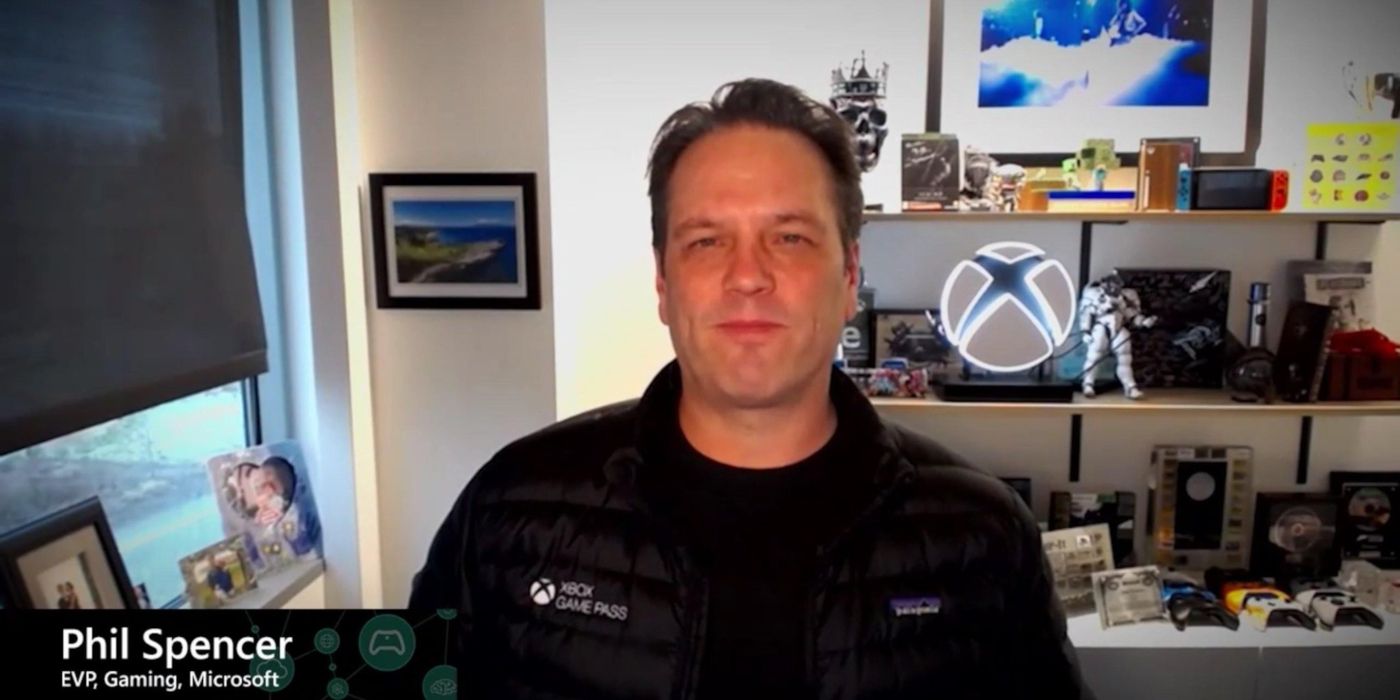 Phil Spencer, executive vice-president of gaming at Microsoft and head of Xbox, has finally addressed the reason behind the placement of a Nintendo Switch on his shelf during a recent interview. Appearing behind Spencer during his many video appearances, the items on his shelf have often been the spark for countless rumors regarding future hardware and software releases for the company, some of which tend to pan out.
The Xbox executive often reveals insight into the inner workings at Microsoft's Gaming division. Recently, he spoke about a potential Xbox Series X/S controller re-design, stating that Xbox has looked at the work Sony has done on its DualSense controller for the PlayStation 5. The PS5 controller has been praised for its use of haptic feedback and adaptive triggers, which creates a more immersive experience for players, features which according to a recent survey, are coveted by Xbox players.
Related: PS1 Xbox Series X Design Hurts The Longer You Stare At It
Appearing as the special guest during the Kinda Funny Gamescast's latest episode, Phil Spencer finally revealed why there was a Nintendo Switch on his shelf, and the meaning behind the placement of items on it. It turns out that Spencer was not sending any hints to fans with the items on his shelf, stating that no thought goes into what is placed there. "It's probably a mistake on my part," Spencer continued, "this back here is really just a collection of things from people I know in the industry." To prove his point, he pointed at an item on his shelf, "this picture up here is Jimmy Page from Led Zeppelin, we're not buying Led Zeppelin, it's my favorite band." When asked about the Switch console on his shelf, Phil finally stated that it was in fact a gift from Nintendo of America President Doug Bowser, who gifted to him when the console first launched in 2017.
Previously, the appearance of a Kojima Productions mascot Luden figure and the aforementioned Switch on Spencer's shelf had started rumors that there would be a partnership between Xbox and Hideo Kojima and Nintendo, respectively. While the reasoning behind those items were not partnerships, Spencer still did not completely shut down the speculation on either, stating that he speaks to Nintendo CEO Shuntaro Furukawa "fairly often," and that he is open to collaborations with Nintendo, Valve, and Sony if it means that it will help the games industry grow. He added that studios at Microsoft were free to collaborate with whomever they choose, revealing that the addition of Banjo and Kazooie to the Super Smash Bros. Ultimate roster was a decision made solely by developer Rare.
The mystery behind the Nintendo Switch on Phil Spencer's shelf has finally been solved. Although the Xbox head is simply placing things he likes on his shelf, it seems doubtful that the rumors will stop regarding what Spencer puts on display, considering that he previously teased the Xbox Series S and more using his personal office space in the past.
Next: Xbox's Phil Spencer Compares Fable And Elder Scrolls 6
Source: Kinda Funny Gamescast/YouTube