90 Day Fiancé: Times When Ariela Showed The World She's A Great Mom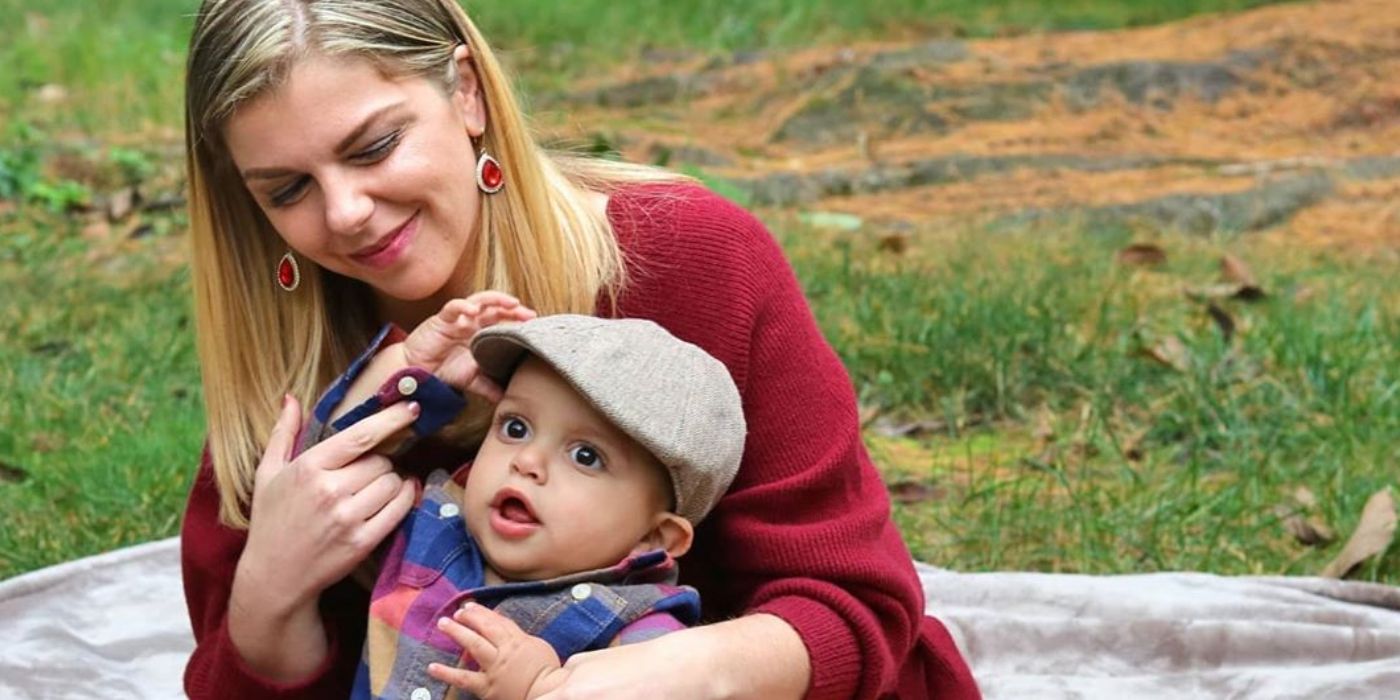 Ariela Weinberg will star in 90 Day Fiancé: The Other Way season 3, which premieres on August 29, and it's time to let fans of the show know why she's such an exceptional mom. She rose to fame after appearing on the second season of the show, where cameras followed her as she moved to Ethiopia while pregnant. Viewers were riveted as she did her best to adjust to her new surroundings. Ariela was used to a fairly upscale lifestyle in Princeton, New Jersey, so the unfinished apartment that Biniyam Shibre was preparing for her was definitely a change of pace. Ariela had her ups and downs in a new country but stuck with Biniyam and gave birth to baby Aviel Shibre in an Ethiopian hospital.
Now, Ariela, who is still not married to her fiancé Biniyam, is posting information about her recent life with Biniyam and Aviel on her Instagram. She's a popular alum who fans care about. At the moment, she has 231k followers, and her IG grid is filled with adorable pics of her little son. These photos make it clear that the concern Ariela showed before Aviel's planned circumcision in Ethiopia underscored a powerful maternal instinct.
Related: 90 Day Fiancé: Ariela Shocks Fans By Going Completely Makeup-Free
90 Day Fiancé: The Other Way viewers will recall that Ariela didn't let hospital staff perform the procedure on Aviel. She rushed him away to spare him pain but later decided to allow the circumcision. She caved in for the sake of her relationship. Ariela knew that the procedure was something that Orthodox Christian Biniyam wanted his son to have.
These days, she hasn't stopped worrying about Aviel. She recently shared that Aviel, who is currently 19 months of age, had hernia surgery, according to an exclusive interview with Us Weekly. Mama bear Ariela wavered before deciding to get the operation for her son but eventually decided that the procedure would be best for him. The little tot looked happy and healthy in the photo that Ariela posted to her Instagram on June 22, as seen below. In the cute photo, Ariela is smiling at her baby and is physically close to him. That's par for the course for this devoted mother. Tiny 90 Day Fiancé franchise star Aviel was able to enjoy some healthy fresh air while they spent time together in the "Ethiopian countryside," according to her IG caption.
In the clip shown above, Ariela took her baby son out for a pleasant boat ride and was more than willing to cuddle and comfort him during the adventure. The video shows Aviel, who really seems to be getting big, wearing a lifejacket. Once his mom picks him up and sits him on her lap, he goes in for an adorable hug. Like many 90 Day Fiancé franchise fans, he can't get enough of his charming mother.
The charismatic 90 Day Fiancé fan fave Ariela's shocking makeover gets attention, and so does the fact that she is always on mom duty. Fans love her for it. While she does spend time on herself now and again and even got some beauty treatments after her post-baby weight loss transformation, she is all about Aviel 24/7. Ariela from 90 Day Fiancé: The Other Way knows what is most important in life, and she never lets reality fame get in the way of taking good care of her baby.
Next: 90 Day Fiancé: Ariela Unrecognizable As She Devours Raw Meat With Biniyam
90 Day Fiancé: The Other Way season 3 premieres on TLC on Sunday, August 29 at 8 p.m. EST.
Source: Ariela Weinberg/Instagram, Us Weekly