Animal Crossing's Legendary Froggy Chair Rendered In Lifelike HD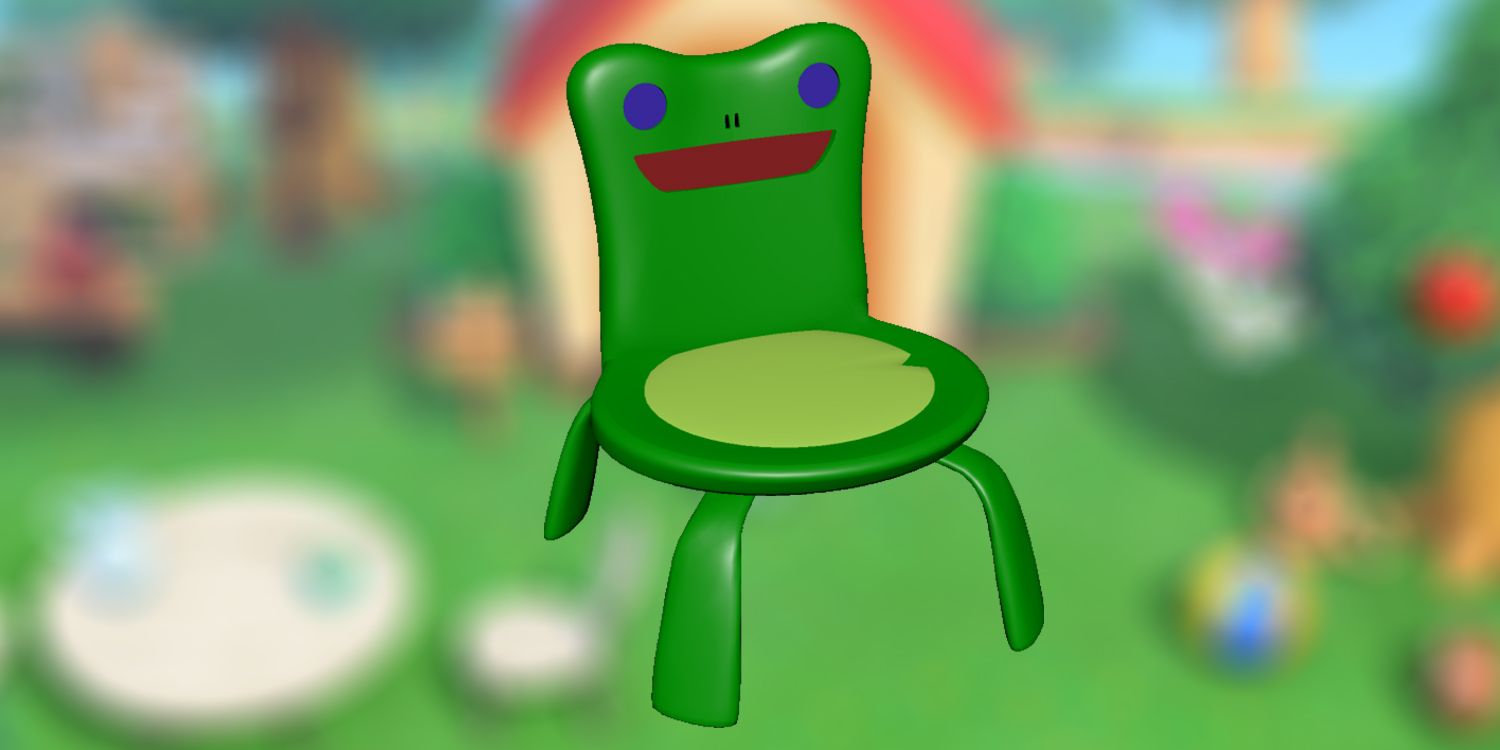 A user has remade Animal Crossing's iconic froggy chair in realistic HD. The froggy chair, a simple green chair with a frog face on its back, is a much-beloved furniture item from the franchise's past that has yet to debut in Animal Crossing: New Horizons.
The froggy chair has been a widely used piece of furniture and meme throughout the series, but following the latest game's release, it gained more exposure due to fan requests for the chair's inclusion in Animal Crossing: New Horizons. A common criticism of Animal Crossing: New Horizons is the lack of themed furniture from past games such as the Astro and Kiddie series. The froggy chair has since been seen as a symbol of the lack of variety in furniture to some fans, and many want to be able to sit on it just like in past games.
Related: Animal Crossing: New Horizons' Best Furniture Items & Recipes
Reddit user Pr0ksee has made a high-quality image of the froggy chair in HD. The chair looks so real, it's easy to look at it and assume it was a real-life photograph. The amount of detail on this HD model properly conveys how a froggy chair would look in real life, and it would fit in perfectly in a kid's school or playroom. Pr0ksee revealed in a comment that the chair was rendered in Blender cycles.
The lack of themed furniture is considered part of a greater criticism of a lack of content within Animal Crossing: New Horizons. The game is at a point now where major content updates have come to a halt, though Nintendo still claims that more free content will be released for the game in the future. While characters like Brewster continue to be highly anticipated, the lack of varied furniture means that fans are somewhat limited in their decoration options. The low amount of furniture is just one symptom of this lack of content.
The fate of the froggy chair in Animal Crossing: New Horizons may still be unknown, but this quality model does act as a suitable piece of art in the meantime. It's likely that the requests for the froggy chair and fanart will continue until it eventually gets released. The chair has even received fanmade custom designs based off of its beloved appearance. If it does eventually get patched into Animal Crossing: New Horizons, there will definitely be celebrations from the fans. There might be a lot of classic features missing from Animal Crossing: New Horizons, but the addition of the froggy chair would still be a victory for those that just want to sit on a cute chair.
Next: When Animal Crossing's Next 2021 Update Is Coming
Animal Crossing: New Horizons is available now for Nintendo Switch.
Source: Pr0ksee/Reddit