Assassin's Creed Odyssey 8K Ray Tracing Video Looks Better Than Valhalla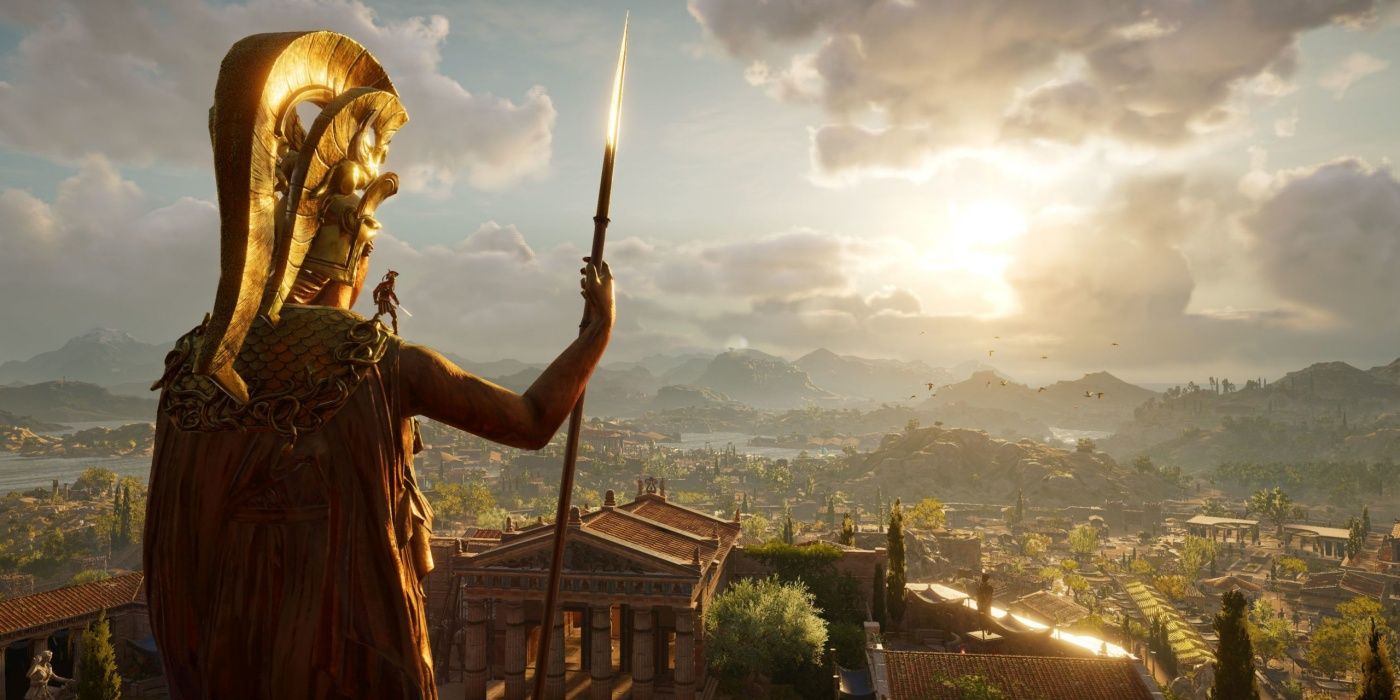 A video of Assassin's Creed Odyssey running on an RTX 3090 with 8K and Beyond All Limits raytracing enabled shows the 2018 title outshining Assassin's Creed Valhalla. 8K resolution is slowly but surely becoming all the rage, with mods helping the likes of Red Dead Redemption 2 and The Witcher 3: Wild Hunt target stunning 8K visuals.
AC Odyssey recently received a different kind of performance boost on current-gen consoles. Developer Ubisoft Quebec deployed Title Update 1.6.0 yesterday, allowing the hit open-world experience to run at 60 frames per second across PlayStation 5 and Xbox Series X|S platforms via backward compatibility. While it's not a native port with all the bells and whistles that come with the latest hardware, the 60fps update still manages to impress, providing a much smoother experience in and out of AC Odyssey's combat encounters. Unsurprisingly, PC modders have found yet another way to drastically improve the already gorgeous world of Odyssey.
Related: 10 Hardest Battles In Assassin's Creed: Odyssey
YouTube channel Digital Dreams (via Wccftech) unleashed a 9-minute look at Assassin's Creed Odyssey running on an RTX 3090, complete with 8K and the Beyond All Limits raytracing reshade equipped. Digital Dreams enabled a camera tool as well, which adds free cam, improves LOD, and reduces the amount of fog that lingers. It's stunning to say the least. The video shows Kassandra walking through fields of grass, sun rays beaming beautifully through a tree to create picturesque imagery. Footage of the hero roaming along seashores proves equally eye-catching, as light bounces off small waves while the reflections of nearby cliffs ripple with the moving tide. Like the Red Dead Redemption 2 and Witcher 3 8K videos before it, this impressive look at an advanced version of AC Odyssey is something fans won't want to miss.
Suffice it to say, the Ancient Greece-set Assassin's Creed adventure has never looked better than it does in 8K video linked above. And, in many respects, the footage even manages to give last year's AC Valhalla a run for its money.
Assassin's Creed Odyssey hit store shelves in October 2018, counting among one of the more critically acclaimed AC titles in recent years, though the controversy surrounding egregious microtransactions marred some of the positivity. Interestingly, AC Valhalla also fell victim to MTX-related drama; leaks and rumors regarding Rainbow Six Extraction indicates Ubisoft has yet to learn its lesson.
Next: AC Valhalla DLC Leak Suggests Odyssey's Kassandra and Eivor May Meet
Assassin's Creed Odyssey and Assassin's Creed Valhalla are available to play across Google Stadia, PC, PS4, PS5, Xbox One, and Xbox Series X|S.
Source: Digital Dreams/YouTube via Wccftech