Don't Breathe 2 Video Teases Plot Twists In Horror Movie Sequel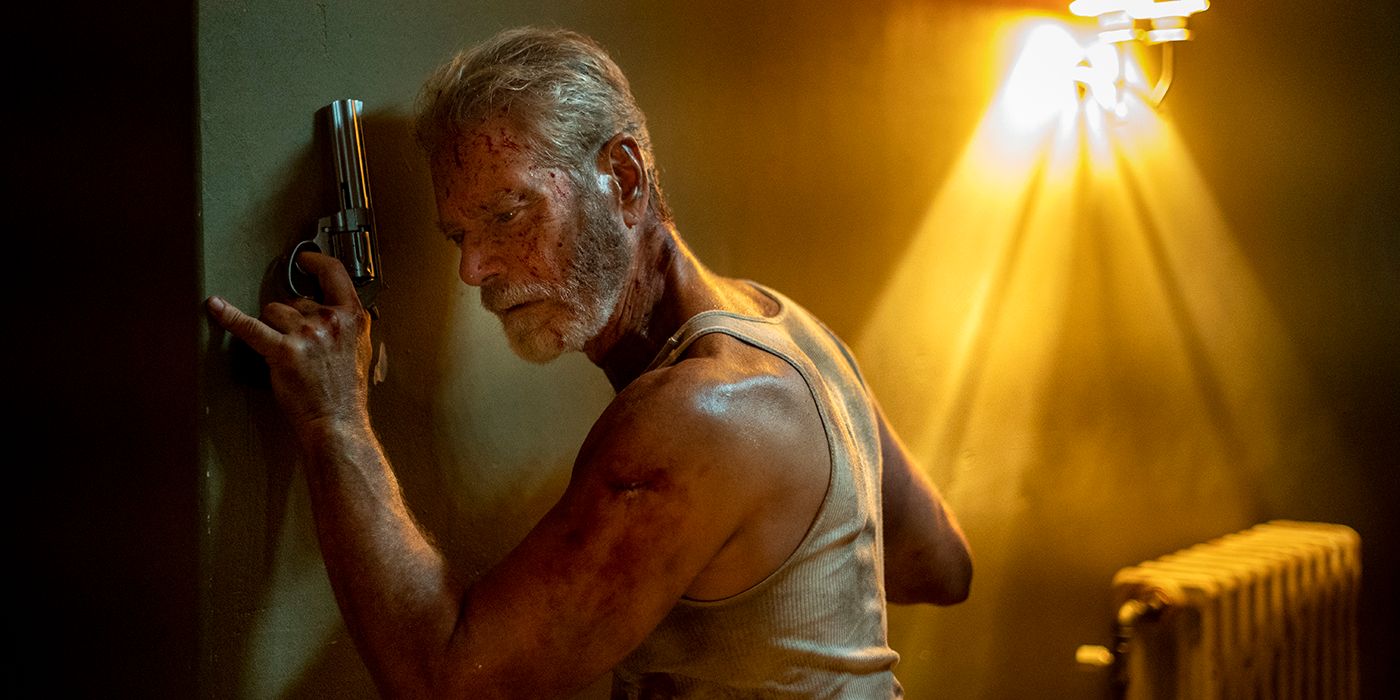 Sony unveils a new video for Don't Breathe 2 with co-writers Fede Álvarez and Rodo Sayagues teasing the plot twists of the horror movie sequel. The first film starred Jane Levy and Dylan Minnette as friends who break into the house of Stephen Lang's Blind Man, only to become trapped and hunted down. Don't Breathe was a big hit upon its release in 2016, grossing over $158 million against its $10 million budget and garnering critical acclaim for Álvarez's direction and its twist on the home invasion genre.
A sequel was swiftly put into development with Sayagues taking over directing duties from Álvarez on a script penned by the duo with Lang returning as The Blind Man. Don't Breathe 2 picks up eight years after the events of the first film with Norman Nordstrom having found a peaceful life with an 11-year-old girl named Phoenix and successfully recreating the family stolen from him a long time ago. He finds his life upended as intruders target his home and kidnap Phoenix, requiring him to turn to his violent skills once again to get her back.
Related: Don't Breathe 2: Why The Sequel Centers On The Blind Man (Not Rocky)
In anticipation of the release of the film on Friday, Sony has unveiled a new video for Don't Breathe 2. The clip features Álvarez and Sayagues offering a deeper insight into the story for the sequel, teasing its multiple plot twists and confirming there are no true good guys in the film. Check out the new video below:
The new video may prove to be an interesting draw for fans of the first film who feel conflicted about Lang's Blind Man being put into a position closer to that of a protagonist than a tragic antagonist. With Álvarez and Sayagues assuring in the video that Don't Breathe 2 features no real "good guys" and Lang having previously teased that The Blind Man will pay for his sins in the film, audiences' fears of this moral transition should start to change towards a more open curiosity from any initial skepticism. The bigger point of curiosity now, of course, is just what plot twists fans can expect from the film.
Given there is still much mystery as to just how the Blind Man has a new family with Phoenix in Don't Breathe 2, it seems likely the twists and turns will stem from this angle of the plot. With the story being set eight years after its predecessor and Phoenix being 11 years old, it seems very unlikely her connection to Norman comes from the same approach he took to recreating his family in the first film. Only time will tell what twists and turns Álvarez and Sayagues have in store for audiences when Don't Breathe 2 arrives in theaters tomorrow.
More: Don't Breathe 2: Is The Blind Man The Hero Or Villain? Controversy Explained
Source: Sony