Exclusive: Crisis Zone Gets New Trailer From Fantagraphics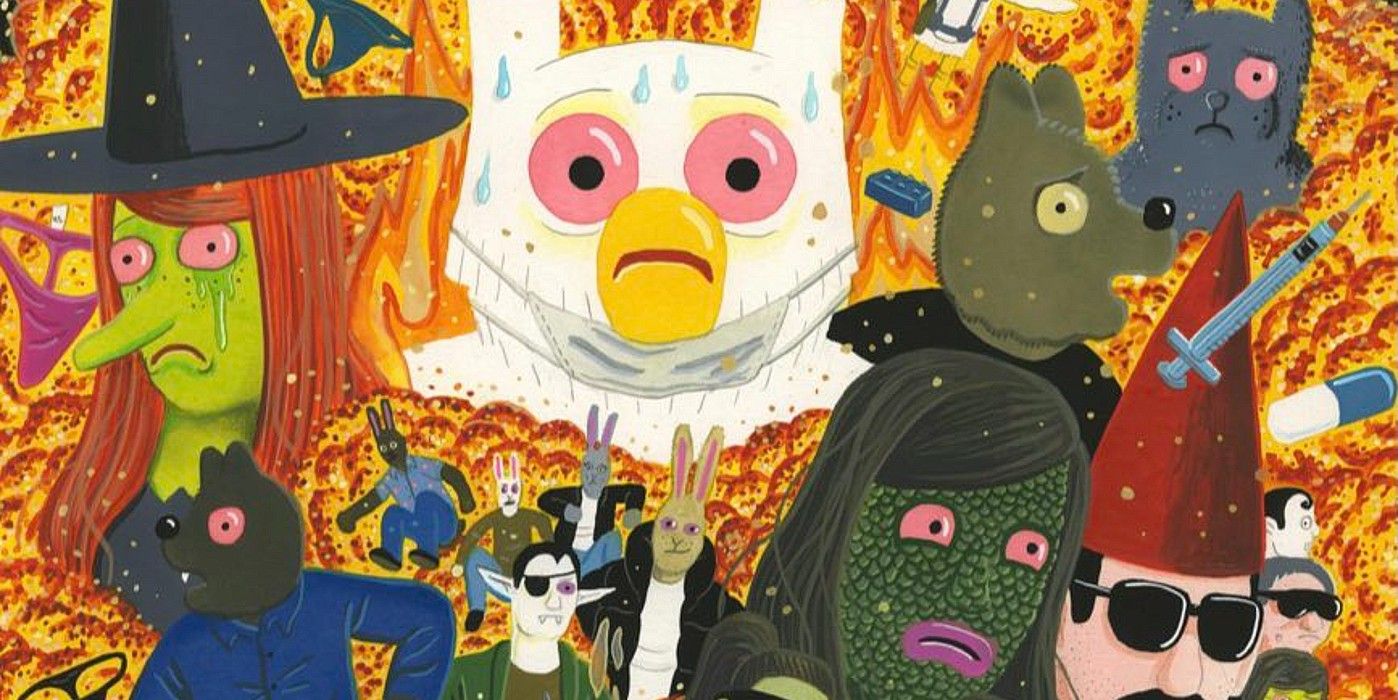 Warning: Crisis Zone is a MATURE comic
Coming August 17, Fantagraphics will return to the bizarre, absurdist world of Megg, Mogg & Owl as Simon Hanselmann's critically acclaimed and award-winning Crisis Zone receives a proper hard-copy publication, previewed exclusively on Screen Rant in a harrowing and hilarious new trailer. Absolutely loaded with bonus content, Crisis Zone, the newly-minted winner of the 2021 Eisner Award for Best Webcomic, features a disturbing, yet resonant account of the COVID-19 quarantined adventures of Megg, a witch, Mogg, a cat, Owl, an owl and Werewolf Jones, a lycanthrope, as they battle their inner demons amidst the backdrop of a world gone mad.
Spinning out from Hanselmann's previous comic adventures set in the same continuity, Crisis Zone was originally published for free on Instagram beginning in March of 2020 as a 10-panel-a-day chronicle of his assuredly NSFW band of disjointed protagonists as they try (and inevitably fail) to keep themselves sane in a world beset by terror amidst the throes of a global pandemic. Satirical, hard-hitting and poignant at times, Hanselmann's novel comic journey quickly developed into a biting criticism on the dangers of escapism and the prevalence of narcissistic thrill-seeking in the culture at large. Hailed by critics as a brilliant exploration of the surreal headspace unlocked amidst the unceasing boredom of a global panic, Hanselmann completed the work in January.
Related: Lore Olympus Webtoon is Being Collected in Trade Paperback
Now, with more than 500 new panels added along with "director's commentary," Crisis Zone will make the leap to the physical world, bringing with it Hanselmann's wacky, wild wonder of a cartoon fantasy world torn apart by the mounting insecurities of its denizens. "Crisis Zone is (I'm told) the ultimate piece of pandemic art," Hanselmann said in a statement. "You won't find a better record of what went down in 2020. Nominated for the Cartoonist Studio Prize and an Eisner Award for Best Webcomic. Snubbed by the Pulitzer. Clowns! Big mistake!" Take a look at this "over-the-top, go-for-broke and definitely NSFW" 18+ trailer below, released exclusively to Screen Rant:
With equal parts twisted whimsy, reluctant introspection and emotionally-resonant tragicomedy, Crisis Zone at its core provides a stirring example of what a modern-day humorist can achieve when allowed total control of their own work with only one goal in mind: to entertain. A riveting if not offbeat (and somewhat grotesque) tale of woe, Hanselmann's sardonic, take-no-prisoners commentary on modern isolation represents a new milestone in the comics medium for the totality of its bold approach. Said Fantagraphics in a statement:
With its scathing commentary ranging from Antifa and Black Lives Matter, to Netflix and TikTok, It's alternately captivating, hilarious, and heartbreaking.
Can the world survive such pointed, cutting criticism from the dark origins of social media? Crisis Zone goes on sale August 17 from Fantagraphics.
Next: Exclusive Preview: Darkwing Duck Stars in 'Just Us Justice Ducks'