Gilmore Girls: Everything Lorelai Missed In Her Dream Wedding To Luke
At the end of season 5 of Gilmore Girls, Lorelai surprised everyone when she spontaneously proposed to Luke in his diner. In the following season, Lorelai and Luke took their time as they planned their dream wedding. After all, the pair had been close friends for decades and finally found stability with each other when they became romantic.
RELATED: Luke and Lorelai's Relationship Timeline Throughout Gilmore Girls, Season By Season
Just as Lorelai and Sookie solidified her fantasy wedding to Luke, Luke dropped a bombshell: He had a daughter and needed time with her before getting married. This meant that all of the amazing plans that Lorelai put together were in the gutter. While the couple eventually get married in Gilmore Girls: A Year in the Life, they didn't have Lorelai's dream wedding with all the special elements she planned.
10

The Perfect Dress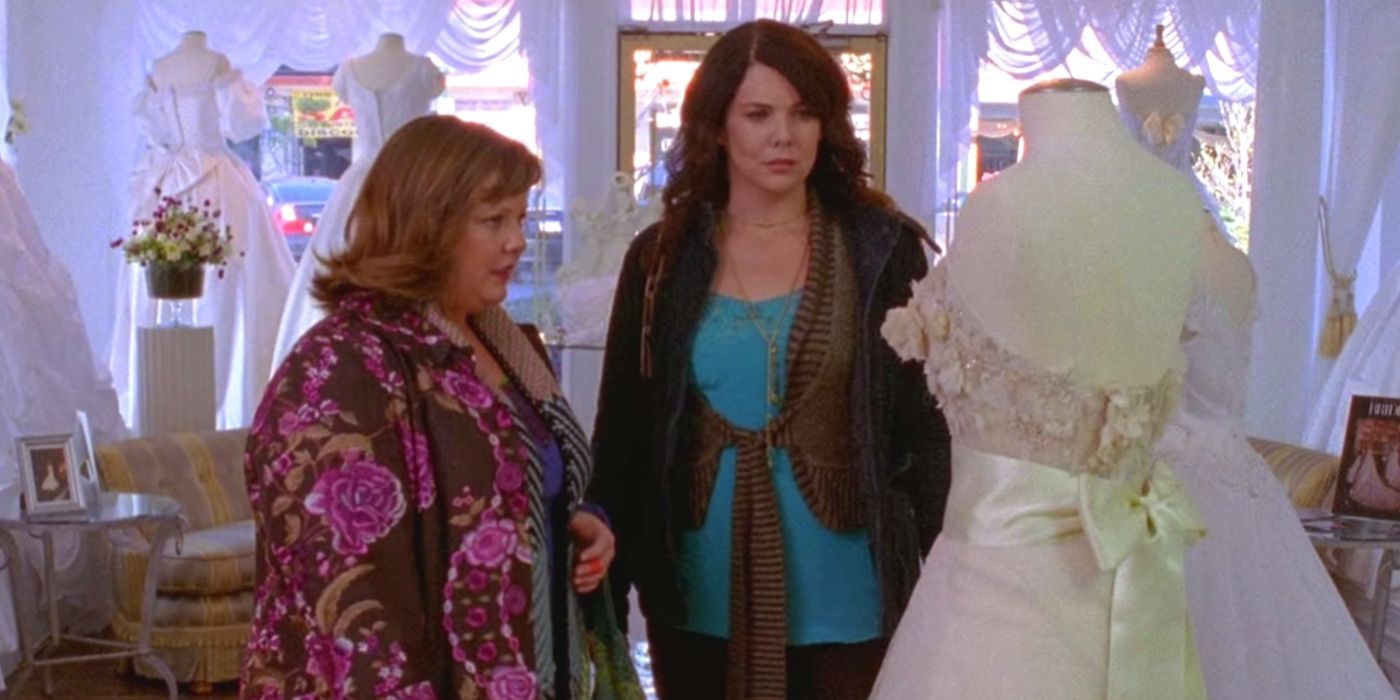 Lorelai typically runs from commitment with men because she's always been under the impression that marriage is hard, and she likes things easy. Knowing this, Sookie did everything she could to get Lorelai into wedding mode, including taking her wedding-dress shopping.
Lorelai felt weird browsing for dresses because she didn't know what kind of dress she wanted, but the moment she saw "the perfect dress," all of her fears faded. Lorelai has had some dramatic moments on Gilmore Girls, but none were more enthusiastic than when she got her dream dress. Not only was it blush pink and white with flowers, but it was on sale. Sadly, Lorelai never got to wear the dress.
9

The Caterer Was Selected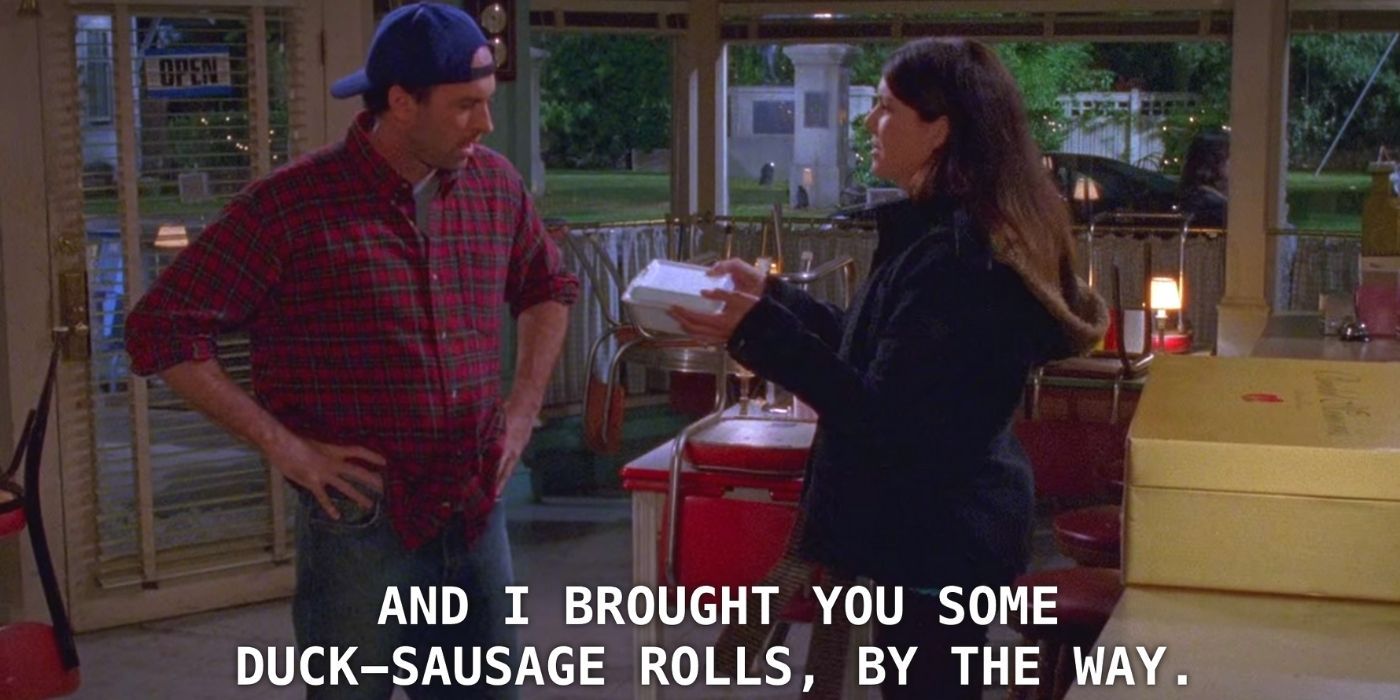 Taste-testing food options for Luke and Lorelai's wedding is an off-screen moment fans wished they could have seen. Knowing how much Sookie and Lorelai love food, it would have been entertaining, to say the least. Nevertheless, Lorelai strolled into Luke's with leftovers from their tasting: duck-sausage rolls.
RELATED: 10 Off-Screen Events That Gilmore Girls Fans Wish They Could See
As it turned out, the pastor that Lorelai chose had a sister who ran a catering company. She ended up loving the food so much that she chose the caterer that day. But with Luke and Lorelai marrying in the middle of the night more than 10 years later, she never got to have those duck-saussage rolls.
8

A Summer Wedding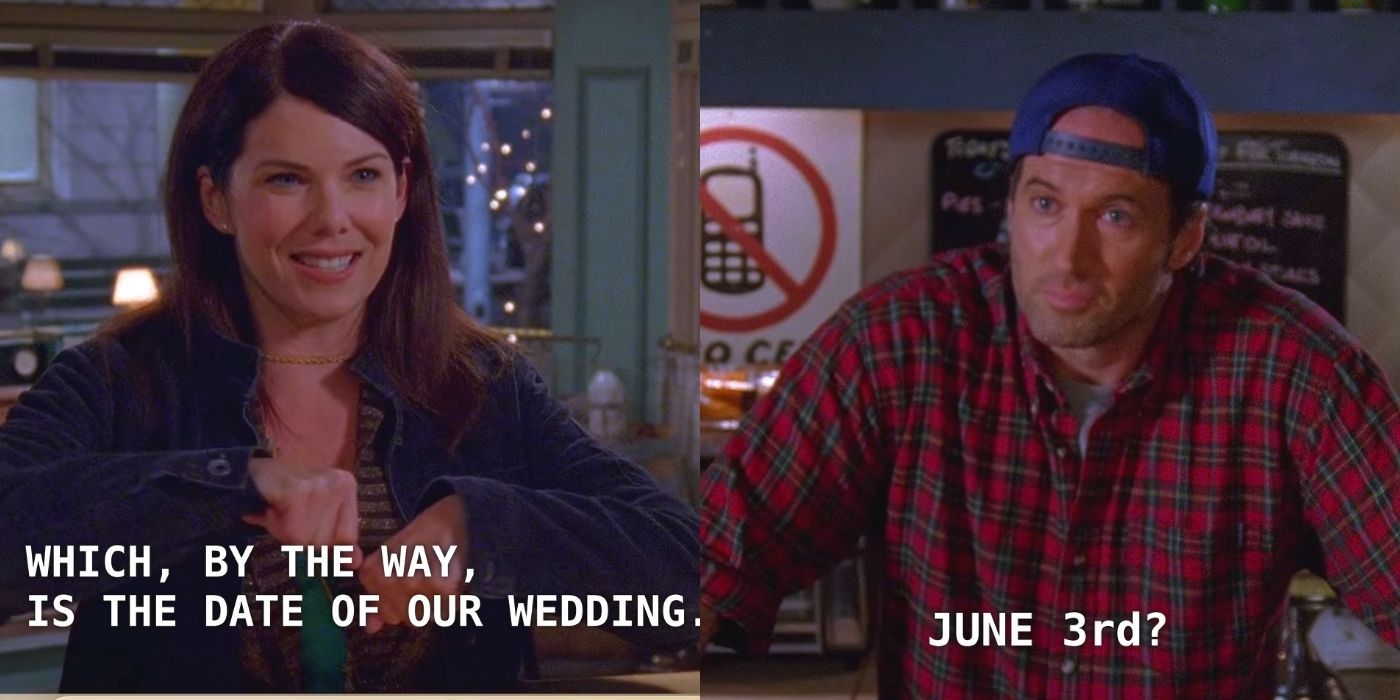 Luke and Lorelai had a hard time pinning down a date for their wedding because most of Stars Hollow had contrasting available dates. The couple didn't let their chemistry or momentum fade; they just needed their neighbors at their wedding because they had supported their relationship from the beginning.
After choosing a strapless dress, Lorelai knew that she and Luke needed to have a summer wedding. And luckily for them, the rose-covered church had June 3 open. If that wasn't lucky enough, the town didn't have any qualms with the date, and the pastor gave her the venue for half the normal fee.
7

Daisies For Flowers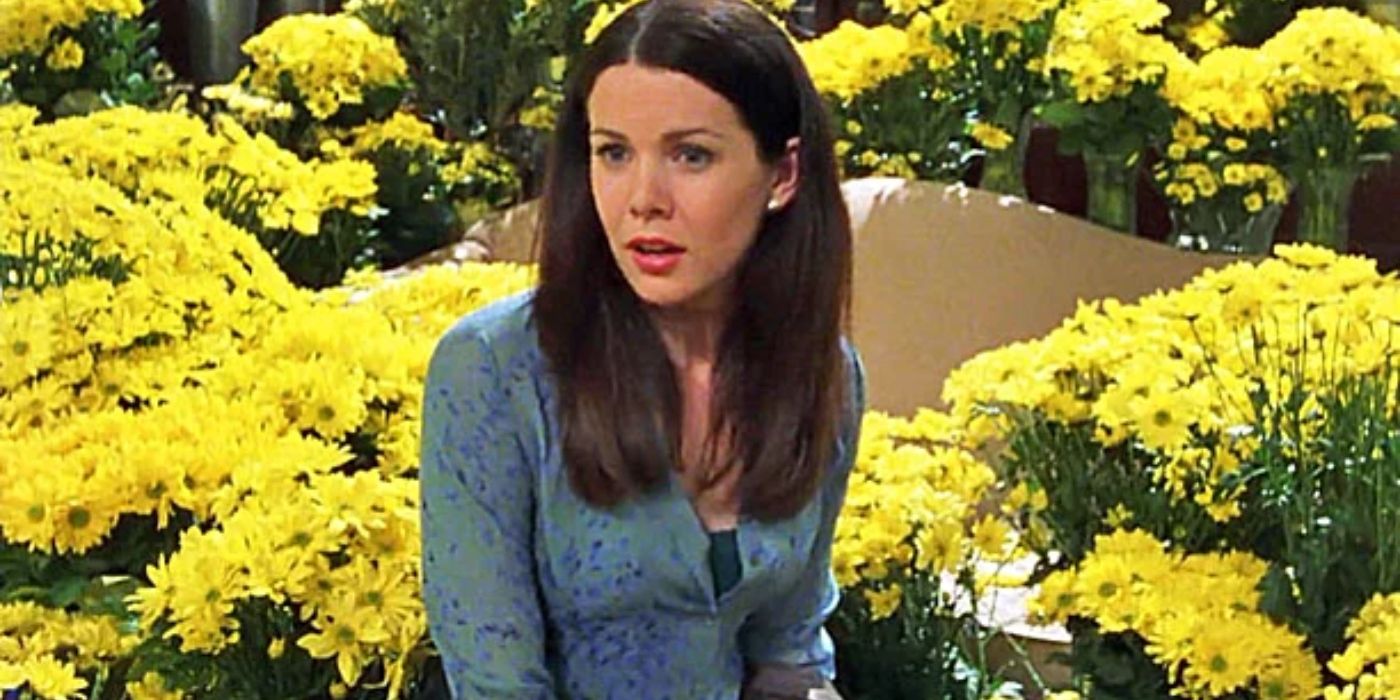 Once Lorelai realized that she wanted a summer wedding, she knew she needed a beautiful flower that did well in the summer months. This fact reminded her of how much she loved daisies. She wanted daisies on the invitations and sprinkled throughout the ceremony. Ironically, the idea that Lorelai wanted daisies for the wedding could have come from her former engagement to Max. When Max was planning on proposing, she reminded him that he needed to do an amazing gesture, like setting up 1,000 daisies. Max ended up doing just that and it brought Lorelai to tears. For a short time on Gilmore Girls, Max and Lorelai were great together. Perhaps she always had her heart set on daisies in June.
6

The Daisie-Covered Stationery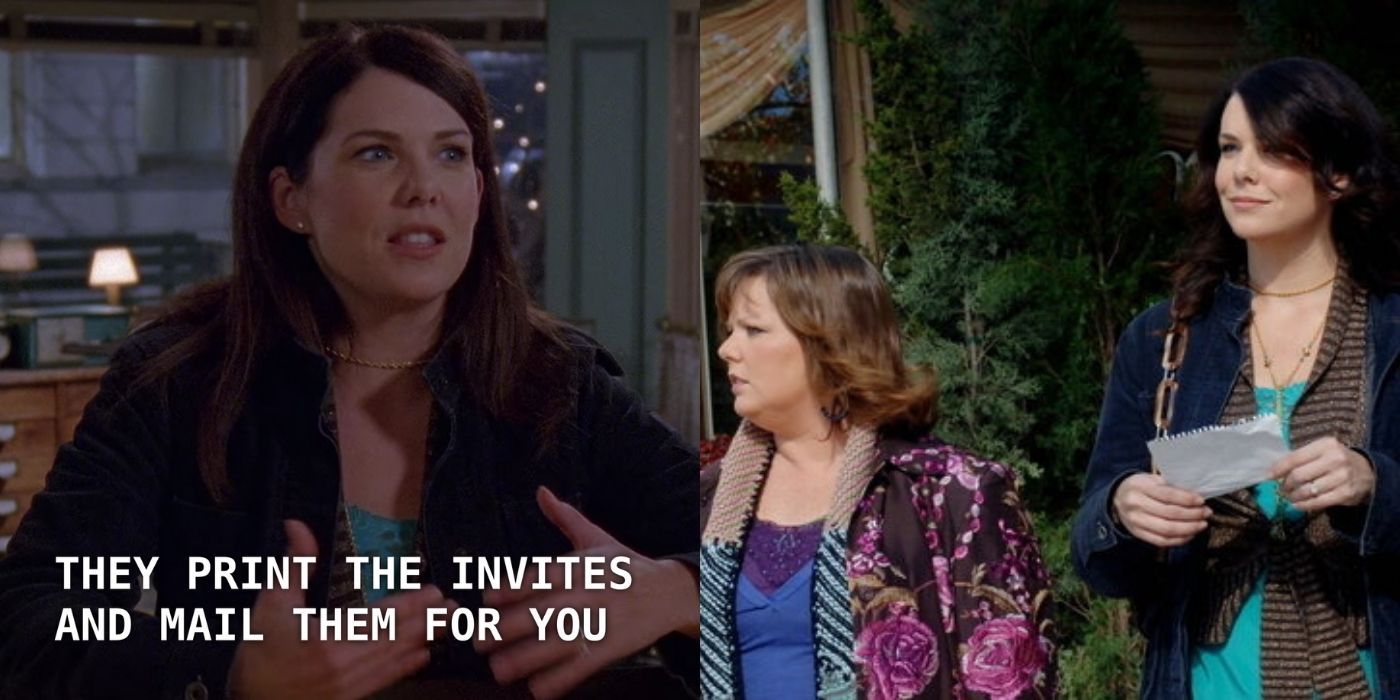 Fans would have loved to see the stationary Lorelai and Sookie chose for the big day, but they were never sent out. While the two were shopping for wedding dresses, the stationary shop was coincidentally right next door. The two began browsing when Lorelai found the perfect invitations with daisies on them.
RELATED: 10 Things Gilmore Girls Fans Would Have Loved To See, According To Reddit
Luke didn't seem so keen on the floral invitations but Lorelai assured him "macho" invitations were not a thing and that daisies were the way to go. To make the stationary even better, the shop was running a sale where they sent the invitations out on their behalf and even handled the RSVPs.
5

The Rose-Covered Church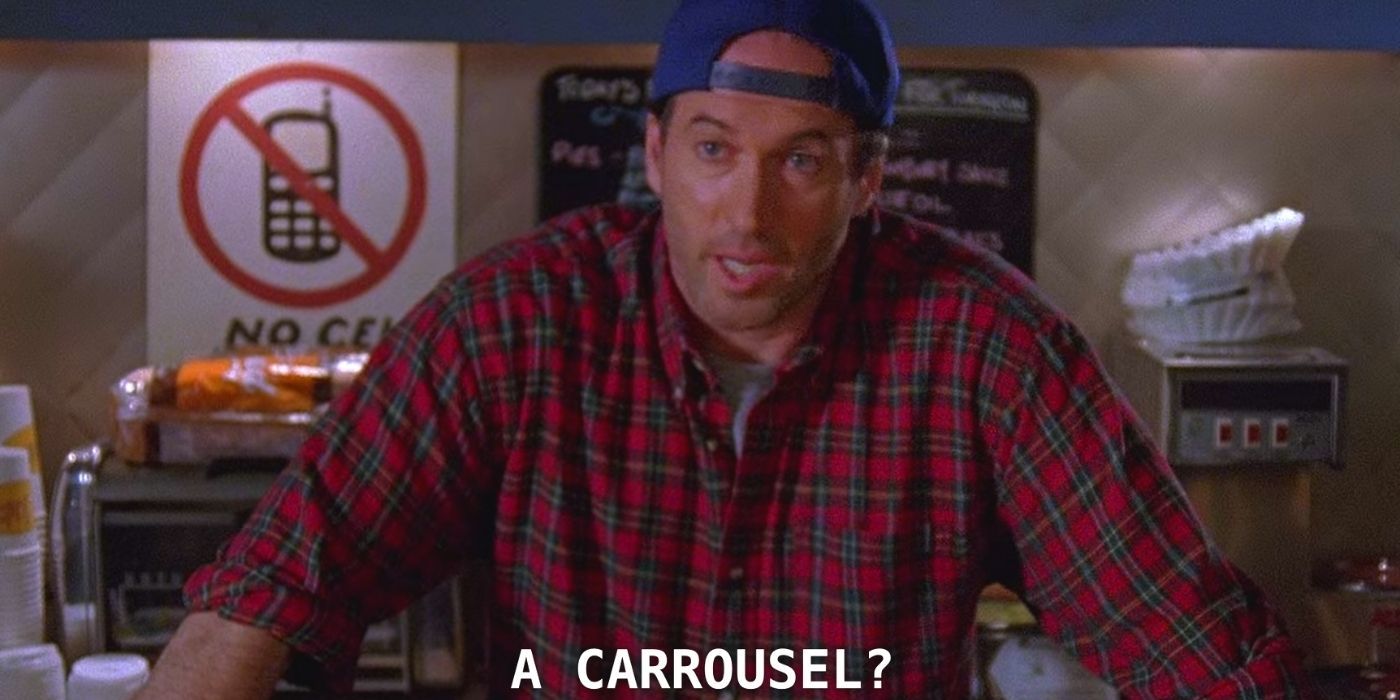 After solidifying the wedding dress and the stationary, fan-favorite best friends on Gilmore Girls Lorelai and Sookie made a pit stop for coffee. It was while they were in the cafe that Lorelai saw a beautiful picture of a rose-covered church. The way Lorelai described the church made it sound incredibly romantic. Luckily for Lorelai, the church was right down the road and was available for a June 3 wedding, The church had a hall in the back that had floor-to-ceiling windows and a working carrousel in the back. And if that wasn't amazing enough, the pastor (Pastor Todd) gave them another deal.
4

Sookie (BFOTB)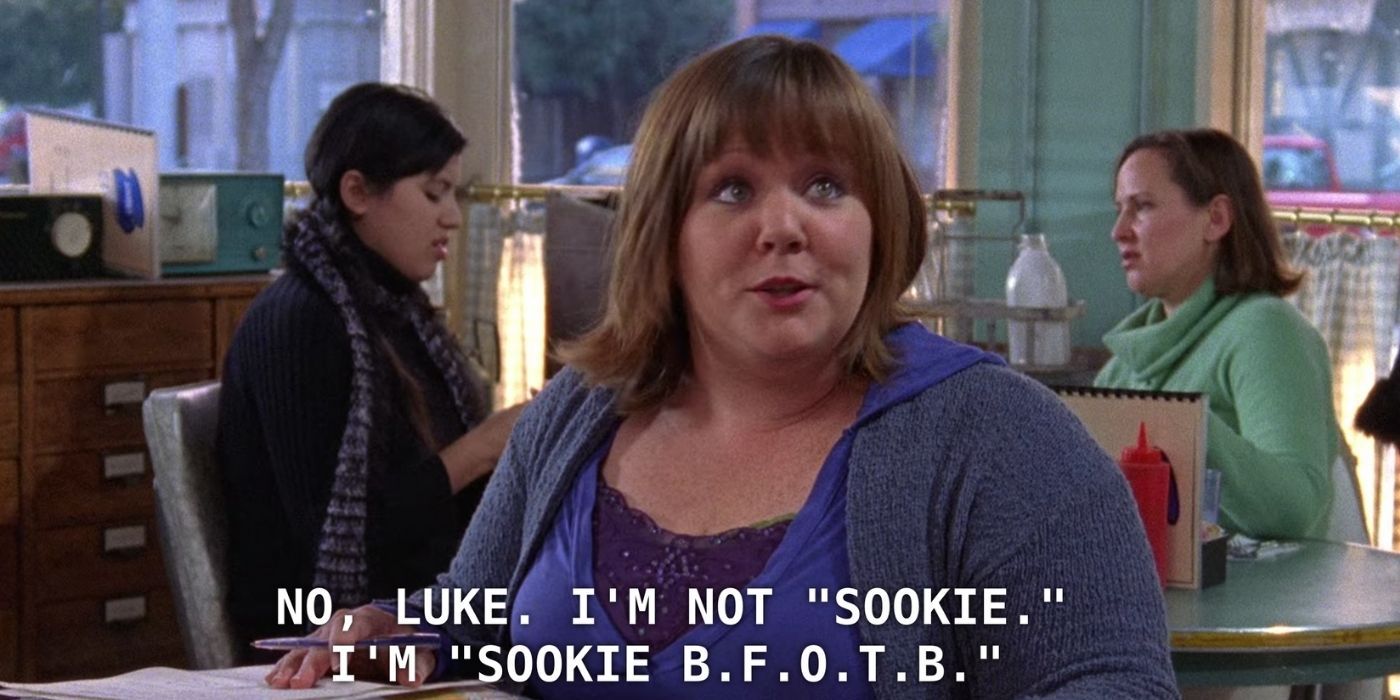 Sookie has done plenty of annoying things on Gilmore Girls that fans have a problem with, but when it comes to being Lorelai's best friend, no one could do a better job.
While the two were talking about wedding arrangements, Luke seemed apprehensive at a few of the ideas being thrown around. To calm Luke down, Sookie reminded him that she was the B.F.O.T.B. (best friend of the bride). It's assumed that Sookie took the B.F.O.T.B. title because Rory would be the maid of honor, but it was never discussed before the big day was canceled.
3

Rory As Maid Of Honor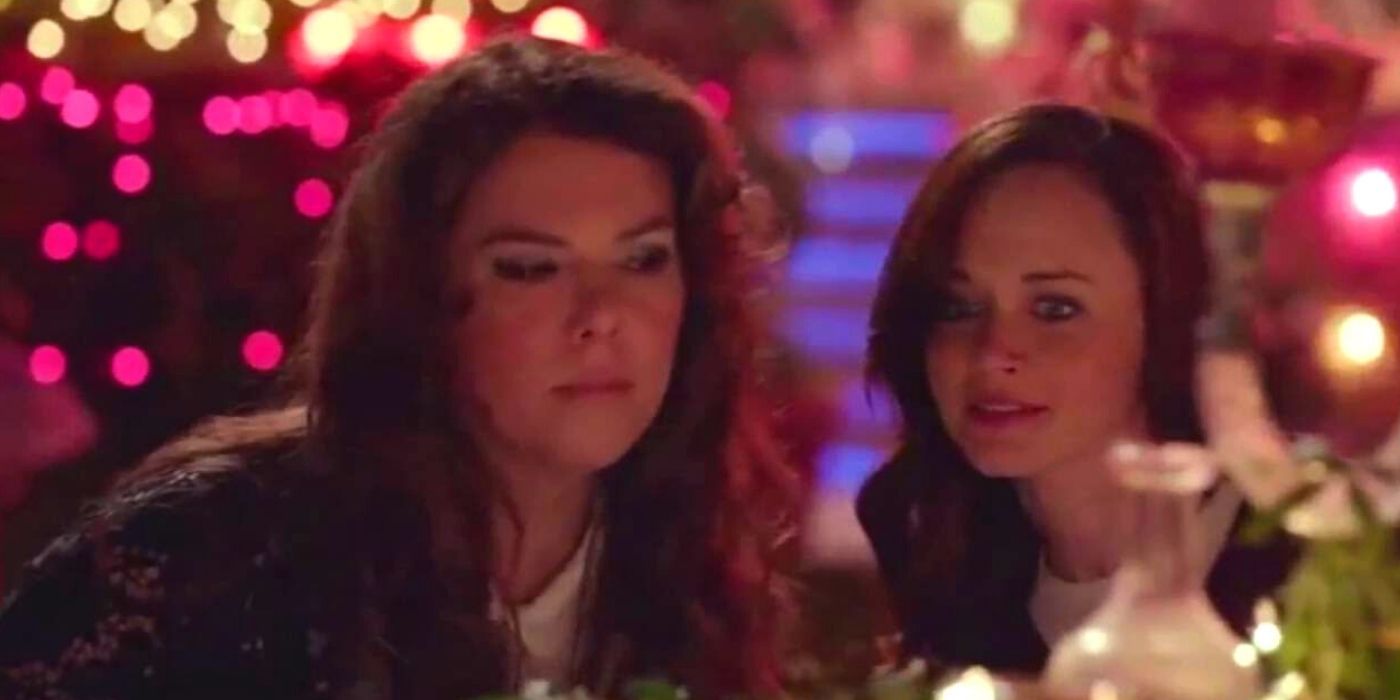 Just as Lorelai did for herself and Luke, she also picked out Rory's dress and shoes for the wedding. With Rory being busy at Yale, Lorelai took it upon herself to pick out exactly what she wanted for Rory. And as the good daughter that Rory was, she supported her mom in anything she dreamed of. Rory never got to wear that dress, but at least she was there a decade later when Luke and Lorelai eventually tied the knot.
2

Flower Shopping For The Boquet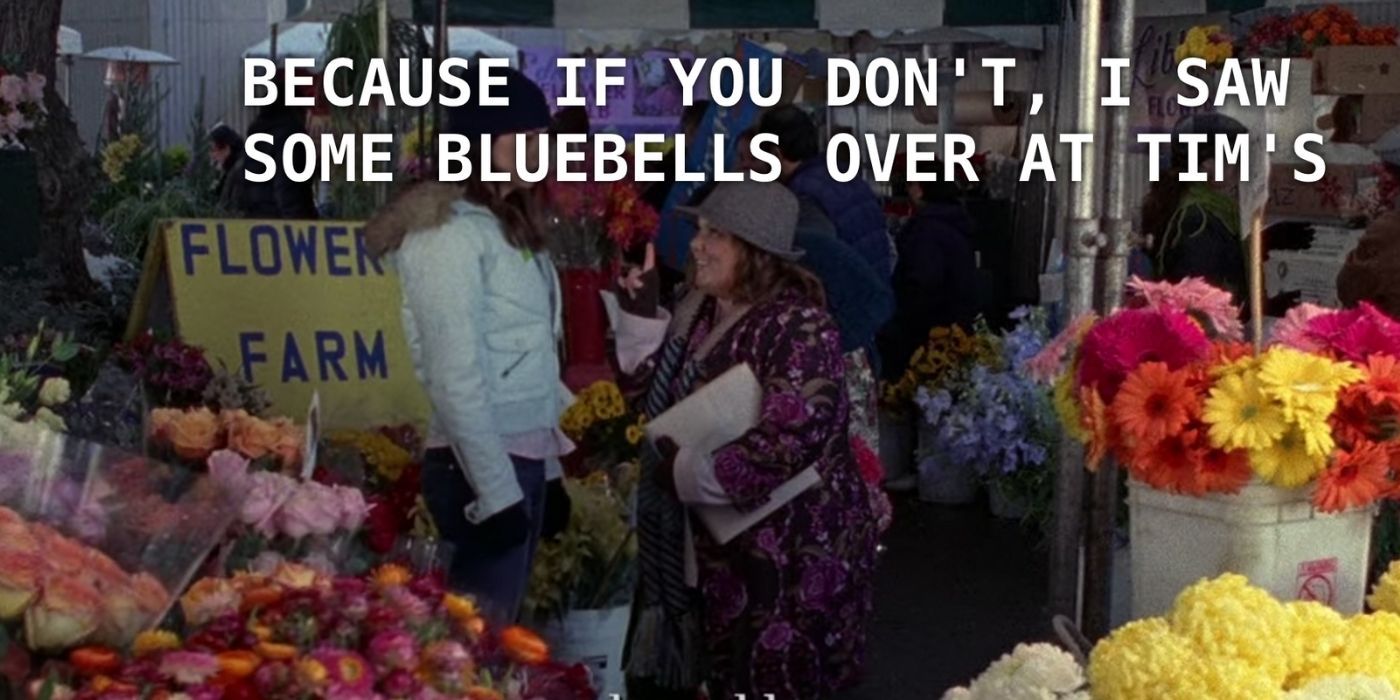 For any fans that miss episodes consumed of Sookie and Lorelai moments, 'Friday Night's Alright For Fighting,' is a great episode to rewatch.
Even though Luke wanted to postpone the wedding, Lorelai followed through with her early morning flower market appointment with Sookie. Sookie had everything under control and was browsing different flowers for Lorelai's bouquet. Sadly, the flower shopping was put on hold when Lorelai admitted that the wedding was postponed.
1

A Bachelorette Party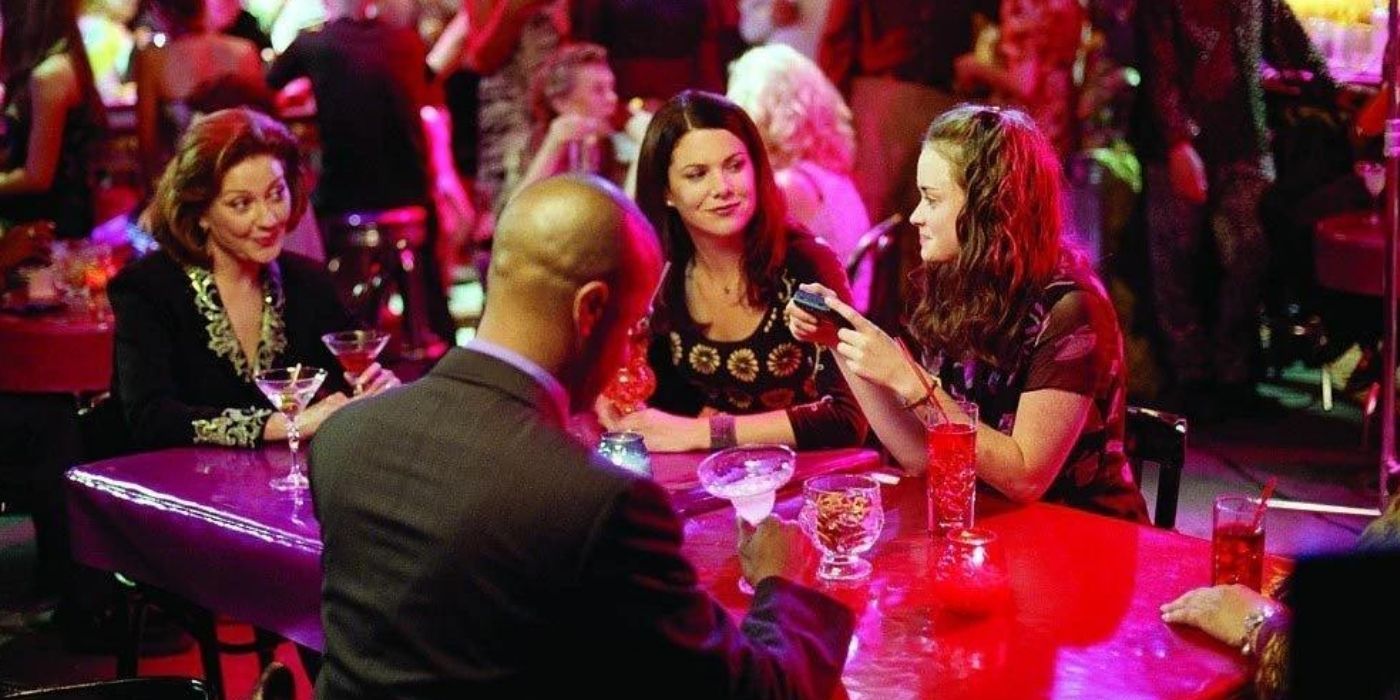 Lorelai and Sookie never got around to planning the bachelorette party but fans can only imagine how epic it would be. Lorelai's bachelorette party when she was engaged to Max was perfect but the vibes were not. Shortly after talking about how much her mom loved her dad, Lorelai realized she didn't love Max the way he deserved to be loved. The bachelorette party then ended on a sour note. The bachelorette party with Luke, however, would have been far more exciting and uplifting. Sadly, it never came to be.
NEXT: 5 Reasons Lorelai Is The Funniest Character (& 5 It's Always Sookie)