Glow Up: Where To Follow The Season 3 Cast On Instagram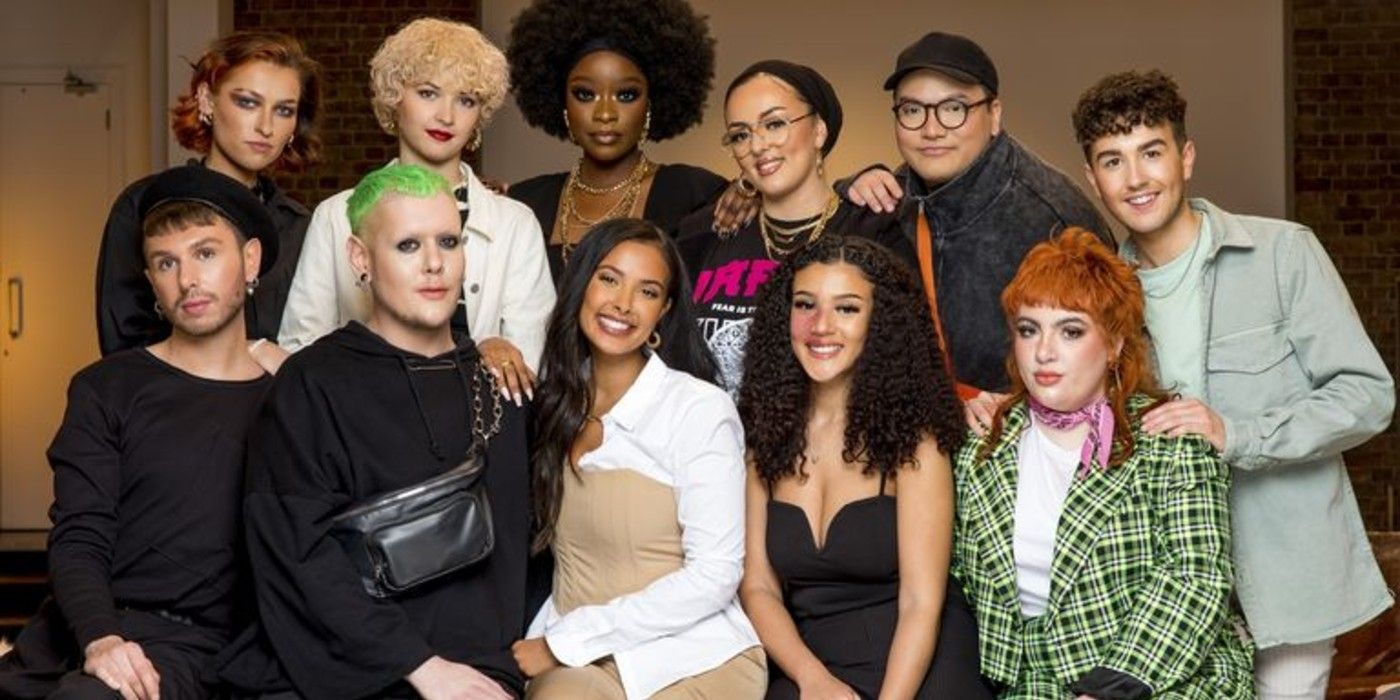 Season 3 of the hit series Glow Up is currently streaming on Netflix, and fans want to get to know the MUAs even more on their Instagrams. Season 3 premiered on July 30, almost exactly a year after season 2 dropped, and it brought plenty of tearful moments, inspiration, and incredible makeup looks.
This season, there was a shakeup in the cast. TV personality and model Maya Jama replaced Stacey Dooley as host. However, Dominic Skinner and Val Garland returned as judges.
Related: Glow Up: Everything To Know About Season 3 Host Maya Jama
The show (formally called Glow Up: Britain's Next Make-Up Star) follows 10 aspiring makeup artists based in the UK. The makeup artists (MUAs) battle it out to become Britain's next makeup star and win a contract assisting some of the world's top makeup artists. This season's MUAs range from ages 19 to 30 and come from all walks of life.
Dolli Okoriko is a 26-year-old makeup artist from London. Before joining Glow Up, she worked as a professional visual creator and beauty broadcaster at Selfridges, a high-end department store in the UK. Dolli became a mom at the age of 20 and talked about how being a young mom impacted her work ethic and determination to succeed on Glow Up. Fans can find her at @dolli.glam.
Sophie Baverstock is 22-years-old and is from Bournemouth and London. Sophie, 17, is an autistic person. She channeled her love of horror, sci-fi, and all things gruesome with her love for makeup. Sophie is also eager to break the stigma surrounding people with autism. She recently graduated from Arts University Bournemouth. Get a glimpse at some of Sophie's spooky makeup looks at @sophiebaverstock.
Ryley Isaac from London is the youngest contestant at 19 years old. Ryley rose to fame on social media as an influencer, creating makeup videos and showcasing her birthmark within her content. She says makeup has helped her to embrace the birthmark on her face and feel more confident. Fans can follow Ryley and her glamorous looks at @ryleyisaac.
27-year-old Jack Oliver is a makeup artist, ultra-glam beauty influencer, and care worker. Jack's makeup career was put aside as the demand for caregivers increased due to the pandemic. They are known as Anna Lies around the Birmingham drag scene. Find this MUA at @jackoliverx.
Elliot Banks is 23 years old and from London. He's a makeup artist, photographer, and creative designer. Elliot stated that his makeup style is a cross between special effects and beauty. Check out his makeup style, as well as his spectacular special effects makeup looks, at @bankselliot.
Samah Say is a 30-year-old beauty counter worker based in London. Samah's makeup style is more traditional and glamorous than some of her fellow contestants. As a Muslim woman, Samah wants to redefine what a makeup artist looks like as a Muslim woman and show that Muslim women can be glamorous too. Follow Samah at @samahsay.
Craig Hamilton is a 24-year-old makeup artist and hairstylist from Northern Ireland and London. He has experience working in bridal, special effects, film, TV, and editorial makeup. Craig said makeup has helped him break out of his shell and gain more confidence. His account is @craighamiltonartistry.
27-year-old Alex Ogden Clark hails from Liverpool and is a triple threat. On top of being a stellar makeup artist, she is a hairstylist and fashion stylist. Alex is a self-described lipstick lover. Fans can follow Alex at @lipglosslezza.
Xavi Guillaume is a 23-year-old freelance journalist and makeup artist. Xavi started experimenting with makeup at 16. He talked about having Aspergers Syndrome on the show and using makeup for self-expression. Fans can follow Xavi at @xaviguillaume.
Nicole Marilyn is a 28-year-old MUA and entrepreneur from London. She owns an eco-friendly glitter brand called Disco Dust London. She loves enhancing natural features using subtle makeup and glitter. Follow her at @nicmarilyn.
Next: TV Shows & Documentaries To Watch If You're Into Make-Up And Special Effects
Watch Glow Up, now streaming on Netflix.
Sources: Dolli Okoriko/Instagram, Sophie Baverstock/Instagram, Ryley Isaac/Instagram, Jack Oliver/Instagram, Samah Say/Instagram, Craig Hamilton/Instagram, Alex Ogden Clark/Instagram, Xavi Guillaume/Instagram, Nicole Marilyn/Instagram, Elliot Banks/Instagram