James Gunn Has Trouble Finding Stunt Doubles For Dave Bautista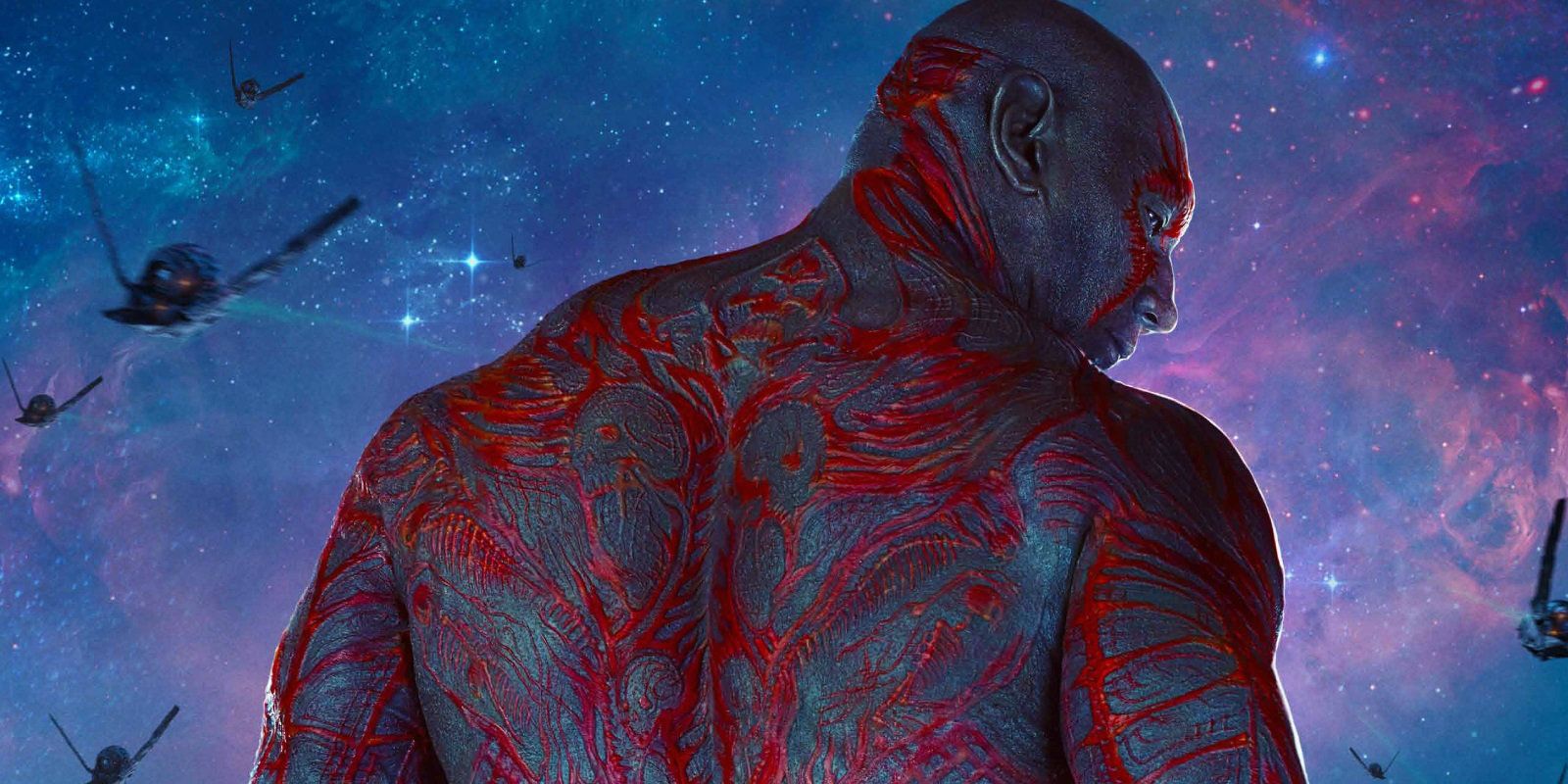 According to Guardians of the Galaxy's writer and director James Gunn, finding stunt doubles for Dave Bautista can be a hassle. Gunn and Bautista have worked together on two MCU projects, the original Guardians of the Galaxy and its sequel, Guardians of the Galaxy Vol. 2. They are also slated to work together again in two forthcoming Guardians projects, The Guardians of the Galaxy Holiday Special and Guardians of the Galaxy Vol. 3. Each movie in the Guardians franchise features action-packed moments that require well-qualified stunt performers to step in for the central actors when it's time to film them, and Bautista's Drax is no different.
In Guardians of the Galaxy, Drax wants to avenge the deaths of his wife and daughter, both of whom were killed by Ronan the Accuser. Drax is also a physically larger character, with some of his aliases and humorous nicknames in the Marvel Universe being "The Big Guy" and "Muscle-Bound Whack-Job." Bautista was tapped to bring the character to life, as being a former professional wrestler with the WWE before turning to acting allowed him to bring his imposing, muscular size to the film. However, the stunt work needed for the role posed a problem for the production.
Related: What Dave Bautista's Original Army Of The Dead Role Was
While speaking with Collider about his new film, The Suicide Squad, Gunn dropped some details on finding stunt doubles for the larger, more muscular actors he has worked with. The line of questioning was about another professional wrestler turned actor, John Cena, who stars in The Suicide Squad as Peacemaker. While talking about John Cena's stunt double, Gunn also mentions Bautista, as both men have similarly muscular frames with which to contend. Gunn commented that Bautista also causes some problems when it comes to finding stunt doubles. Check out what Gunn had to say below:
"Yeah. He and Dave Bautista, we have real problems with stunt-doubling. But John's got his own guy, Spencer. And Spencer goes, and he does every movie with John. He's a total f**king filmmaker and a part of the process. And he's my friend, and he's a great guy."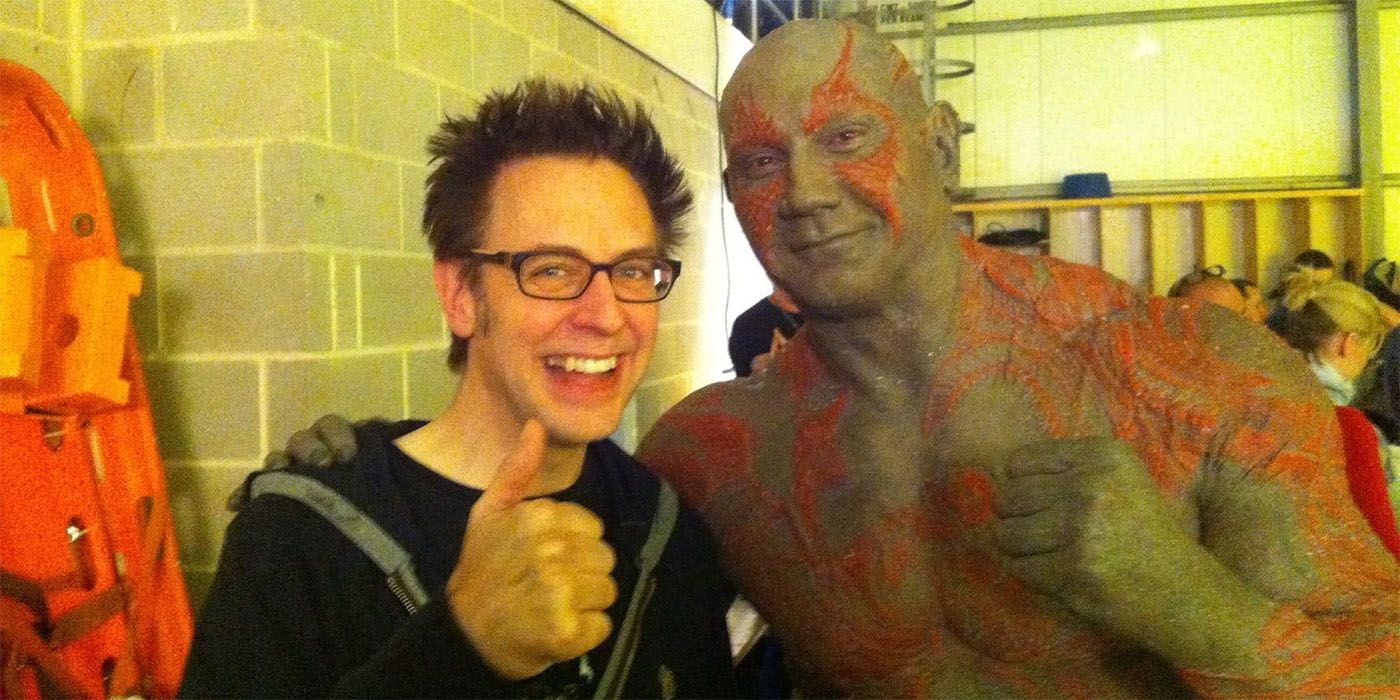 The trouble with finding stunt doubles for muscular actors is actually nothing new, as there are examples going back as far as even Arnold Schwarzenegger's first big starring role in 1982's Conan the Barbarian. For Schwarzenegger's role as Conan, the production also had a lot of trouble finding a stunt performer to match his immense frame, as Schwarzenegger was a professional, multi-award-winning bodybuilder. Because of this, Schwarzenegger had to do many of his own stunts, with a less muscularly developed stunt double only doing long shots where he is positioned far from the camera. Conan the Barbarian was one of the first productions to have to deal with such a conundrum, but it would be far from the last, and as Gunn's comments show, it's still ongoing.
Given that Bautista's resume includes films like Army of the Dead, Avengers: Endgame, and 2015's James Bond film Spectre, it would be safe to assume that there are compatible stunt performers already in the industry that have doubled for the actor. Since Gunn pointed out that Cena continues to use the same stunt double on every project, the question then boils down to whether or not Bautista has similar relationships with his stunt doubles. Unfortunately, Gunn's limited comments don't provide an answer. With Drax slated to return for more MCU projects, finding a stunt double is likely on Gunn's to-do list, and it's probable they'll return to stunt performers who have doubled Bautista in the past. Audiences can see Gunn and Bautista's next collaborations when The Guardians of the Galaxy Holiday Special is released in December 2022, with Guardians of the Galaxy Vol. 3 following close behind in May 2023.
Next: The Suicide Squad's Polka-Dot Man Is A James Gunn Miracle
Source: Collider