Lucifer Season 6 Trailer Reveals New Angel on Lucifer's Throne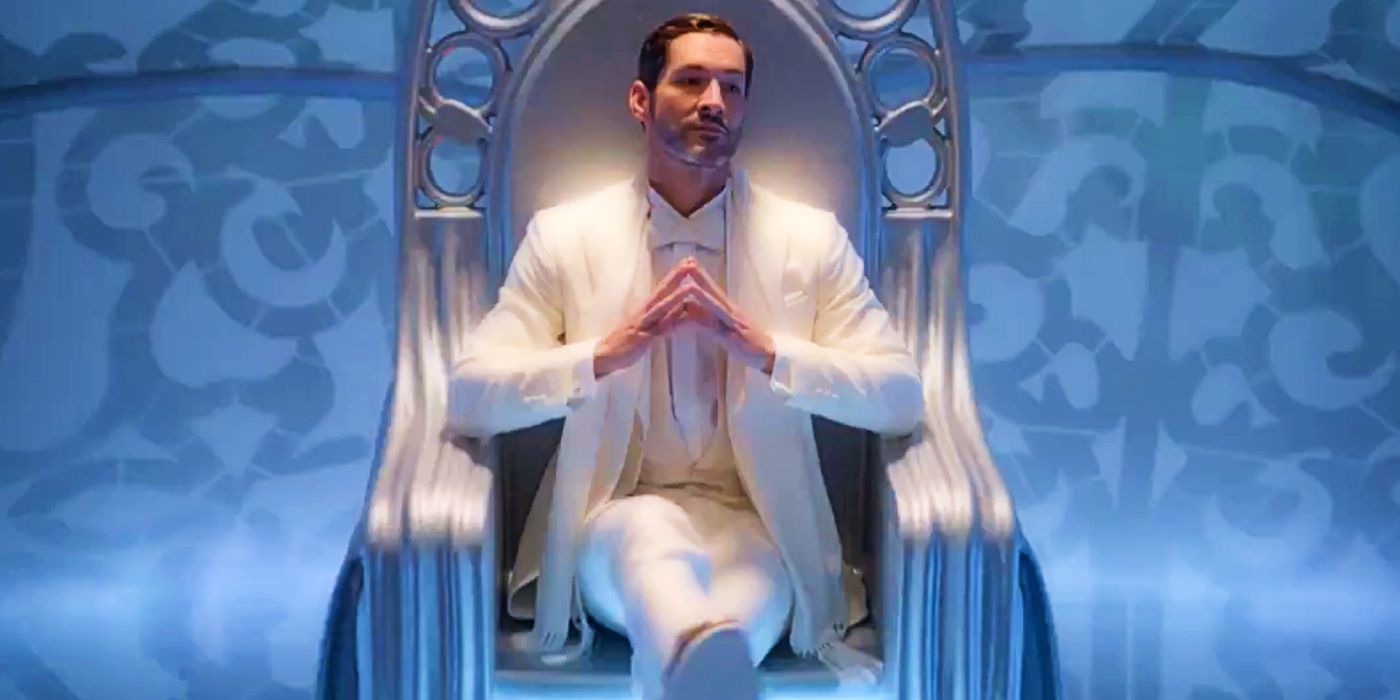 Netflix has released the full Lucifer season 6 trailer, reconfirming the official September release date and teasing how the hit series will end. The show has been a huge success ever since Netflix picked it up after it was cancelled by Fox, with seasons 4 and 5 being widely viewed as the best yet. Lucifer will finally come to a proper conclusion at the end of season 6, and it looks like fans still have a lot to look forward to.
Lucifer season 5 ended with a climactic showdown between Lucifer and Michael that spanned Heaven and Hell, ultimately ending with a victory for Lucifer, Chloe, and the rest of the show's heroes. Lucifer's sacrifice to save Chloe redeems him in the eyes of Heaven and proves him worthy of becoming God, setting up some major power shifts and revelations in season 6. With the devil himself primed to become the new God, fans have speculated extensively as to how the show could end.
Related: Lucifer: Every Power & Ability He's Had In The Show
Thanks to the new Lucifer season 6 trailer from Netflix, those fans can now get a full look at what's to come. The final season is set to premiere on September 10, 2021, and it looks like it will pick up right where season 5 left off, with Lucifer struggling with personal dilemmas and preparing for his reign as God. Of course, there are also plenty of forces still at play looking to kill him and keep him from that fate. Check out the Lucifer season 6 trailer below.
While a lot happens in the new Lucifer season 6 trailer, it does a good job of keeping the overall story shrouded in mystery. The shift in supernatural power dynamics seems to have set off some apocalyptic events, which Lucifer and the gang will have to stop. The show's writers have previously explained their intentions in the final season of telling a post-happily-ever-after story, which should present some interesting narrative opportunities. And at just 10 episodes long - the least since season 4 - Lucifer season 6 will have to be pretty focused in wrapping up all of its loose ends.
Of course, the new Lucifer season 6 trailer is also filled with all the excess, partying, comedy and colorful locales that fans have come to expect. There are plenty of stark shots of both Heaven and Hell, a surprise tropical vacation filled with dancing and binging, and even a Looney Tunes-style animated excursion that looks hilarious. It will be sad for many to see Lucifer end, but if the trailer is any indication, it will be going out with a bang when season 6 arrives on Netflix on September 10.
Next: Lucifer: What God's Retirement Means (& Why He Left)
Source: Netflix