MasterChef: 10 Most Popular Winners, Ranked By Instagram Followers
To be a contestant on MasterChef is a high honor alone, but some winners and their respective dishes were beyond impressive. Through a rollercoaster of challenges and mystery boxes, these contestants pushed through and won themselves the MasterChef title along with $250,000 and a dazzling trophy.
RELATED: Los Pollos Hermanos & 9 Other TV & Movie Food Chains We Wish Existed
Additionally, some winners even stayed close to viewers' hearts and minds even after their season came and went. Thanks to Instagram, certain MasterChef winners are just a google away from their fans, and they continue to interact with their followers to this day.
10

Jennifer Behm (333 followers)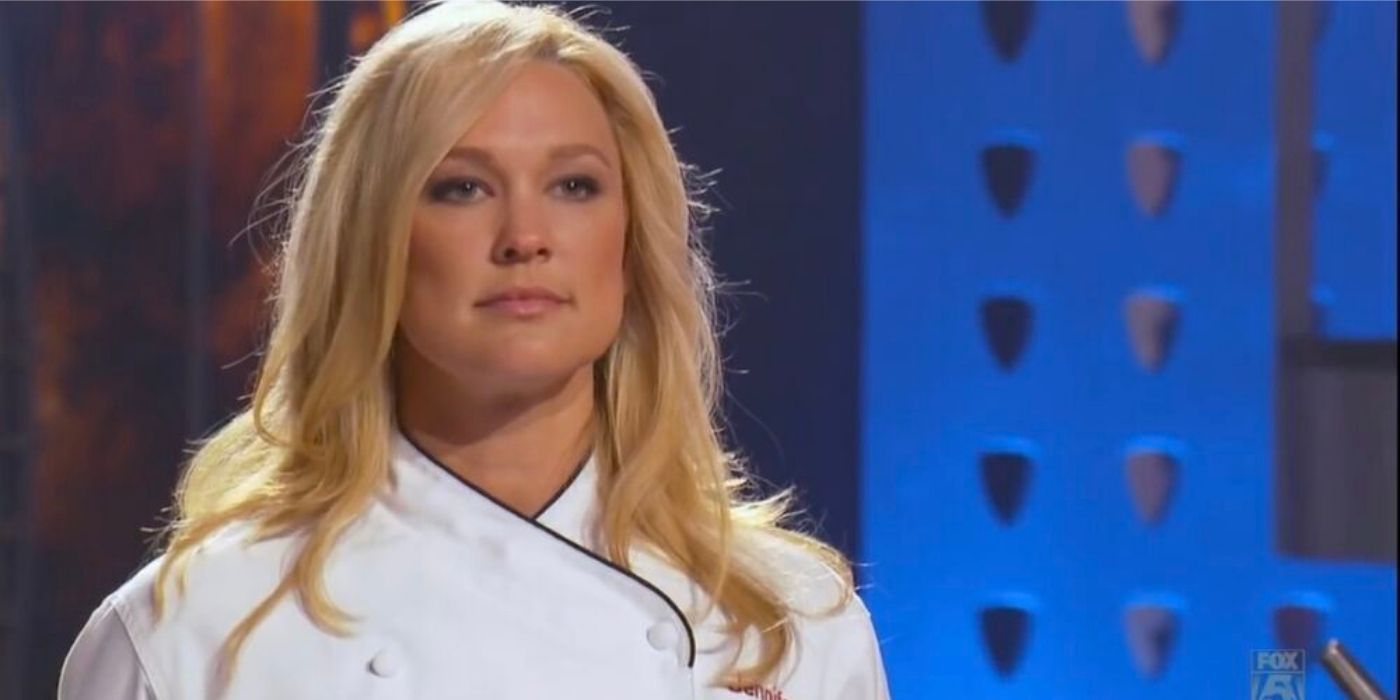 Behm was the contestant and winner of season 2. In the final cookoff, Behm's elegant three-course dinner pushed her over the edge and won her the advantage over her competitors. Take her number of Instagram followers with a grain of salt, as Behm's profile is set to private. However, considering Behm's win was ten years ago, she is not a winner fresh in viewers' minds.
9

Courtney Lapresi (21.3k followers)
Season 5 winner Courtney Lapresi was a favorite among the judges throughout her season. Courtney's eclectic dishes hardly gained negative critiques from the hard-to-please chefs. After publishing a cookbook called Everyday Fancy: 65 Easy, Elegant Recipes for Meals, Snacks, Sweets, and Drinks, this MasterChef winner is currently doing sales for Tesla, a far cry from the culinary background that many viewers know her from.
8

Shaun O'Neale (21.7k followers)
The D.J. from Las Vegas, Shaun O'Neale won season 7 of MasterChef. Known for being on the arrogant side during his season, Shaun's cultured worldview and elevated plates ultimately charmed viewers and the judges.
RELATED: The Best Mentors On Worst Cooks In America Ranked
O'Neale's participation in online cooking classes with other MasterChef winners - in conjunction with several brand endorsement deals - has likely helped him to achieve his respectable Instagram following.
7

Whitney Miller (25.3k followers)
Miller was season one's winner, making her the first U.S MasterChef. The Southern belle was praised for her down-home cooking, garnering enough favor with the judges to nab the title as America's Best MasterChef. With her Instagram feed showing her adorable kids and her delicious cookies from her company Whitney's Cookies, followers keep up to date on season one's winner.
6

Dorian Hunter (42.7k followers)
Dorian Hunter, the winner of season 10, impressed the judges with her finale menu that consisted of scallops, short rib, and an appetizing lemon blueberry tart. Hunter's tenacity and passion for cooking endeared her to viewers nationwide. Staring the season out as an underdog, Dorian proved everyone who doubted her wrong when she nabbed the prize and its accompanying $250,000. Not only was Dorian the strongest of the stiff competition, but she is also the first black female MasterChef winner.
5

Gerron Hurt (53.8k followers)
Kind-hearted Gerron Hurt won season 9 of MasterChef. The Kentucky native was an expert in Southern cooking, always absorbing how he could elevate his country cooking further. Gerron always made the most of every opportunity he was given in the MasterChef kitchen while never compromising his courteous nature. Now a proud husband and father, Hurt owns a food truck that specializes in Southern cuisine.
4

Luca Manfé (73.2k followers)
Luca Manfé is the winner of MasterChef's season 4. The Italian home cook gathered special praise from illustrious Gordon Ramsey for his short ribs in the grand finale. Manfé beat out many hopefuls, including Eddie Jackson who is often regarded as one of the best contestants of MasterChef who didn't win. Now an ambassador for Donna Italia (a nationwide Italian food manufacturer), as well as a food truck and catering owner, Manfé has been one of MasterChef's exemplary success stories.
3

Dino Angelo Luciano (83.6k followers)
Extroverted Dino wowed the judges with his Italian fare. Dino even managed to get picky Joe Bastianich, owner of many Italian restaurants, to go nuts over his food. Quirky and creative, Dino always kept the judges and viewers on their toes. The unpredictable season 8 where Dino won remains a favorite season of MasterChef for fans. This broad-ranging chef has also released a hip hop single since the airing of his season, alongside opening his own restaurant in Montreal.
2

Claudia Sandoval (92k followers)
Season 6 winner Claudia wowed the judges with her Mexican dishes, bringing her best to the finale that got her the MasterChef trophy. In addition, Claudia proved herself to be a versatile cook that could handle whatever cuisine was handed her way. Sandoval has remained incredibly busy since her season of the show, starring as a judge on multiple cooking shows, including the recent Easter Basket Challenge on Food Network. In addition, Claudia has her own catering and consulting company. On top of all that busy schedule, she operates a Mexican Bakery called Cochi Dorado.
1

Christine Ha (118k followers)
The most beloved winner of MasterChef, according to Instagram, Christine Ha was the champion of season 3. Ha is often ranked high among best MasterChef winners lists, edging out other well-liked competitors like Dino and Claudia. Extremely busy since the end of season 3, Ha has co-hosted a cooking show for the visually impaired called Four Senses. Further, she has opened two restaurants, worked as a judge on Masterchef: Vietnam, and released her own cookbook. As productive as she is talented, Christine Ha remains a fan favorite since her debut season all the way back in 2012.
NEXT: 10 Most Unforgettable Contestants On Gordon Ramsay's MasterChef Junior