RHONY: Dorinda Medley Comments on Tinsley Mortimer's Split from Scott Kluth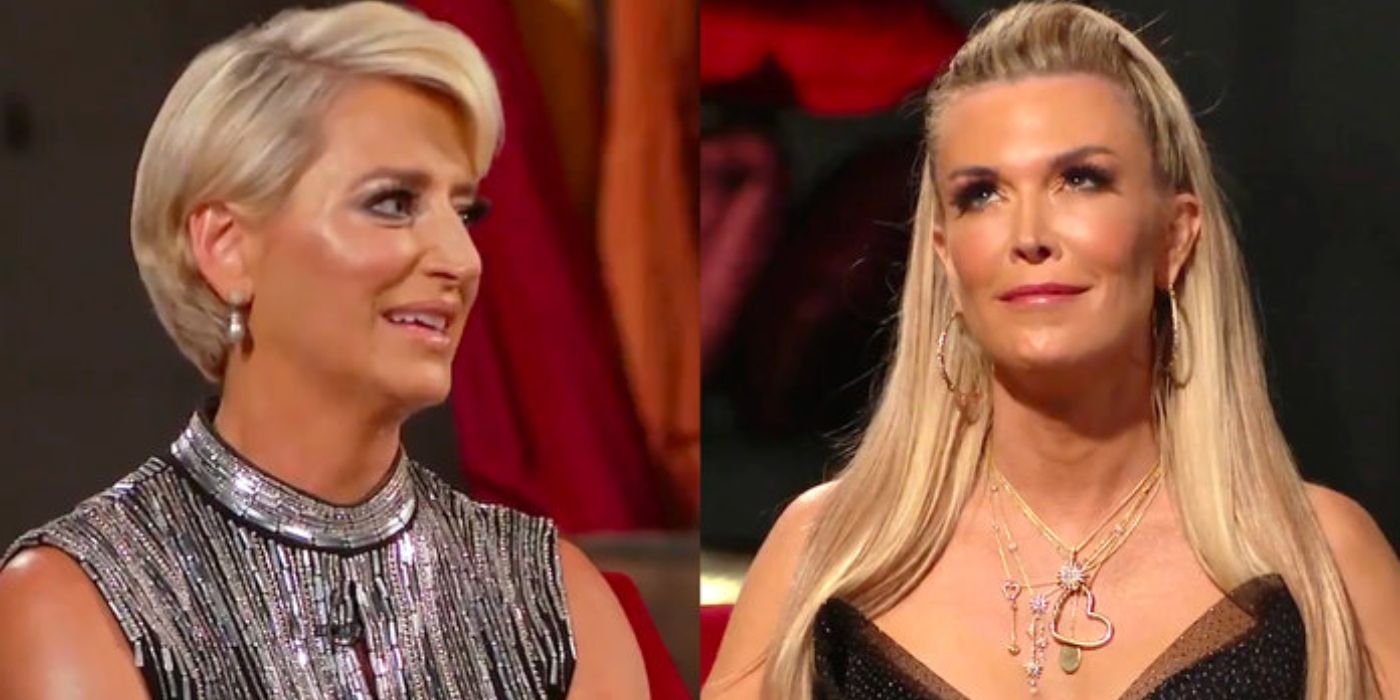 The Real Housewives of New York City alum Dorinda Medley revealed her thoughts on Tinsley Mortimer and Scott Kluth's sudden ending of their engagement. Last season, Dorinda and Tinsley were at odds due to Tinsley's on and off relationship with the Chicago native. Dorinda felt like Tinsley wasn't being truthful to the group and would constantly bring her down for not opening up about her relationship. Tinsley, and the rest of the cast, disagreed with Dorinda and believed she was being as open as she possibly could be.
Unlike Dorinda, who was fired, Tinsley left halfway through season 12 to move to Chicago to be with her soon-to-be fiancé. However, the relationship didn't last long as, after more than a year, Tinsley and Scott called off their engagement. The Coupon King revealed in a statement that the couple was separated for months prior to the public announcement. However, friends of the socialite disagreed with his remark. They even said Scott took advantage of Tinsley's fame to promote his company, despite complaining about not wanting to be in the spotlight.
Related: RHONY: Andy Cohen Discusses Cast Shakeup Drama & Ratings Decline
During a recent appearance on Watch What Happens Live with Andy Cohen, Dorinda commented on Tinsley and Scott's break-up after a fan asked about her thoughts on the split. "I actually wrote to her right away, and I said, 'Listen, I'm sorry that you're going through this.' You know, whatever happens when we're filming and stuff, at the end of the day, you don't want people to go through that," Dorinda, who recently listed Blue Stone Manor on Airbnb, revealed. "I told Andy [Cohen] that I just wrote to her right away, and I said, 'Sorry about that,' because she believed in it, and I think she really hoped it was gonna happen. And what can you say?" She then jokingly added, "I told you so," to which Andy responded, "You could have said that, but you didn't."
Dorinda made her first appearance in the clubhouse after almost two years, where she not only talk about the break-up but also promoted her new memoir, Make It Nice. After departing the series last year, the Massachusetts native says her "pause" from the show allowed her to write her new book. "The good thing is what a year to be put on pause," RHONY alum Dorinda admitted. "It became a blessing because it was COVID, and I don't think I would have ever had the opportunity to write the book because it was so much more intense, and writing is so hard and terrible." As for who she still speaks to on the RHONY cast, Dorinda said every cast member except for one. She asked Andy if he could guess which one, to which he replied, "Ramona?" and she confirmed in the affirmative.
Even though Dorinda and Tinsley had their differences last season, she never wanted the relationship to end how it did. Now that Dorinda is thriving outside the show and seems to be on better terms with the network, there could be a possible return for her on RHONY. Viewers would love to see Dorinda back on their screens in The Berkshires, making it nice.
The Real Housewives of New York City airs Tuesdays at 9pm on Bravo.
Next: RHONY: Ramona Singer & Eboni K. Williams Spotted Together Amid Tension