RHONY: Everything To Know About Bethenny Frankel's Daughter Bryn Hoppy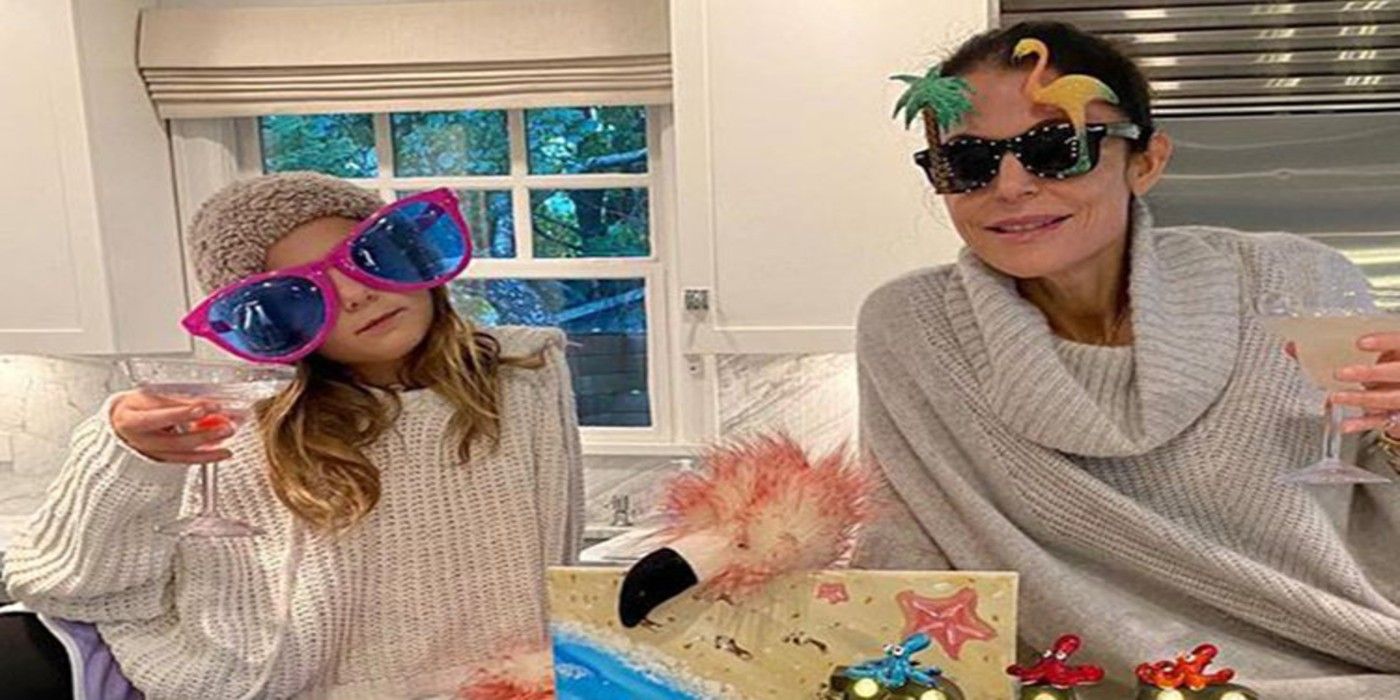 Bethenny Frankel was an original The Real Housewives of New York City cast member and there is so much to learn about Bethenny's daughter Bryn Hoppy. Bravo cameras followed Bethenny's life as a new mom from the moment she became pregnant. In fact, she was captured taking a pregnancy test in the bathroom. While Bryn has never appeared on RHONY, she was featured on Bethenny's spin-off shows Bethenny Getting Married? and Bethenny Ever After, where her birth story was shown. Now, Bryn is 11 years old and can be seen on Bethenny's Instagram account frequently. The IG posts give fans a glimpse of Bryn's personality.
Bryn Casey Hoppy was born on May 8, 2010, to Bethenny and her then-husband Jason Hoppy. Her parents got divorced when she was only 2 years old and were involved in an ongoing custody battle. Bryn's new Instagram account @iambrynpeanut confirms that she recently graduated the 5th grade at The Fieldston School in the Bronx. To ensure her daughter had privacy, Bethenny chose not to show Bryn on The Real Housewives of New York City when she returned in season 7. Now that the former RHONY has left the show, she has been featuring Bryn in more of her social media posts. Fans can see Bryn spending a lot of time with her mother but the status of her relationship with her father is unclear.
Related: RHONY: A Reunion Could Come As Soon as September As Cast Shakeup Looms
Since fan-favorite housewife Bethenny had a difficult relationship with her parents, she cherishes her bond with Bryn. She calls her daughter "peanut," and shared a sweet Mother's Day post on Instagram this year, which read, "The bond between a mother and a child is infinite. It defines me, gives me purpose, and is my true compass. Treat yourself today. Love yourself today. Put yourself first today. You deserve it because every other day you put them first. Xoxo." See that post below:
Bethenny and Bryn love making memories together and take part in activities that center around their shared interests. The mother-daughter duo splits time between the Hamptons and Bethenny's New York City apartment. Bryn is a talented artist and her masterpieces are displayed in their homes. She also likes being a sous chef. Bryn helps Bethenny to cook great meals with her mom's Skinnygirl cookware. Most of all, Bethenny and Bryn are known for their frequent and impromptu dance parties.
While Bryn may be an only child, she is joined by rescue dogs Biggy and Smalls. The dogs are brothers and are nicknamed "boy babies" by their owner Bethenny. Biggy and Smalls even have their own @biggysmallz Instagram account, where they show their love for Bryn. "Matching coats with the birthday girl. #HBD Bryn!" read a caption added on Bryn's birthday, with a photo of the puppies sitting on her lap. In 2017, Bethenny lost her former boyfriend Dennis Shields to an overdose. She and Bryn were very close with Dennis and believe he lives on in Biggy and Smalls.
Bethenny may not be on The Real Housewives of New York City anymore, but she is using her time away from the series wisely, by spending lots of quality time with Bryn. Her "peanut" is growing up so fast and will soon be a teenager. The two are making the most of summer in New York City and while playing in their pool in the Hamptons. Fans look forward to seeing what Bethenny, Bryn, and the dogs do next.
Next: RHONY: Luann de Lesseps Denies That Ramona Singer Will Be Fired
Source: Bethenny Frankel/Instagram, BiggySmallz/Instagram, Bryn Hoppy/Instagram