RuPaul's Drag Race: Gottmik Revisits Snatch Game Character Paris Hilton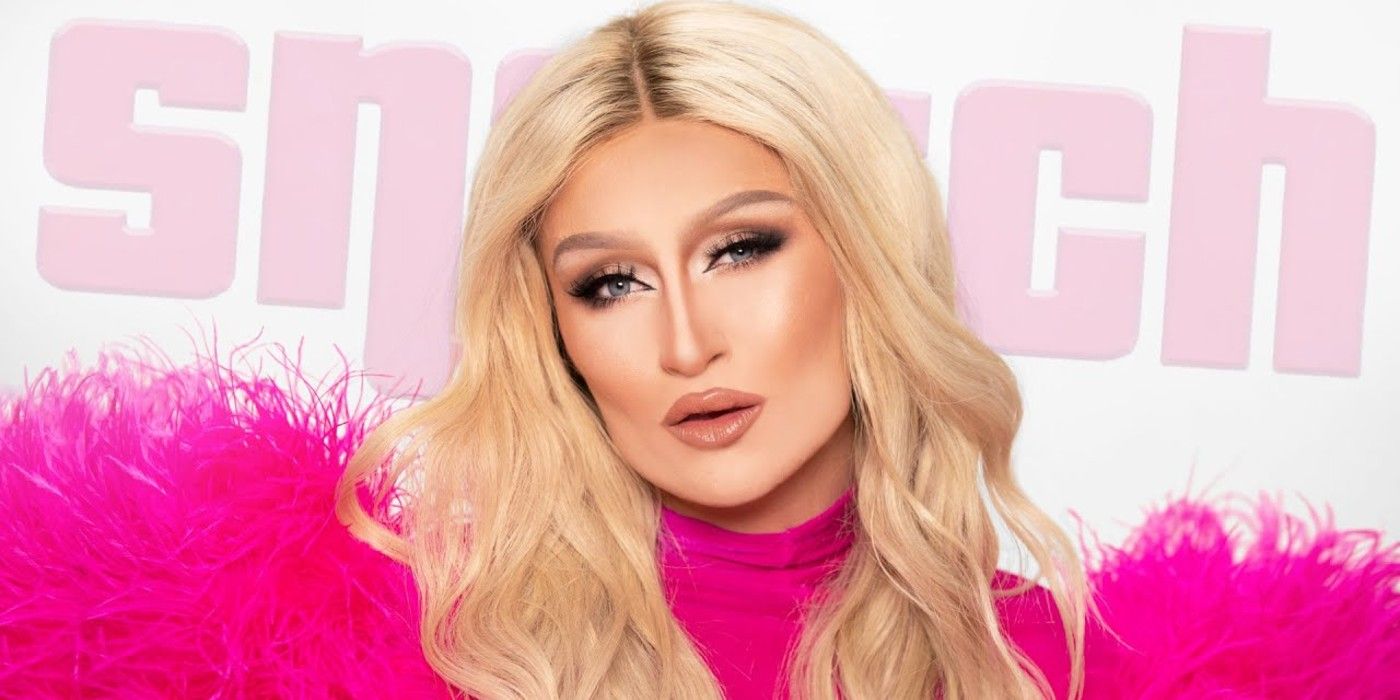 Gottmik, a fan-favorite and finalist from RuPaul's Drag Race season 13, recently revisited her winning Snatch Game character Paris Hilton in a hilarious spoof of the mogul's new cooking show on Netflix. Though Raven was the first queen to impersonate Paris on season 2 of the competition, Gottmik's version of Paris was spot-on, from the breathy "that's hot" to the tiny dog clutched in her arms. So when Cooking With Paris premiered on the streaming platform last week, it only made sense for Gottmik to break out the blonde wig again and show the world how to make a Paris Margarita.
Throughout her tenure on Drag Race, Gottmik consistently "crashed the cis-tem" as the first trans man to appear on the show. With her edgy, fashion-forward looks and flawless comedic timing (she successfully roasted Miss Congeniality winners Nina West, Heidi N Closet and Valentina), it's no surprise Gottmik soared to final four. Ever since she finished in third place, much to the anger of her loyal fan base, Gottmik has appeared on the cover of Glamour UK, toured the country on the Drive 'N Drag tour, and shared on YouTube several new makeup tutorials, including one featuring Drag Race season 7 winner Violet Chachki.
Related: RuPaul's Drag Race: Why Gottmik's Snatch Game Was the Homage We Needed
For her latest project, Gottmik reconnected with her inner Paris. On Instagram, Gottmik shared a spoof advertisement (seen below) for the celebrity's new Netflix series Cooking With Paris, which, according to the show's description, features Paris adding "her own flair to every dish." For her, "Fun is just one edible glitter bomb away on this unique cooking show." In Gottmik's video, she provides a tutorial on how to make the signature drink, a Paris Margarita. Gottmik is charmingly ditzy as she adds various ingredients, including "the only thing in the world that's not hot: ice," and even accidentally breaks a glass during the process. The Paris Margarita is only complete after adding the most important thing: glitter.
Fans and fellow queens, including her season 13 sisters Rosé and Denali, shared their appreciation of Gottmik's margarita tutorial. Even Paris herself thought it was "hot" and posted it on her Instagram page. In fact, Gottmik's impersonation was so accurate that some followers thought it was actually Paris for a brief moment. The video is extremely well done, right down to the Netflix logo in the corner of the screen. It's understandable why some believed it was Paris, or that Gottmik landed her own show on the streaming platform as her Snatch Game character.
Out of all the Snatch Games to be featured on RuPaul's Drag Race, season 13's may just be one of the best. In addition to Gottmik as Paris Hilton, Denali wowed the world as Queer Eye star Jonathan Van Ness. Denali's performance attracted the attention of the hair stylist, who posted a shot from the Snatch Game with the caption, "Brava sis." As for Rosé, her hilariously crude version of the beheaded Mary Queen of Scots was so well-received by viewers, she filmed a video that shows Mary adventuring across New York and giving modern-day trends like Tik Tok and OnlyFans a try. Rosé previously shared that she'd love to revisit Mary. Maybe next time, Paris can help her adapt to the 21st century.
Next: RuPaul's Drag Race: Rosé Goes On NYC Adventure As Mary Queen Of Scots
Source: Gottmik