Thandiwe Newton Interview: Reminiscence | Screen Rant
Writer and director Lisa Joy makes her feature film debut with Reminiscence, out August 20, and it's only fitting that she once more joins forces with Westworld star Thandiwe Newton. In the sci-fi noir story, Newton's character Watts must help impassioned private eye of the mind Nick Bannister (Hugh Jackman) track the woman he loves through memories.
Related: Hugh Jackman Interview: Reminiscence
Newton spoke with Screen Rant about the themes that impressed her most from the movie and what it felt like to collaborate once more with Joy.
Screen Rant: This is a passion project, but what are some of the themes that attracted you to Reminiscence?
Thandiwe Newton: Addiction. Addiction isn't just about how Watts is addicted to alcohol. She's also addicted to distraction; she's also addicted to her friendship. [Nick's] addiction is all about denying the present. I don't think he's just addicted to his relationship, he's addicted to the sense that he doesn't know it all. He's addicted to truth, and that's not a bad thing to be addicted to.

It just changes the whole notion of what addiction means. I really love this movie, Another Round, which was looking at alcoholism. You can't come away from that movie really saying that alcohol is bad; what's challenging is the reasons for wanting to check out of life.

What I love about Lisa's work is that at every moment, any single beat can be appreciated on so many levels. It's not that she's trying to do that; it's just that instinctively, for her, what is worth investigating is looking at something from many different angles. She's a trained lawyer, Lisa. She's a brilliant scholar and poet, and all those things come into play when she works. I really do think that Reminiscence is a film that you want to visit again and again because it can be appreciated in so many different ways. I just think that's wonderful for humanity.

For one thing, to have a movie that you can actually watch more than once is probably quite good for recycling, isn't it?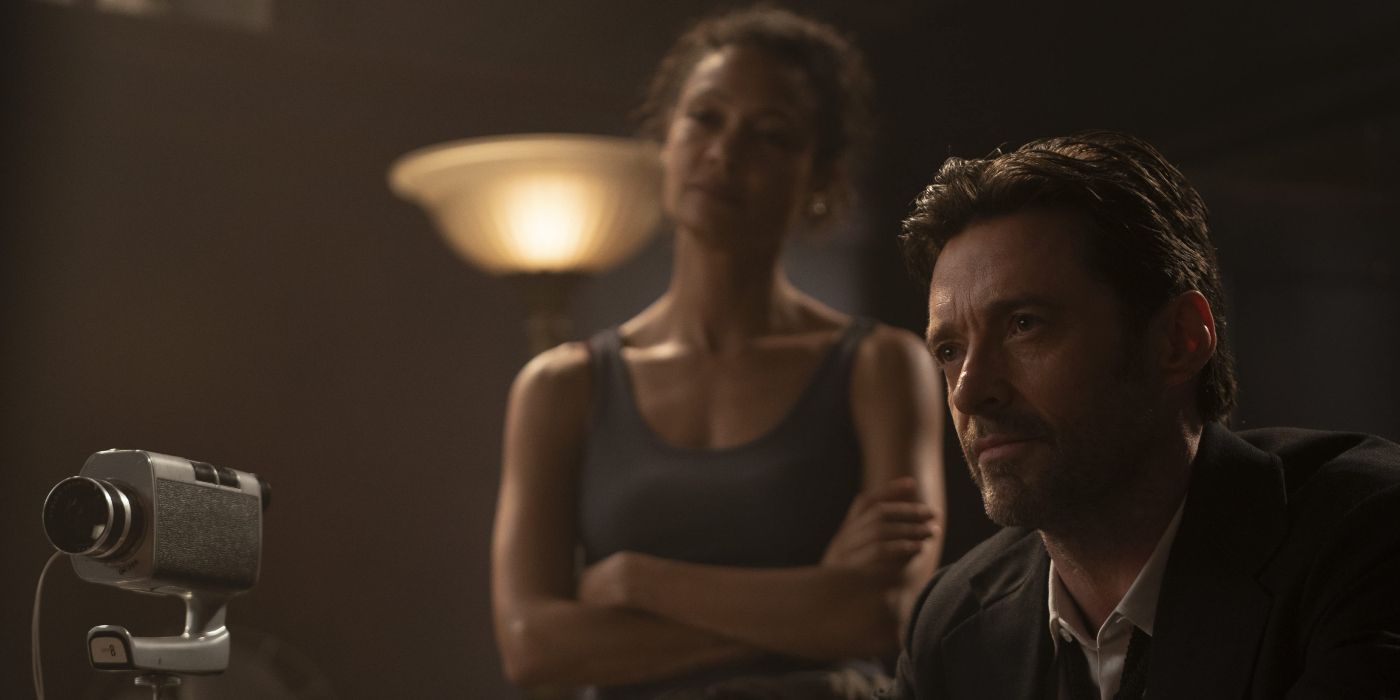 This is Lisa Joy making her directorial debut, and you're a frequent collaborator with her from Westworld. Can you talk about the collaboration process of working with her and this new technology she used? I don't want that to go overlooked either, because that is amazing.
Thandiwe Newton: It's funny because the collaboration was really limited because she offered me the role two weeks before shooting. It was because she was struggling with who she wanted for Watts because I think that she realized that she was buying into a stereotype of what this woman should be, which is tough.

It didn't feel right because there was a dimension to Watts which was about her being vulnerable and about her containing her vulnerability behind a façade. I just think that she felt that I could do that really well, and I guess I can because I can suggest a few different things in one moment.

When she offered me the role, I was so shocked because I knew that she was making a movie. I knew it was Hugh Jackman and Rebecca Ferguson, and it was the cast, which was great. But once I got over my own reservations and insecurities about not wanting to let her down - that was the big thing for me. I didn't want to let her down, but I thought that out of respect to Lisa, she's thought this through. If she wants me, she must know that I'm the right person. There's no one that knows my work better. I'd worked with her for six years, for God's sake.

So, I went into it a little bit scared and uncertain that I was the right person for the role, but I just decided to throw away my fears and just surrender to her vision, truly. I haven't seen the film yet without my concerns if I've [messed] this up for everyone. But I think I need to see it again, and I am aware that she's super happy with it. But my love for Lisa is such that I don't know how I would get out of bed for a short while if I thought I'd let her down. You know what I mean?

But I do know that the scene where Watts saves Bannister's life, even though she's kind of like, "Ugh, I didn't even want to be here, mate," - I just love that so much. It said everything about what we were trying to achieve, and it achieves it at the most dope level. The fact that we had flooding in that bar and an electrical storm that made the local authorities shut down filming for nearly half a day, and we didn't reshoot, and we managed to get it done. And it looks like that.

We had half the time to shoot that scene, and we were all terrified because it was like, "How are we going to do it?" And that is the scene. And it, for me, is one of my favorite scenes of anything I've ever done. It's partly because I know how tough it was to shoot, and you would never know it. And it's her first movie!
Next: What To Expect From Westworld Season 4
Reminiscence premieres in theaters and on HBO Max August 20.