WandaVision BTS Image Shows Paul Bettany Transforming into White Vision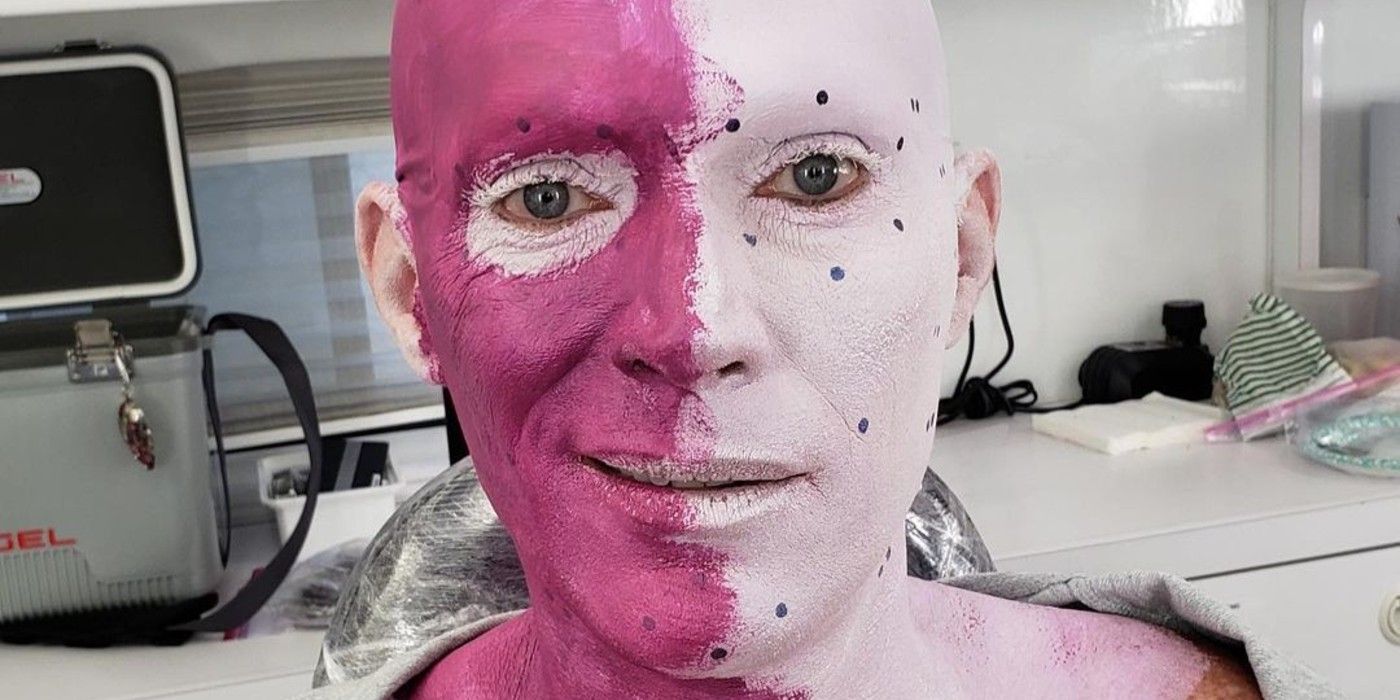 Paul Bettany reveals a new behind the scenes picture from WandaVision detailing his transformation into White Vision. With Loki ending its run last month and What If...? just now kicking off, it's hard to believe there was once a time when Marvel shows on Disney+ felt like a novelty. And yet, earlier this year, there was a great deal of fanfare surrounding the debut of WandaVision, the first MCU-set series to arrive on the streaming service (and the first project to emerge from the franchise's Phase 4). WandaVision was greeted with positive reviews from fans and critics, and it garnered an impressive 23 Emmy nominations in July.
For WandaVision, Bettany ended up pulling double duty. In addition to playing his usual MCU character Vision, he also inhabited a second version of Vision for the series finale. White Vision was created by SWORD with an eye on using his impressive vibranium tech as a weapon. The WandaVision finale saw the two Visions clash before engaging in a philosophical debate, and while the regular Vision perished once again by the show's end, White Vision flew off to parts unknown.
Related: How Powerful Is White Vision Compared To The MCU Original?
Bettany, who is nominated for an Emmy for his performance in WandaVision, shared a new BTS picture from the series over the weekend. The image shows the actor in the middle of going from the regular Vision to White Vision, with half of his face covered in red paint and the other half in white. Bettany also has the dots on his face for the CGI used to complete Vision's look. Check out the post below.
Click here to see the original post.
The behind the scenes process for turning Bettany into Vision is a fascinating one, and WandaVision has allowed for a deeper look into it. Though Vision has appeared in three Marvel movies in total, starting with 2015's Avengers: Age of Ultron, there hasn't been much exploration into his character. WandaVision gave Bettany the chance to really sink into the part and reveal new layers of the synthezoid, and Elizabeth Olsen was able to do the same for Wanda Maximoff, aka Scarlet Witch.
It seems likely that White Vision will return in a future MCU project, but which one remains to be seen. Marvel has been tight-lipped about the future of the character, and Bettany isn't currently contracted for any Marvel projects. Considering the open-ended nature of his WandaVision story, it would be a bit sloppy of Marvel to never revisit White Vision. Hopefully, the MCU will pick up this thread soon so fans get some resolution - and so Bettany has more opportunities to post behind the scenes pictures.
More: Every Upcoming MCU Project White Vision Could Return In
Source: Paul Bettany/Instagram