90 Day Fiancé: Ariela Admits Some Of Leandro Drama Is To Mess With Bini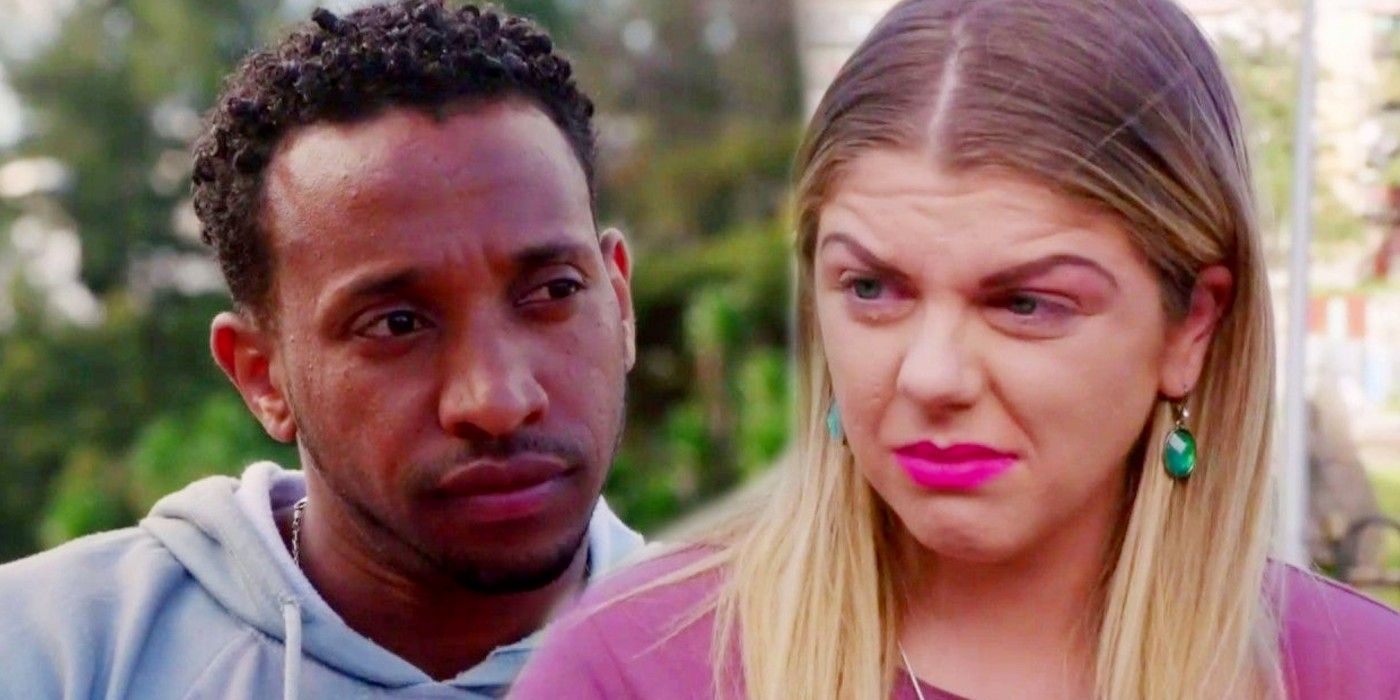 Ariela Weinberg from 90 Day Fiancé: The Other Way has revealed that she's messing with Biniyam after inviting her ex-husband Leandro Fosque home. Fans were dumbstruck when they met Leandro in the 90 Day Fiancé spin-off's trailer, which indicated Ari and Bini's rocky relationship was going to have a tumble. But it was also a clear sign that Ariela had something naughty up her sleeves since she confessed that Biniyam was ghosting her during 90 Day Bares All. And while Ariela is being slammed by critics for being close friends with Leandro, her being intentionally flirty could be part of an act.
In the latest episode of 90 Day Fiancé: The Other Way, TLC viewers got a glimpse of Biniyam's green-eyed monster from the moment he and Ariela appeared on the screen. Having found out that Leandro was the one giving Ariela solace when he fought with her, seeing his wife act giggly and preparing for the ex's arrival made Biniyam seethe with jealously. He refused to believe Ariela had a "brother and sister" connection with Leandro. And Ari's missing engagement ring was the final nail in the coffin for Biniyam, who eventually asked Leandro and her why they were not still together.
Related: 90 Day Fiancé: Ariela's Unbelievably Bad History With Rings Revealed
Expectedly, fans turned to Ariela's Instagram page after the scandalous 90 Day Fiancé episode aired to ask their favorite star a lot of questions while giving her their opinion. One fan questioned the scene when Ariela and Biniyam went to pick up Leandro from his hotel post-quarantine, and she ran to him and he pulled her "again tighter." The TLC viewer observed that it looked as if "there's still something there" and that Ariela would still be with Leandro if she hadn't gotten pregnant with Biniyam within three months of dating. The fan admitted that they're friends with their exes, but they never get dressed to impress or embrace them as Ariela did. The fan basically wanted Ariela to tell them if she and Leandro are "really over" each other since it didn't look like that through their interactions on 90 Day Fiancé. This is when Ariela spilled the tea. "Well, admittedly some of it I'm messing with Bini," wrote Ari.
Ariela also has a sense of humor, which her followers on Instagram get to see from time to time through her posts, Lives and Stories. "My sense of humor doesn't translate well on TV," Ari revealed. But she did also confirm that she was genuinely happy to meet Leandro when she said, "Hell yeah I was psyched to see him!"
Even before Ariela's confession, fans were suspecting that the entire plot for Ariela and Biniyam on 90 Day Fiancé: The Other Way with Leandro's visit was fake. Although Biniyam's reactions of jealousy and heartbreak seemed genuine, there were discussions of the TLC stars following a script. Still, Ariela bursting into tears as she apologized to Leandro about abruptly leaving him and Biniyam gingerly watching her accept the bras from her ex undeniably looked real, even though chances are that the scenes were staged.
90 Day Fiancé: The Other Way airs Sundays at 8pm on TLC.
Next: 90 Day Fiancé: Ariela Reveals TMJ Recovery Journey Amid Leandro Drama
Source: Ariela Weinberg/Instagram