Disney's Little Mermaid & Snow White Stars Meet in Crossover Photo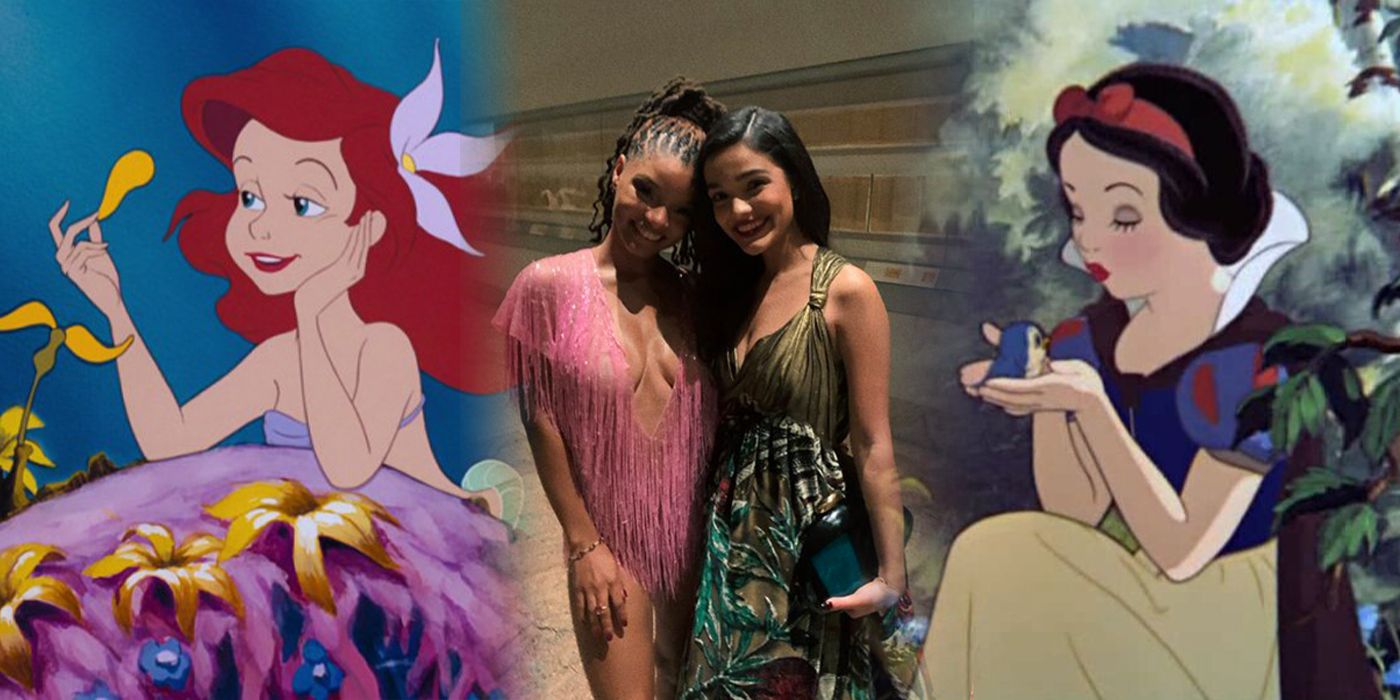 Stars of the upcoming Disney movies The Little Mermaid and Snow White, Halle Bailey and Rachel Zegler, have shared a cute photo after meeting at the Met Gala. Bailey and Zegler are set to appear as iconic Disney princesses Ariel and Snow White respectively in the live-action adaptations of the animated films. Bailey is half of the musical duo Chloe x Halle and has also appeared in a handful of small TV roles over the years, but the upcoming Little Mermaid is her biggest role to date. Zegler is also set to appear as Maria in Spielberg's upcoming adaptation of West Side Story, which will release later this year. However, despite the fact that her big-screen debut is still a few months away, Zegler has since secured another major role in the upcoming Shazam! Fury of the Gods, which recently announced it had wrapped filming.
Disney initially made the announcement that they would be bringing The Little Mermaid back to screens in 2016, and it was recently confirmed that the highly-anticipated remake is now set to release in 2023. There are also a number of exciting names attached to the project alongside Bailey, including Melissa McCarthy, Javier Bardem and Awkwafina, who are all set to appear in the adaptation. The original animated film's composer, Alan Menken, will be writing new music for the film with Hamilton's Lin Manuel Miranda. Miranda will also be producing the project, with Rob Marshall directing.
Related: Why Halle Bailey's Ariel Will Avoid Disney's Live-Action Princess Mistakes
Now, Zegler has taken to Twitter to share a photo of herself alongside her fellow Disney star. The soon-to-be iconic princesses crossed paths at this year's Met Gala, and Zegler captioned the photo "this incredible young woman... the ariel/snow white crossover we deserve". The pair look incredibly sweet, dressed up for the event and smiling at the camera. Check out Zegler's tweet below.
Click here to view Zegler's original post
It is not known if this is the pair's first time meeting, but it is certainly the first documented exchange between the two. While Bailey will likely be celebrating the announcement of the confirmed release of her film, Zegler has a little while to wait as Snow White is not set to begin filming until March next year and is currently in the early stages of pre-production. None of Zegler's castmates have been confirmed at this time, but Marc Webb is set to direct the script that will be penned by Erin Cressida Wilson.
The sweet photo now has fans calling for the creation of a "Disney Princess Cinematic Universe," which may not necessarily be out of the realm of possibility one day. Disney are incredibly familiar with crossovers given their involvement with the Marvel Cinematic Universe. Regardless, audiences are incredibly excited to see how these two young stars will take on their roles as these beloved characters, as well as whether or not Disney will stay close to the original plots of these classic films or put an entirely new spin on the live-action adaptations. As for now, fans will have to wait until May 2023 to see Bailey transform into Ariel in The Little Mermaid.
Next: Daveed Diggs' Little Mermaid Tease Makes Disney's Remake Even More Exciting
Source: Rachel Zegler/Twitter