DWTS: Martin Kove Thanks Pro Dancer Britt Stewart For Her 'Patience'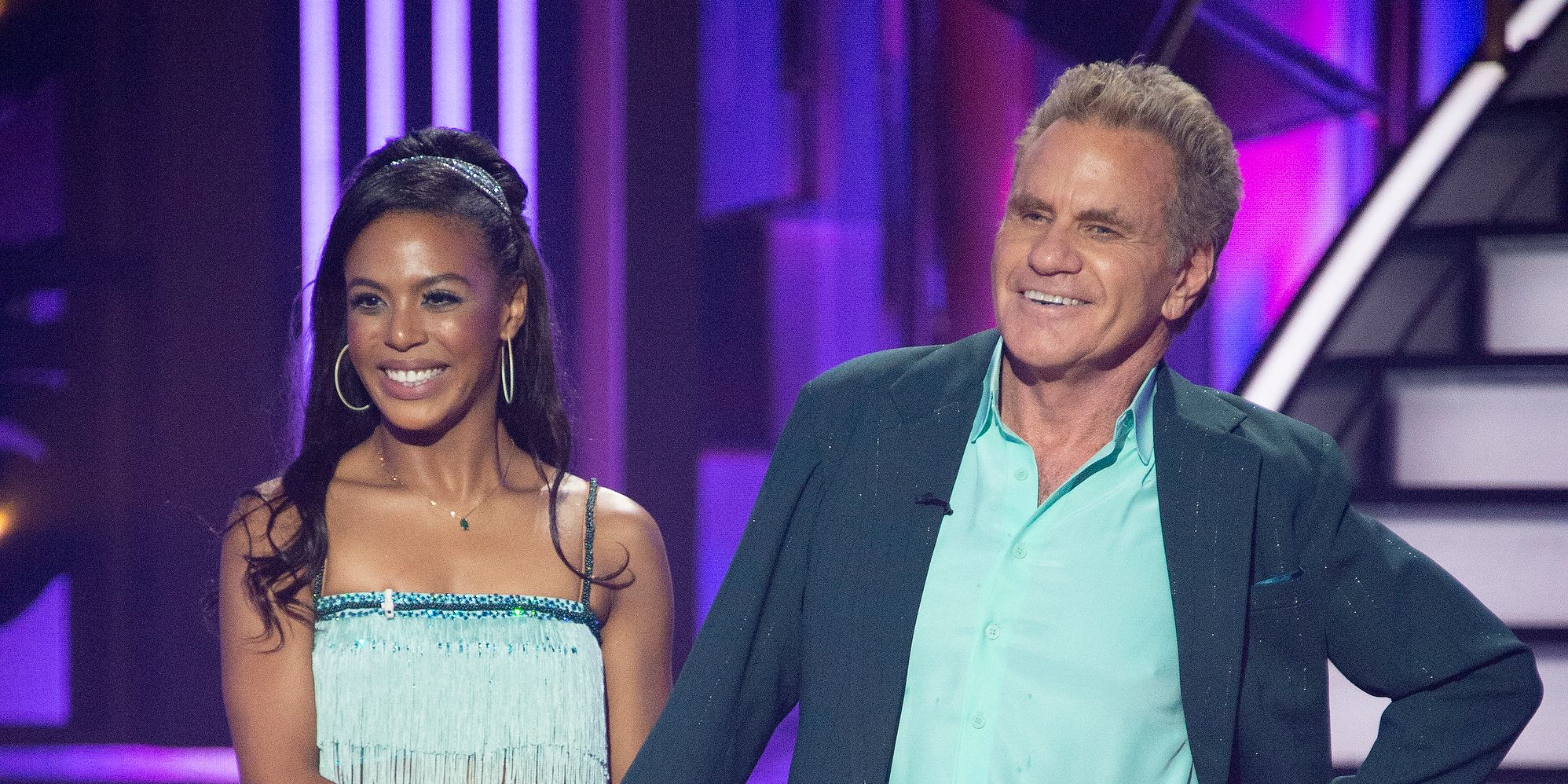 Martin Kove thanked his partner, Britt Stewart, for her patience after his elimination from Dancing with the Stars on Monday night. Martin, the first celebrity to leave the competition, is an actor and martial artist best known for The Karate Kid series, in which he played John Kreese, the headteacher of the Cobra Kai karate dojo. He reprised the role in the popular television sequel series, Cobra Kai.
Dancing with the Stars began season 30 with a two-week competition, in which both scores were combined for a possible total of 80 from the four judges. In Week 1, Martin and his partner, Britt, earned the lowest score of the night, 13 out of 40, for their Paso doble to "You're the Best." The 75-year-old actor began the routine with a commanding presence, channeling his Cobra Kai character, and making a speech about how weakness, worry, and nerves do not exist in the ballroom. However, he quickly lost his way during the dance, although some of the judges did acknowledge his effort. In Week 2, Martin wanted to redeem himself, confessing he thought his performance was "dreadful" when he watched it on television. He and Britt danced the Cha-cha-cha to "Twist and Shout," but once again earned the lowest score of the night with 15 out of 40. Although they acknowledged he was having more fun, the judges could not give Martin high marks. With a combined score of 28, Martin and Britt found themselves at the very bottom of the leaderboard. Despite voting from the home audience, Christine Chiu and Pasha Pashkov were in the Bottom 2 as well. The judges decided to save Christine and Pasha, thus sending Martin and Britt home.
Related: DWTS: Cheryl Burke Tests Positive For COVID-19 Ahead Of Week 2 Show
Martin expressed his gratitude in a post on Instagram following his elimination. He thanks viewers as well as "the producers and entire crew and creative team behind this stellar show! To my opponents well… you don't show the enemy mercy! Best of luck!" Martin also mentioned his kids, thanking them for supporting him "always and forever!" Martin concluded the post with some heartfelt words for Britt saying, "Lastly, @brittbenae my wonderful beyond talented Dance partner. Thank you for the patience and care you gave me! I'll never forget it! Maybe we'll dance again soon! In my dojo or yours!"
Britt responded to Martin on his post by commenting, "Awe Marty!!! Beyond proud of you! Dance in the dojo….. Let's go!!!!" Despite having one of the more challenging contestants who clearly has no background in dance, Britt smiled each week and supported Martin fully. Pasha also offered support and congratulations by commenting with two high five and heart emojis to which Martin replied with a high five. Words of encouragement also poured in from fans as they commented that the actor did his best, especially for a man of his age. They praised him for going out of his comfort zone. It was clear both in the ballroom and on social media that Martin is respected and admired.
Although he did not perform as well as he had hoped, Martin left the competition with grace. He set a great example for his fans as he moved from the dojo to the dance floor. Even though Martin will no longer compete on Dancing with the Stars, he has left behind a spirit of competition that the other dancers can use to inspire themselves. Fans of Cobra Kai had a real treat watching Martin dance.
Next: DWTS: Jenna Johnson Injures Knee During First Routine With JoJo Siwa
Dancing with the Stars airs Mondays at 8 p.m. EST on ABC.
Source: Martin Kove/Instagram