Evil Dead 4K Box Set Doesn't Include Army of Darkness or 2013 Reboot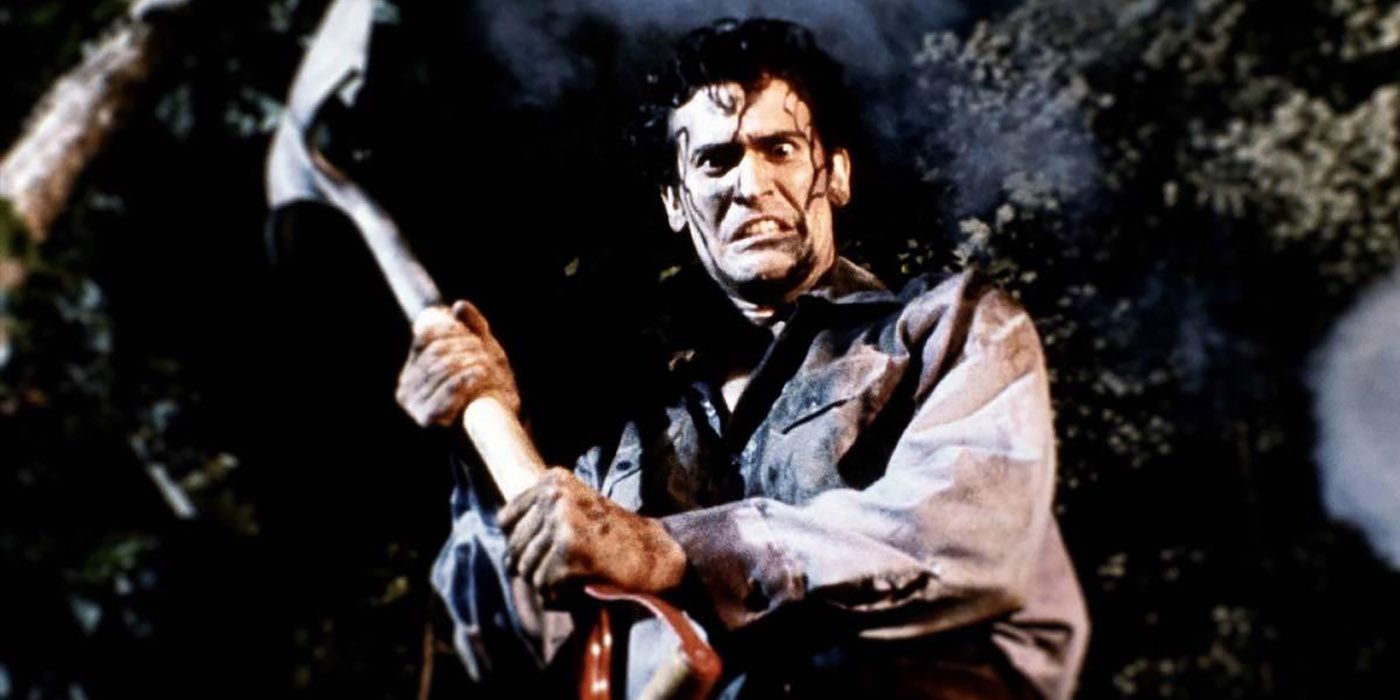 Lionsgate reveals a new 4K Ultra-HD box set for the Evil Dead franchise that doesn't include Army of Darkness or the 2013 soft reboot. Created by Sam Raimi, the iconic horror series generally centers around Ashley Joanna "Ash" Williams as he and his friends discover the ancient Sumerian text known as the Necronomicon Ex-Mortis in a cabin in the Tennessee woods that awakens a demonic presence taking them one by one. Bruce Campbell starred in all three of the original films in the franchise as well as the sequel series Ash vs. Evil Dead while Jane Levy served as the protagonist of the soft reboot-sequel of 2013's Evil Dead.
Throughout its 40-year run, the Evil Dead films have garnered a large cult following, with Campbell's Ash being considered an icon of the genre, while reviews have remained generally positive to high acclaim for the films and series. Serving as his directorial debut, the original films launched Raimi into stardom, putting him on the path to helm the Tobey Maguire-led Spider-Man trilogy in the early aughts and the upcoming Doctor Strange in the Multiverse of Madness. Though Campbell has retired from the role of Ash, the franchise is continuing with next year's Evil Dead Rise from The Hole in the Ground writer/director Lee Cronin at HBO Max.
Related: The Evil Dead Franchise Can Never Recast Ash
As the franchise prepares to celebrate its 40th anniversary, Lionsgate has unveiled The Evil Dead Groovy Collection, compiling the first two films and all three seasons of Ash vs. Evil Dead on 4K UHD and Blu-ray as well as a bonus content DVD with over three hours of special features and interviews with the cast and crew. However, the collection doesn't include Army of Darkness or the 2013 soft franchise reboot. Check out the special features and box set art below:
The Evil Dead 4K UHD + Blu-ray Special Features
Audio Commentary with Writer-Director Sam Raimi, Producer Robert G. Tapert, and Star Bruce Campbell
The Evil Dead DVD Special Features:
One by One We Will Take You: The Untold Saga of The Evil Dead
The Evil Dead: Treasures from the Cutting Room Floor
Life After Dead: The Ladies of The Evil Dead
The Ladies of The Evil Dead Meet Bruce Campbell
Unconventional
At the Drive-In
Reunion Panel
Discovering The Evil Dead
Make-Up Test
Trailer
TV Spots
Evil Dead II 4K UHD + Blu-ray Special Features:
Bloody and Groovy, Baby! — Tribute to Sam Raimi's Evil Dead II
Audio Commentary with Writer-Director Sam Raimi, Actor Bruce Campbell, Cowriter Scott Spiegel, and Special Makeup Effects Artist Greg Nicotero
Blu-ray™ Special Features:

Swallowed Souls: The Making of Evil Dead II
Cabin Fever: Behind the Scenes of Evil Dead II
Road to Wadesboro: Revisiting the Shooting Location with Filmmaker Tony Elwood
Evil Dead II: Behind the Screams
The Gore the Merrier
Still Galleries
Audio Commentary

Ash vs. Evil Dead The Complete Collection: Blu-ray Special Features By Season

Season 1:

Inside the World of Ash
How to Kill a Deadite
Best of Ash
Audio Commentaries

Season 2:

Season 2 First Look
Inside the World of Ash vs Evil Dead
Up Your Ash
Women Who Kick Ash
Puppets Are Cute
Dawn of the Spawn
Bringing Henrietta Back
The Delta
How To Kill a Deadite
Fatality Mash-Up
Audio Commentaries

Season 3:

Season Overview
Inside the World of Ash vs Evil Dead
Audio Commentaries

Though the lack of inclusion for Army of Darkness and 2013's Evil Dead may come as a disappointment for fans of the franchise, it's unfortunately a logical one. Raimi and co-producer Robert Tapert have successfully retained the rights to the series since its launch, however Army of Darkness was distributed by Universal Pictures while the 2013 film was produced by TriStar Pictures and distributed by Sony. These releases subsequently point towards their exclusion from the box set as Lionsgate elected not to license either title from their respective studio and release the collection without them.

Interestingly, it marks the second time in the Evil Dead franchise in which Army of Darkness was left excluded from canon due to rights issues, with Ash vs. Evil Dead being forced to omit any specific references to the threequel in season 1, though the issue would be settled for the remaining seasons. Even without these two installments, the special collection is sure to be a treat for longtime fans of the horror franchise, delivering all of the gory madness the Necronomicon brings with it in 4K glory in addition to the laundry list of special features for viewers to sink their teeth into. The Evil Dead Groovy Collection will hit shelves on November 16.

More: Why Evil Dead Rise Is Right To Finally Move Away From The Cabin