Eyes Of Tammy Faye: What Really Happened With The Heritage USA Theme Park
Warning: This article includes mention of sexual assault.
The Eyes of Tammy Faye touches on the Christian theme park, Heritage USA, created by Jim and Tammy Bakker (Andrew Garfield and Jessica Chastain), hosts of The PTL Club - but what really happened with Heritage USA? While the film does a great job portraying the story of a couple who became notorious for scandal and fraud, it left out a few details that allowed the televangelists' empire to expand. One of those important details was the creation and demise of Heritage USA, the Christian theme park that ignited the scandals of Jim Bakker.
Jim Bakker was a man of many ideas and he often saw those ideas come to fruition. Heritage USA was an idea that Jim and Tammy developed together, inspired by Disney's theme park. They wanted to create a safe place where Christians could vacation, bring their children, and benefit from a wide array of perks. The theme park, which opened in 1978, included several attractions, a hotel, a complete shopping center, and a water park all portraying themes of Christianity. It became the third most popular park in the world, attracting nearly six million visitors a year. These numbers kept the park in top ranks next to Disney Land and Disney World.
Related: Eyes Of Tammy Faye: Why Jessica Chastain's Makeup Is Essential For The Role
The Eyes of Tammy Faye depicts Heritage USA as one of the biggest successes of Jim and Tammy's career - however, that success was short-lived due to Jim's many scandals. Not only did he participate in fraudulent activity, but he was also accused of sexual assault almost a decade before Bill Clinton was impeached for sexual harassment claims, proving that power often leads to abuse. These factors led to the downfall of the park and in 1989, Heritage USA closed its doors for good.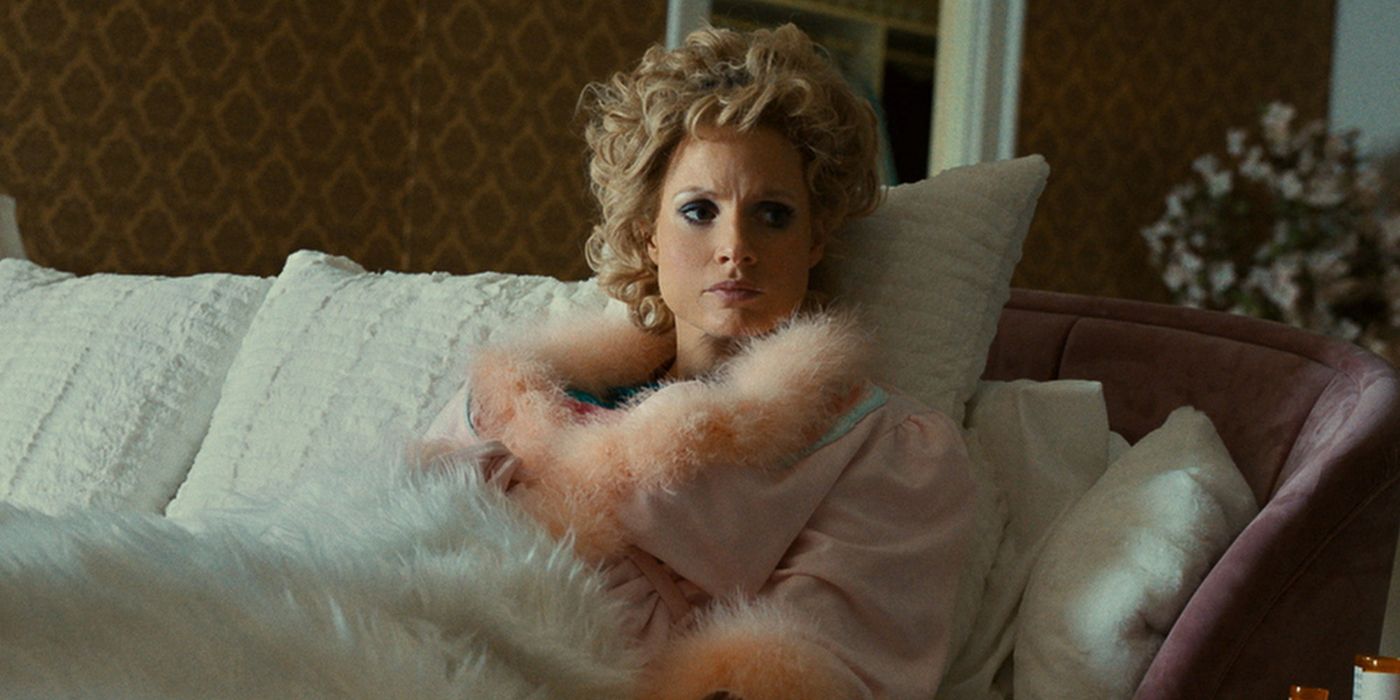 With such high success in a short amount of time, Heritage USA became extremely popular and Jim Bakker took advantage of the situation. Because of the high demand for memberships, Bakker was charging around $1000 per person for access to the park, by way of membership. However, because of acclaim, it wasn't long until memberships exceeded the number of rooms available, but Jim took no account to resolve the issue. Instead, people were unknowingly paying for something they were never going to receive. As word got out and more people were unable to access the park, its popularity rapidly declined. People no longer trusted the televangelists, and their fellowship decreased by the thousands.
While Jim Bakker - played by Andrew Garfield - was facing charges of fraud from the park scandal, he was also accused of sexual assault by a former secretary in the church. In a failed effort to keep her quiet, he provided her hush money, which happened to come from the outrageous membership fees he had been collecting from those wanting to join the PTL movement. Of course, this ultimately served to solidify the legal case and in 1989, Jim would be fined half a million dollars and charged with forty-five years in prison, of which he served five, for mail and wire fraud. It appears that Tammy (Jessica Chastain, star of Scenes From A Marriage) didn't have much knowledge of Jim's actions and was left out of the matters altogether. Though she didn't face any jail time, her career took a huge hit. In one of the last scenes of the movie, Tammy is trying to pitch an idea to a network for another television show but gets rejected. It's clear she has been blacklisted in the Christian television community and struggles to find her niche once again.
The Christian theme park, Heritage USA, has been closed for over thirty years but remains one of the most popular theme parks in U.S history. The Eyes of Tammy Faye depicted the rise and fall of The PTL Club, unraveling the many scandals and wrongdoings of Jim Bakker, including the theme park fraud and the consequences that followed for a lifetime.
Next: Jungle Cruise: Why Disney Thinks Theme Park Rides Make For Good Movies