Peacemaker Show First-Look Image Spotlights John Cena & New Cast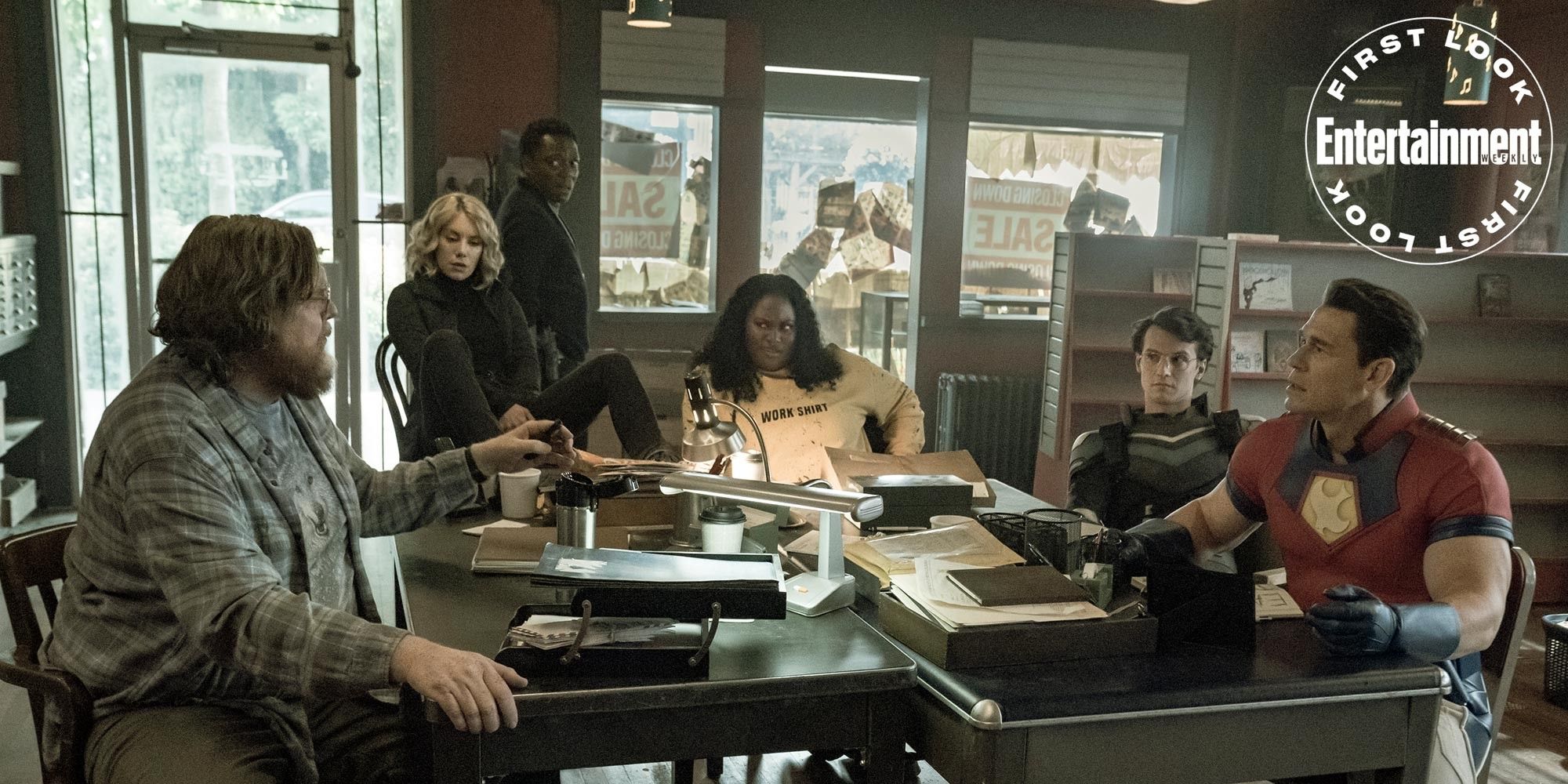 A new image from the upcoming HBO Max series Peacemaker reveals John Cena alongside his new DCEU cast. Peacemaker is the first spin-off project to emerge from James Gunn's The Suicide Squad, which arrived in theaters and on streaming last month. That movie introduced Cena's Peacemaker and - spoiler warning - seemingly killed him off. However, as the Suicide Squad post-credits scene revealed, Peacemaker survived his wounds and will be recruited to save the world once again in his own show. Peacemaker is slated to premiere in January 2022, which means new information is gradually emerging.
The Suicide Squad firmly established Peacemaker as an overly patriotic killer who won't let anything stop him from achieving peace. His HBO Max series is expected to delve into his origins a bit while giving him a brand new mission. In addition to Cena, Peacemaker stars Danielle Brooks, Freddie Stroma, Jennifer Holland, Steve Agee, Chukwudi Iwuji, and Robert Patrick. Most character details are still being kept under wraps, though Holland and Agee will be reprising their Suicide Squad characters.
Related: Peacemaker's Surprise DC Character Must Payoff The Suicide Squad's Credits
Those two, along with Cena, Brooks, Stroma, and Iwuji, take center stage in a new first-look image from Peacemaker. Shared online by EW, the image reveals the entire squad gathered around some tables in a rundown store. Peacemaker, naturally, is wearing his supersuit, as is Stroma's Vigilante. Exactly what brings them all together remains to be seen, but it looks like they're in the middle of a heated debate. Check it out below.
As the feature reveals, Peacemaker has been recruited to join a black ops team that's facing something catastrophic. Iwuji is the team's leader, Murn, while Vigilante and Leota Adebayo (Brooks) round out the rest of the lineup. It looks like Peacemaker will find the helmeted anti-hero with a new squad, though one has to hope he'll get along better with these guys than he did with Task Force X. Even from just the above image, it looks like each character has a very distinct and different personality, and that's bound to lead to some conflict.
Further details about Peacemaker's plot and characters will be revealed at DC FanDome next month. A special sneak peek at the show is already guaranteed to be included among the flurry of DCEU news stemming from the event, meaning the above image is just the start of upcoming Peacemaker updates. Perhaps the first trailer for the series can give a better indication of what the group dynamics will be like, or could even reveal just what the team is fighting. In other words, stay tuned for more information.
More: The Suicide Squad: Every Character Who Could Return For The Peacemaker Spinoff
Peacemaker will premiere on HBO Max in January 2022.
Source: EW