The Best iPhone Keyboard Is Still Made By Google | Screen Rant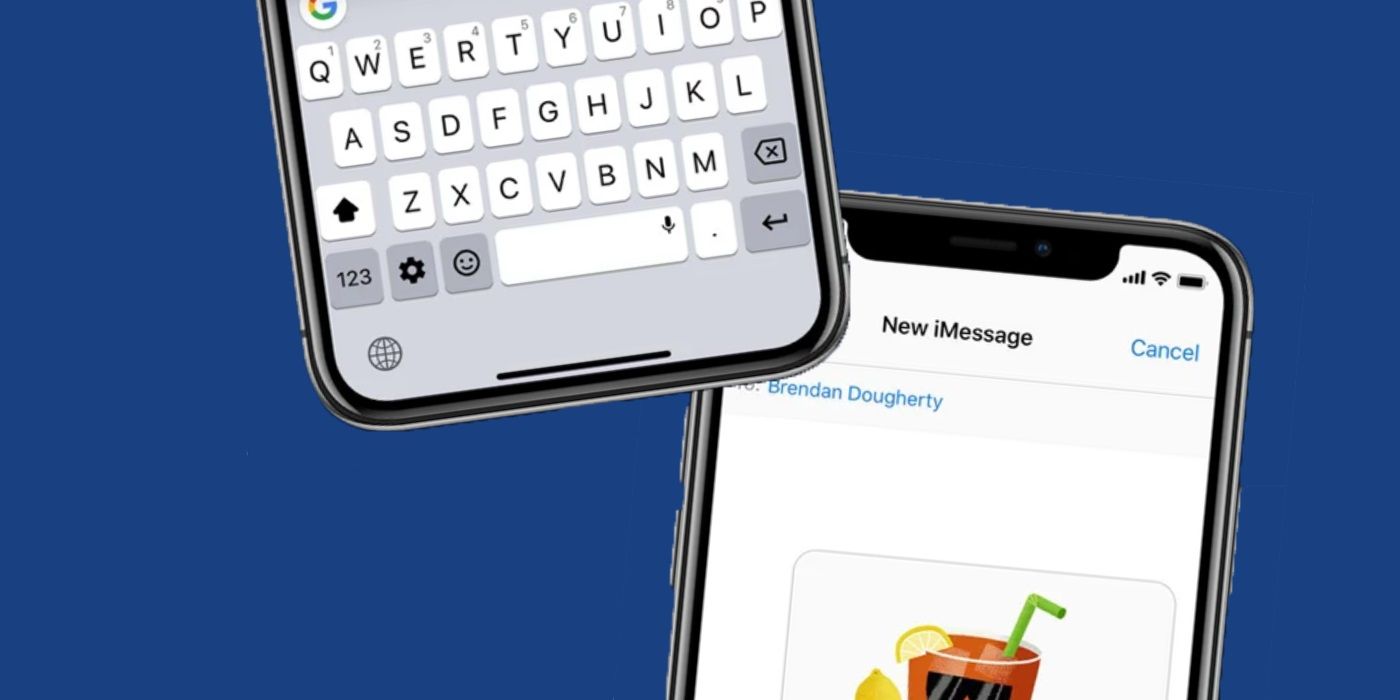 Apple improved its mobile, on-screen keyboard when it added swipe capability but the best iPhone keyboard is still made by Google. The same is true for Apple's tablet, with the bigger screen making little difference in a performance and feature comparison. Since the keyboard is one of the most important parts of an iPhone, literally the way the user communicates most often, it makes sense to check out other solutions.
Apple and Google have a long history of working together, however, they do challenge each other in several areas. Both companies make or have made smartphones, tablets, and laptops, along with the operating systems and core apps. Both offer various software services, such as app stores, email, cloud storage, and streaming music. At the same time, they are very different companies. Apple began as a hardware company, manufacturing the Apple personal computer, while Google began as a service provider, developing Google Search. Those early beginnings are still reflected in the strengths and the focus of these companies today.
Related: How To Enable Google Maps Dark Mode On iPhone
Google's Gboard app for the iPhone and iPad is quite like the default keyboard on many Android phones. With over 8.7 million reviews on the Play Store, it averages 4.5 stars. On the App Store, there are over 34,000 reviews and it averages 4 stars, so Gboard doesn't win automatically when it has to be installed. What can't be seen are ratings for Apple's keyboard. Comparing the two on features, Gboard arrived for the iPhone in 2016, three years before Apple's keyboard gained swipe capability, and the difference shows. Arguably, Gboard has better predictive ability, offering greater accuracy when swiping. Google search lives inside Gboard, making it easy to look up a fact without leaving a document or email. Gboard can also help with translations, find images, GIFs, YouTube videos, and addresses, outperforming Apple's iPhone keyboard in various ways.
Offering all of the same features that it does on the iPhone as well as the ability to swipe in text when used at its full size, Gboard is also the best iPad keyboard. While swiping the full width of a 12.9-inch iPad Pro in landscape might not be practical, it is possible. Where swipe does help tremendously is when the iPad is in portrait mode. Even on the largest iPad, the screen width is less than eight inches, making swipe an invaluable tool to speed up text entry. Apple's iPad keyboard takes up more vertical room and doesn't allow swiping. To get that feature, the floating keyboard must be used. While there isn't a way to switch to a floating keyboard in Gboard, it does work in that mode if Apple's keyboard was floating before changing to Gboard. So even the latest feature from Apple provides no advantage.
If Apple's text replacement feature is set up, all of those shortcuts become available in Gboard as well. One potential downside to Gboard is that it shares information to Google and how much and what type isn't shown in the App Store privacy label. This is one of the few apps that Google hasn't updated since Apple added the requirement for new apps. It's worth noting that Apple's keyboard cursor control allows vertical movement, while Gboard can only move along the same line when the space bar is pressed and held. Since Apple allows direct drag control of the cursor, that keyboard trick is no longer needed anyway. Overall, Google's keyboard provides greater accuracy and more features than Apple's, making Gboard the best iPhone and iPad keyboard.
Next: iPhone's Safari Design Change Is Nothing More Than A Google Reject
Source: Apple