The Boys Hilariously Mocked Trump Supporters & Election Scandal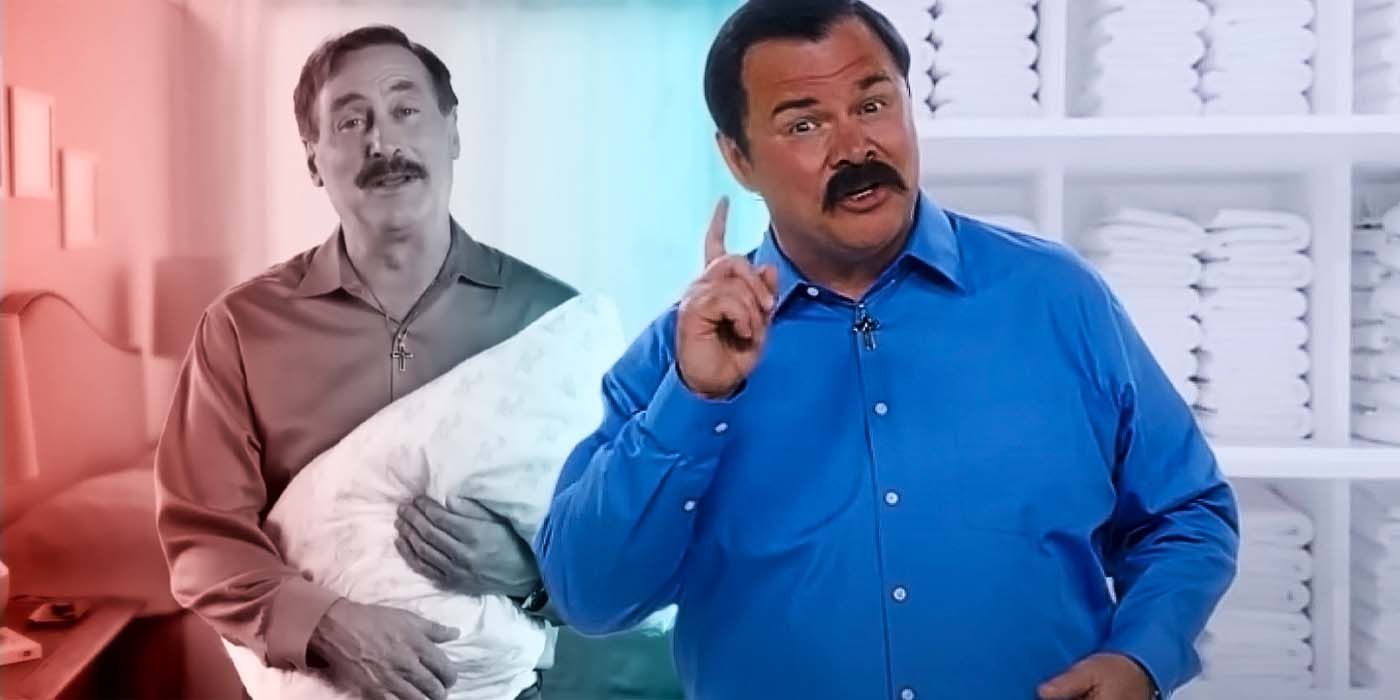 Being true to its satirical nature, The Boys' Vought News Network took aim at Trump supporters and election-fraud believers with its mock My Pillow commercial. The commercial aired in the July episode of "Seven on 7", advertising for the parody company Our Sheet. Though the sketch was brief, the faux commercial — and the surrounding newscast — manages to pack in plenty of jokes where Trump and his supporters star as the punchline. Here's a breakdown of the Our Sheet commercial and all of its references.
Mike Lindell had his original claim to fame as the inventor of the My Pillow pillow in 2004. He appeared frequently on commercials and late-night infomercials, and he became colloquially known as the "My Pillow guy." However, in recent years, Lindell and My Pillow have experienced some setbacks. The Better Business Bureau gave the company an F rating and revoked their accreditation for misleading sale advertising in 2017, paid almost $1 million in penalties to settle a California lawsuit surrounding false health claims in 2016, and now Lindell and his company are neck-deep in election conspiracy scandals. After aligning with Donald Trump in 2016, Lindell has been in hot water for promoting unsubstantiated COVID-19 cures and attempting to overturn the 2020 election.
Related: The Boys: What Starlight's Boyfriend Reveal Means For Season 3
The Our Sheet commercial starts with Mickey Londale, a parody of Mike Lindell, introducing the faux product. The commercial pokes fun at Lindell first by having Londale claim he "hears voices," which is likely a dig at Mike Lindell's repeated claims to have spoken with God, received dreams about Trump's rightful place as President, or the fact that people are beginning to believe he's just plain crazy. Lindell is a big proponent of free speech and the power of his voice, something he has preached repeatedly during his time in the political sphere. The faux infomercial slips in a few Trumpisms as well, including a promise to "make sleep great again," a parody of Trump's "Make America Great Again" slogan. The bit also urges viewers to not be a "dreamer," a reference to Trump's stance on immigration policies and "DREAMers" -- or those who came to the United States as undocumented youth.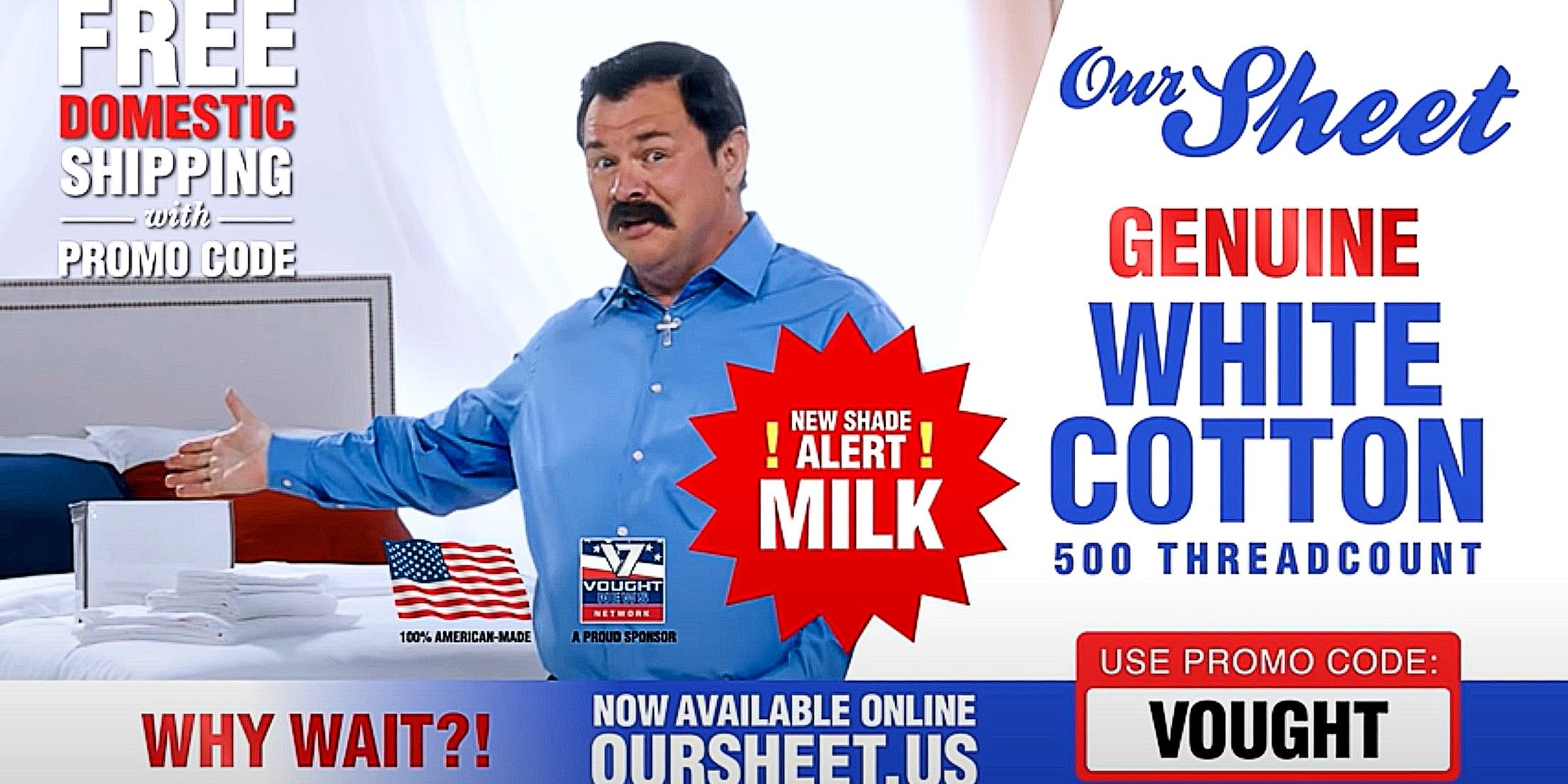 There are plenty of jokes surrounding typical Republican rhetoric sprinkled into the commercial as well. On top of an emphasis on being made in the USA with Homelander-level patriotism, there are multiple references to "white cotton dreams" and white sheets. These jokes are in reference to racist beliefs that have been associated with the Republican party, along with the fact that Ku Klux Klan leader, David Duke, has endorsed Trump for president multiple times. Londale urges viewers to "stop letting our country get invaded by rough and uncomfortable, foreign-made bedsheets," parroting Republican rhetoric and fear tactics surrounding foreign countries. On top of having only white, blond spokespeople throughout the commercial, a quip at the end of the commercial boasts about their "newest shade of white: milk!"
The CNN-style newscast didn't stop its mockery with the Our Sheet commercial, though. In a segment before the commercial, there is a piece on super-soldiers being allowed in the military. In a quote from US Secretary of Defense Robert Singer, rhetoric similar to that surrounding Trump's ban on transgender soldiers in the military can be heard, ensuring they're prioritizing the nation's safety while determining the "best, most effective course" forward. Cameron Coleman, VNN's newscaster, ends the segment with a quip that the "government would rather give in to unfounded propaganda than commit to protecting American citizens." Knowing that Robert Singer — Supernatural's Bobby Singer and The Boys star — is openly anti-Trump himself only makes the bit all the more authentic.
Next: The Boys Season 3: Creator Refused To Let On-Set Changes Impact Quality