The Circle: Everything To Know About Season 3's Matthew Pappadia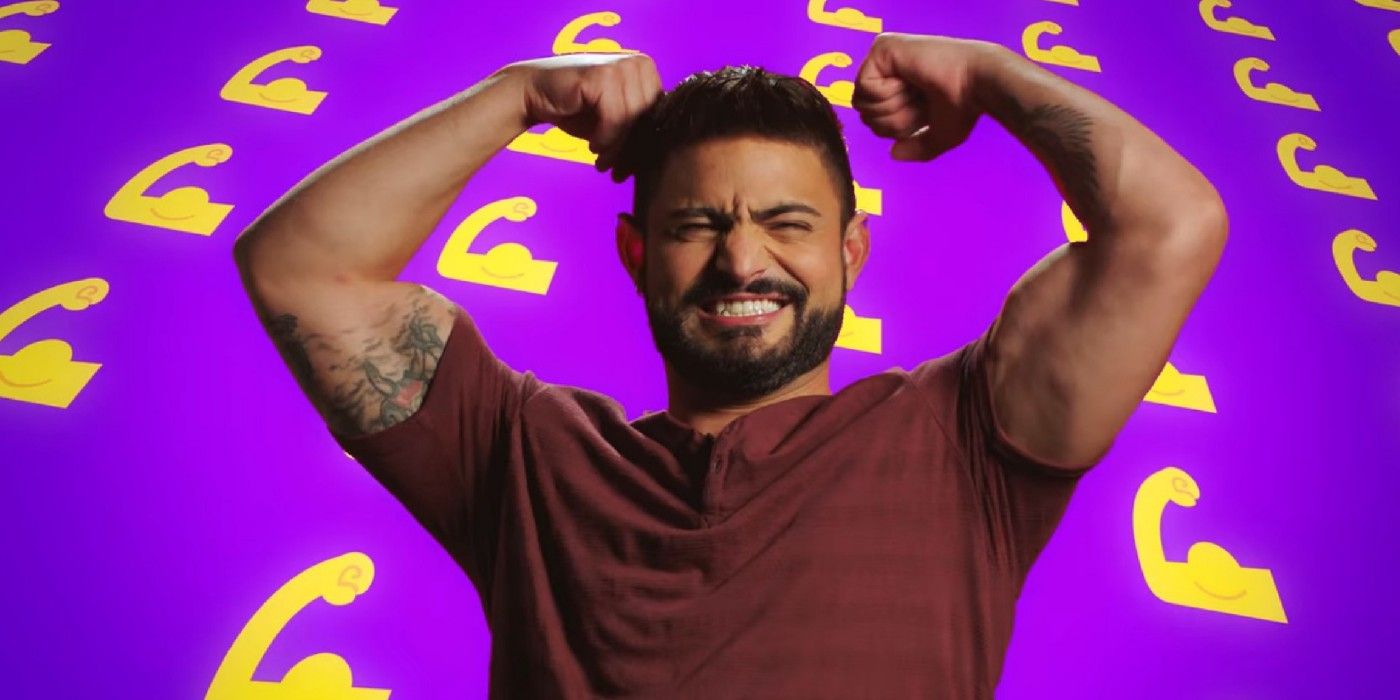 Fans are happy that The Circle season 3 has arrived on Netflix with eight fresh faces, and it's time to share information about contestant Matthew (Matt) Pappadia. He's also known as "Paps" and he entered The Circle as his best friend, Ashley Chewski. Hot on the heels of The Circle season 2, which concluded in May 2021, season 3 of the social media-based reality TV show will consist of 13 episodes over four weeks. Amongst the 11 cast members that will be revealed, there is a chef, a sister duo pretending to be one person, a stand-up comedian, and a singer-songwriter. Fans wonder if catfish Matt is the next DeLeesa St. Agathe.
Matt (pretending to be Ashley) is already a popular contestant who is in the running to win $100,000 on The Circle, as he placed fourth on the popularity chart alongside Nick Uhlenhuth in the first week. At 29, Matt is an actor and health and fitness consultant. He was born and raised in Long Island. The Netflix star's job requires him to post a lot of shirtless selfies on social media, which had led people to consider him vain and shallow. Catfishing as his BFF Ashley is what Matt thinks will help people to get past his "intense look" and trust him more. Ashley and Matt have been attached "at the gay hip" since he saw her making s'mores in chemistry class, and he believes he can win the game by becoming the guys' best friend and the womens' confidant.
Related: The Circle: What Countries Have International Versions (And Where To Watch Them)
"God, Gains & Gratitude" reads Matthew Pappadia's Instagram profile which has already amassed over 59k followers since his The Circle debut. Ashley, who keeps her IG private. makes frequent appearances on Matt's feed. One of their earliest photos together on Matt's IG is from February 2014, which Ashley thinks is perfect in terms of symbolizing their "best friendship ❤️👌💕." According to The Cinemaholic, Matthew Robert Pappadia was born to Alejandro and Francine Marie Pappadia in Bay Shore, New York, on July 1, 1991. He is of Latino, Hispanic, Middle Eastern, White and European descent, as noted by RealityTitbit. While recalling how his family reacted when he came out as gay, Matt revealed that his "father nearly poured holy water on me, and grabbed his bible, and started reading it out loud."
As per Matt's IMDb page, he's starred in The Night Never Sleeps as Tito Morales (2012), and as Frank Risoto in Disco! (2015). Currently, Matt is also the CEO of an online health and fitness consultation company called PAPSFitness. He's busy apart from being a The Circle season 3 contestant. Matt stands 5 feet 9 inches tall and started modeling when he was 21. He enjoys stand-up comedy and baritone singing, and works as an occupational therapist, fitness guru, and masseuse. This jack of all trades attended Ithaca College, where he studied Acting for Film/Television and Voice and Movement. Additionally, The Circle fan-favorite acquired his graduate degree in Occupational Therapy and had plans to utilize theater to boost the prosperity of LGBTQ+ youth.
For those interested in Matt's dating life, there isn't a lot of information available yet. On the photos that he's posted with other guys, his captions read "#NotDating" and "That's my best friend," which may indicate that Matt is single. Matt's favorite show is Big Brother, he has a pet dog called Luke Skywalker and he posted about having thyroid surgery in January 2020. The Circle star and Instagram influencer hates oatmeal raisin cookies and is a "baby vegan." He opened up about being living with epilepsy while raising awareness about the health condition. This reality celeb has a lot going on in his life.
Next: The Circle Season 2: 5 Ways "Trevor" Was The Best Catfish (& 5 Ways It Was "River")
Sources: Matthew Pappadia/Instagram, Matthew Pappadia/Instagram