The Mandalorian's Luke Skywalker Scrutinized By VFX Artists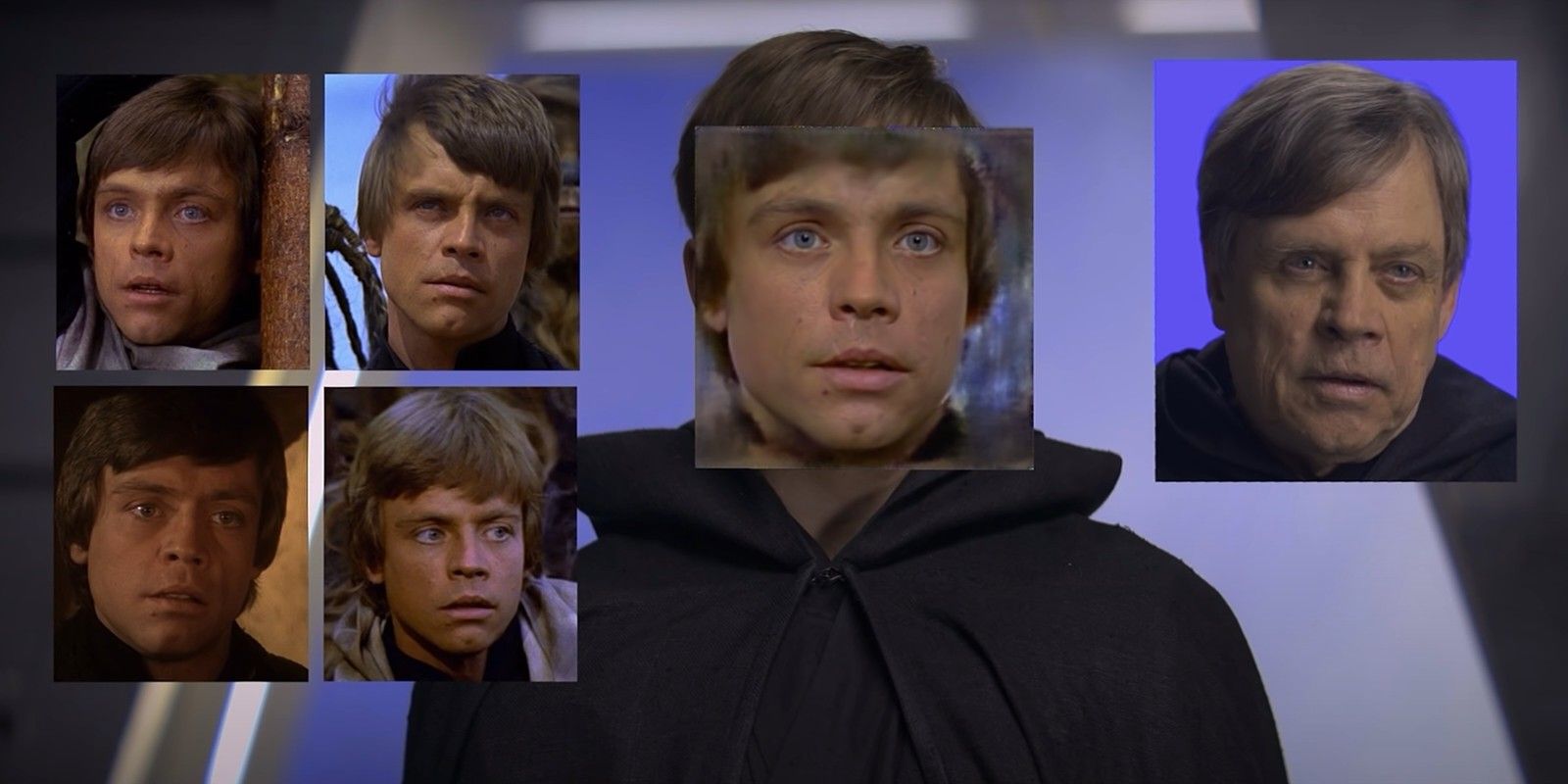 The VFX process for The Mandalorian's version of Luke Skywalker gets a closer look from real special effects artists. This time last year, audiences were gearing up for a new season of Disney+'s hit Star Wars series The Mandalorian. Nowadays, fans are eagerly awaiting news on season 3, which won't arrive until well into 2022. With the hiatus stretching on, all that's left to do is reflect on the amazing moments of The Mandalorian season 2, such as the surprise arrival of Luke Skywalker (Mark Hamill) in the finale. Luke came to take powerful young Grogu under his wing in a scene that left audiences in awe.
Almost immediately after The Mandalorian season 2 dropped, the internet was alight with debate over how the creative team pulled off Luke's return. While the face was very clearly Hamill's, some kind of VFX had to be put into making him look younger. The months following saw several online VFX artists try their hand at improving the CGI that restored Hamill's likeness, with some even giving a result that seemed more impressive than The Mandalorian itself.
Related: Why The Mandalorian Season 2 Didn't Use Mark Hamill's Real Voice For Luke
The recent release of a special Disney's Gallery: The Mandalorian episode revealed more details about the Luke Skywalker scene, and VFX team Corridor Crew took the time to share their thoughts on the show's process. From what they determined, Hamill was merely on set to provide some reference points for the creative team and the stand-in actor, Max Lloyd-Jones. The Mandalorian used deepfake technology to pull together Hamill's likeness, and they combed through countless hours of Star Wars footage to find the best expressions. Corridor Crew member Niko explained it like this:
So there's a lot of nuance to what is happening in this behind the scenes, because they're not going to go deep into this and tell you that Mark Hamill didn't play young Luke Skywalker. But they are pointing out that they did have Mark Hamill on set... It's not like they're just somehow generating a 3D model of Mark Hamill's face, going "Whoop," and making it younger and sticking it back on the other actor. It's really just for reference. I think the only actual thing in the final product that you're seeing is they filmed the young actor who's taking his cues from both the director as well as Mark Hamill and looks like they did a deepfake. They're then going in and layering and layering and layering a whole bunch of hand-based compositing on top of it.
For those who want to see the entire discussion, it starts at 1:03 in the video below and goes until 7:48.
Click here to watch the video on YouTube.
Considering how much time The Mandalorian had to complete the Luke Skywalker deepfake - which was considerably less than a normal movie - it's impressive the series managed to do what it did. At the same time, as the Corridor Crew pointed out, the process of layering multiple Hamills over each other pushed Luke into the uncanny valley somewhat. The Mandalorian's VFX was impressive, but under closer scrutiny, doesn't entirely hold up.
It remains to be see if Luke will return to The Mandalorian in the future. He's currently training Grogu, and many expect the popular tyke to pop up in the show again. If he does, it stands to reason that Luke could be seen once more. Whether Lucasfilm will decide to use CGI again isn't clear, though at this point, it seems strange to consider recasting Hamill. The studio might have further refined its deepfake process by then, allowing for a better Luke. Fans will just have to wait and see what the future holds.
More: Star Wars Just Proved Mandalorian Could Never Have Recast Luke Skywalker
The Mandalorian season 3 will premiere on Disney+ in 2022.
Source: Corridor Crew