90 Day Fiancé: Michael & Juliana's Split Rumors Fueled By Their IG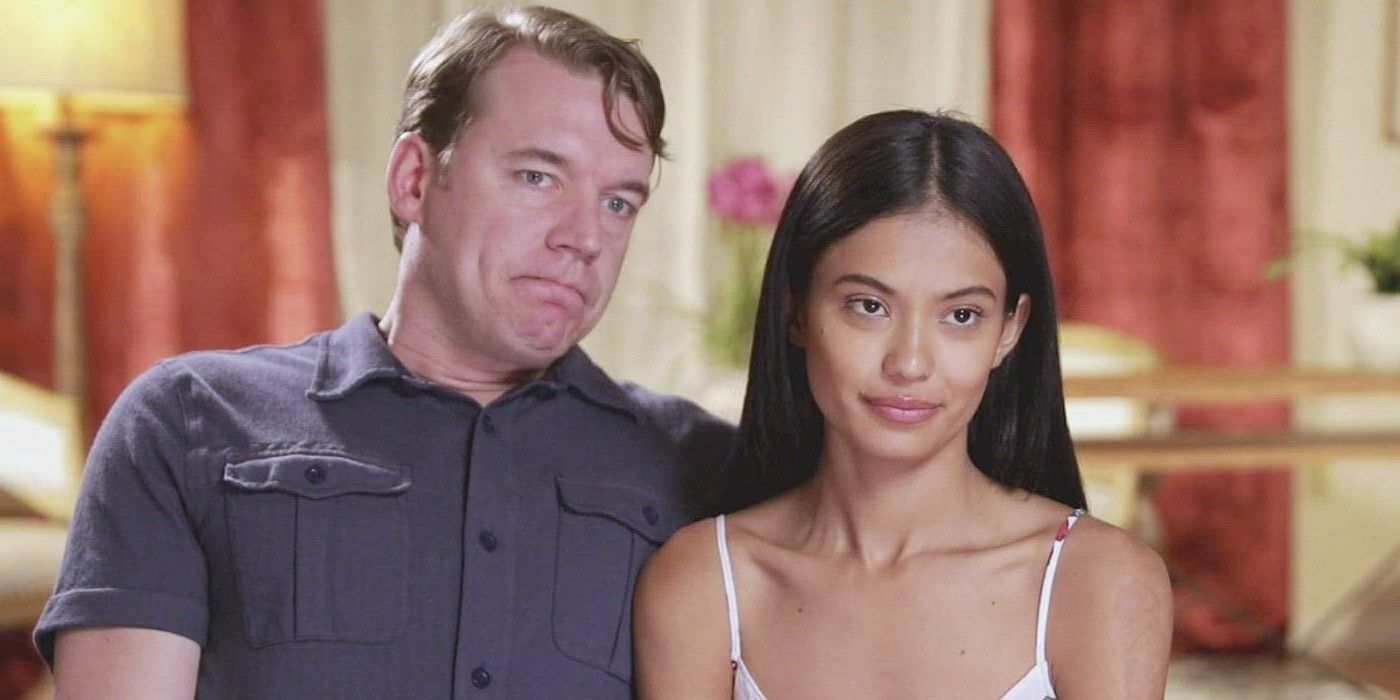 Michael Jessen and Juliana Custodio from 90 Day Fiancé season 7 have given more hints about their possible breakup via their Instagram accounts. Michael and Juliana were controversial owing to their massive age gap of nearly 20 years. Fans wondered if Juliana, 23 was after Michael, 46, for his money, although their chemistry was evident. There were tensions between Michael's ex Sarah and Juliana as well, but the couple proved critics wrong when they got married in the finale. However, Juliana's latest TikTok videos confused TLC viewers as she indicated that she and Michael could be heading towards divorce.
Juliana shared a TikTok video which she captioned with, "Stop ask if I'm still married." Juliana looked nervous in the clip as she said, "It's really hard and I'm not ready to talk yet." The professional model also claimed that once fans find out the truth, they will hate her "forever." Furthermore, Juliana, who's from Brazil, confirmed that she wasn't in America anymore. From replying with nervous face emojis to a fan who asked about her relationship status to writing, "Perfect family 😂😂😂" when asked what happened, Juliana has given enough signs to indicate a split with Michael.
Related: 90 Day Fiancé: Juliana Custodio & Michael's Relationship Timeline
However, since the 90 Day Fiancé community started discussing the possibility of another franchise relationship ending, Juliana's Instagram profile also served as a major clue. As it turns out, Juliana has wiped all of the Michael-related content from her feed. And while Michael still has Juliana's photos on his own IG page, he too has taken her name out from his bio. A Reddit fan u/beyonceelover noticed Juliana's odd social media behavior. Other TLC viewers in the thread considered what could have gone wrong between the gorgeous couple. Some even discussed the possibility of Juliana seeking attention through these antics.
As per her own Instagram bio, Juliana is in Germany. Fans think Juliana is there on a work assignment and not because of a split with Michael. Juliana had celebrated her last birthday on September 5 in Italy while Michael was still in the States. This is when fans had first grown suspicious about the couple's marriage, but Michael had commented with, "🔥🔥🔥🔥 Happy birthday, my love 🙏🙏😘😘♥️♥️🎂🎂🎉🎉🍻🍻" on Juliana's post. Michael had also wished Juliana a happy birthday by calling her "my love, my light" and posting a throwback from the first birthday he'd celebrated with her. As per a repost by @90dayfiancefanatics, Juliana had shut down rumors of separation by declaring, "Michael is at home in New York and I came here for work but also some holidays because it is birthday." She'd also added, "He's there and I came for work but I'll come back. I'm not leaving."
Fans have also started comparing Juliana and Michael with their 90 Day Fiancé co-stars and best friends Tania Maduro and Syngin Colchester. It is alleged that Syngin has a new girlfriend and will be starring in a new season of 90 Day: The Single Life. One fan's theory is that Juliana could be headed in the same direction as him. Viewers are now speculating if Juliana cheated on Michael, but a few are happy for her as they think she was one of the "most likable 90 Day participants." Fans also think that Michael is still keeping Juliana's photos on his Instagram as he has proved he can stay good friends with an ex.
Next: 90 Day Fiance: All Times Juliana Custodio Stunned Fans In Modeling Photos
Sources: Juliana Custodio/Instagram, Michael Jessen/Instagram, u/beyonceelover/Reddit, Juliana Custodio/Instagram, Michael Jessen/Instagram, @90dayfiancefanatics/Instagram