Battlefield 2042 Gameplay Trailer Reveals Antarctica, Desert Oasis Maps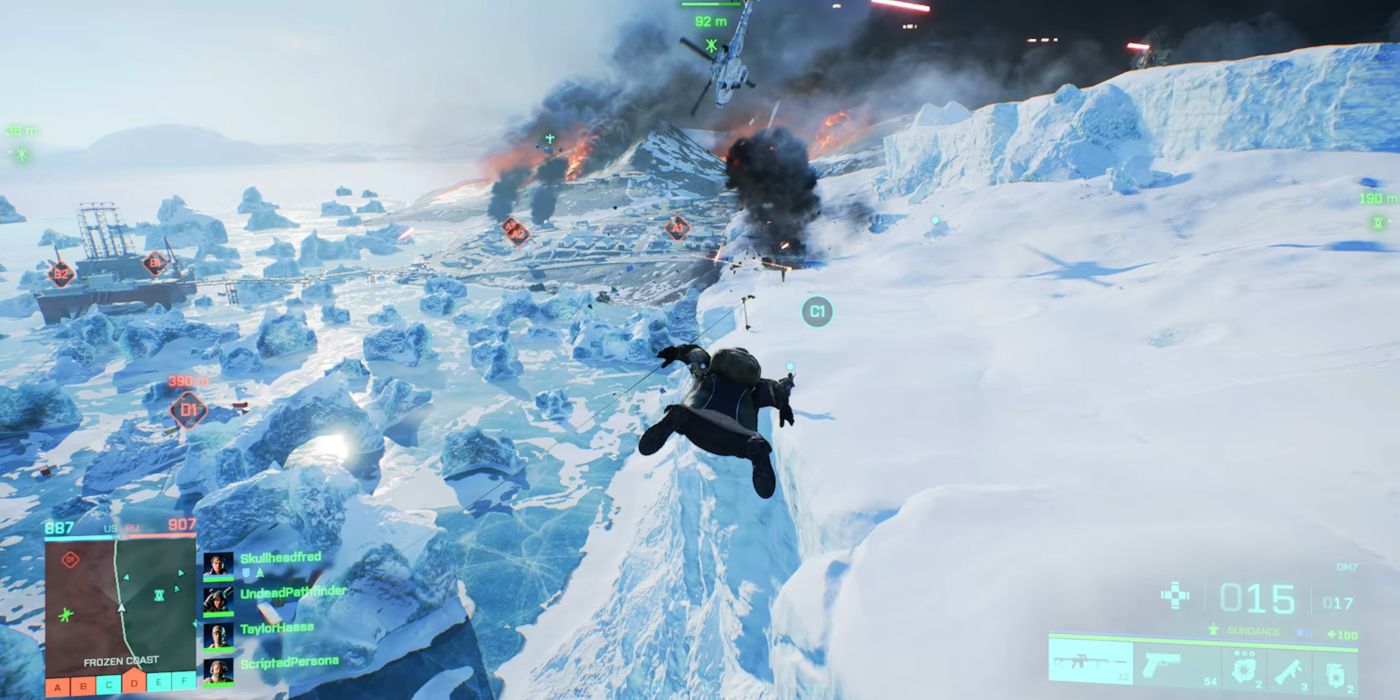 DICE has released a new gameplay trailer for Battlefield 2042, showcasing three of the new maps set in Antarctica, Egypt, and India. Until now, the developer has only properly shown off two maps from Battlefield 2042, Orbital and Hourglass. The French Guiana rocket launch-themed map is the one the public played during the open beta, while the latter desert map set in Qatar was used to reveal the Battlefield 2042's gameplay at E3 2021 in June.
Seven massive maps have been confirmed for Battlefield 2042's multiplayer, with classic maps also set to return in the Battlefield Portal mode. DICE will also continue to add maps as free post-launch content. There's no exact confirmation on how long DICE plans to support the game, but publisher EA has stated it could live on for multiple years like other popular shooters. With that said, the developer has now offered up a taste of what's to come when the multiplayer title releases in November.
Related: Battlefield 2042 Beta Changes: Everything Being Fixed For The Final Game
The new Battlefield 2042 gameplay trailer shows gameplay of three new maps: Renewal, Discarded, and Breakaway. All three maps were first shown in the game's initial CG reveal trailer, but now their in-engine looks and layouts have been revealed. The trailer also offers a new look at some of the changes made to Battlefield 2042 following the beta, including its updated UI. It appears there will be plenty of variety in the game's maps, and they'll surely all offer their own challenges and advantages.
The maps in Battlefield 2042 are expected to be the biggest of the entire series. Orbital was described as "medium-sized" by DICE, meaning even though it's a large map, the game gets much bigger. This won't apply as much to the last-gen versions of the game as they've been scaled back, but current-gen and PC will see the full scale of the game with 128-player matches.
All of these maps will be playable in Battlefield 2042's Hazard Zone mode, which will allow players to experience the maps at a different pace. As of right now, there are still two maps that have yet to be shown off, Manifest and Kaleidoscope. As of right now, it's unclear if DICE will release another trailer to reveal those maps, but they may be a fun surprise for release. There may have been a few glimpses at Kaleidoscope in some of the Specialist gameplay trailers, but Manifest seems to be more of a mystery. Manifest will put players in a shipping container port and feature intense close-quarters combat with the ability to move crates via a crane.
Next: Battlefield 2042 Classes Reportedly Cut Because Of Call of Duty: Modern Warfare
Battlefield 2042 releases on November 19, 2021 for Xbox One, Xbox Series X/S, PS4, PS5, and PC.
Source: Battlefield/YouTube