GTA Online's Aliens Invade Los Santos For Halloween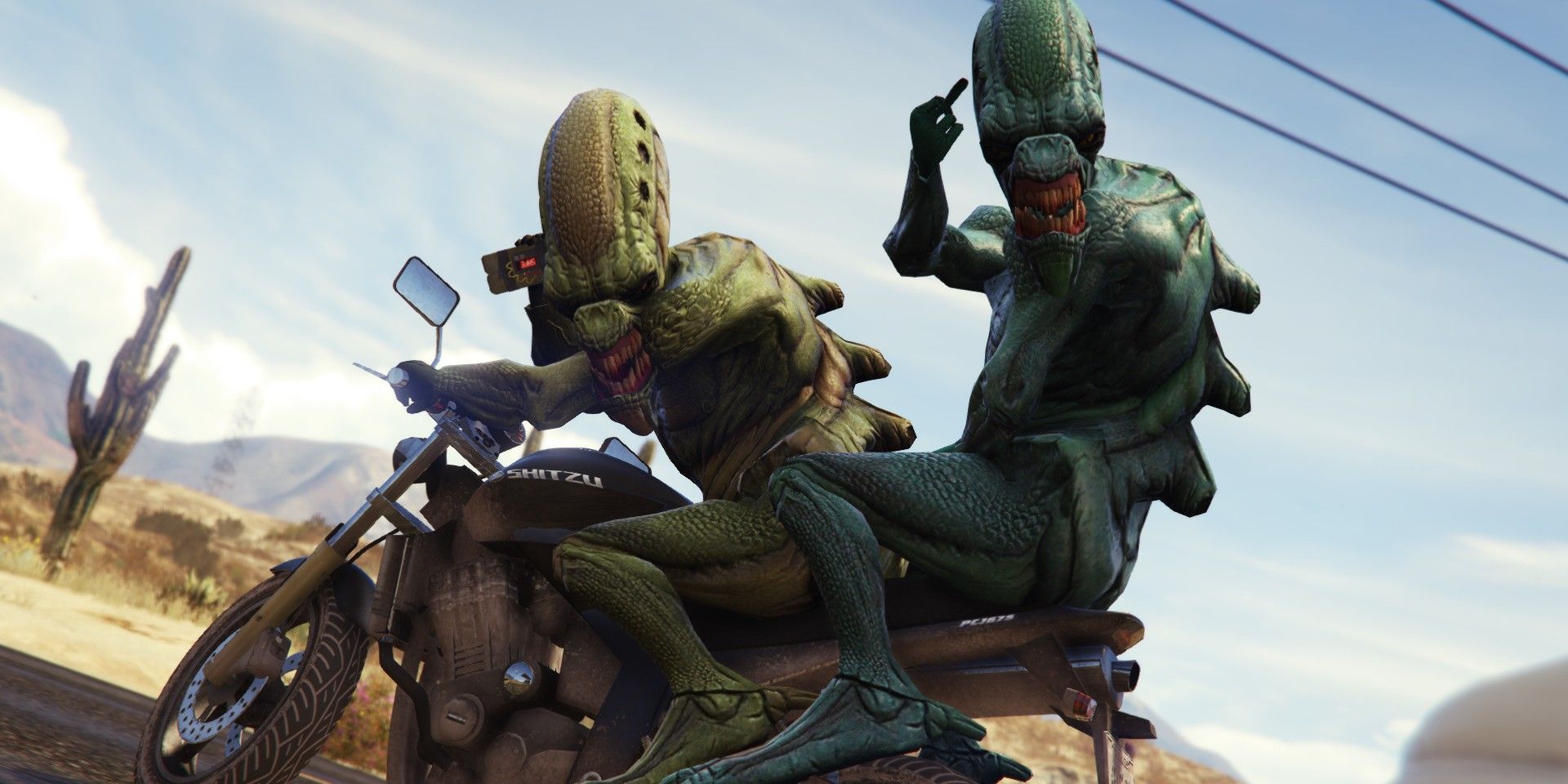 As part of a Halloween-themed virtual event, Rockstar is adding some otherworldly weather and visual effects to GTA Online. This free roam event is part of a larger push to feature spooky Halloween elements in GTA Online this year.
GTA Online is no stranger to special events and updates. As a game with many live-service elements, GTA Online is constantly receiving support in the form of content refreshes, RP-boosting incentives, and limited-time offerings. Players can even take part in regular challenges while traveling through the open-world lobby. GTA Online hasn't served up any major alien-themed content until now, but aliens, UFOs, and space-based conspiracies have popped up throughout the GTA series, particularly in Grand Theft Auto V.
Related: GTA Online: How to Find (& Kill) The Slashers
It looks like aliens are going to make their foray into GTA Online, if only for a short period of time. Twitter account GTA News recently shared a video that depicts the uncanny world event up-close and personal, giving viewers a close look at the haunting green sky illuminated by lightning and littered with UFOs Unlike the recent Squid Game GTA Online challenges, it appears that this is an official event created by Rockstar itself, rather than a fan-made mod or game mode. Players can see the alien storm themselves by logging into GTA Online between 19:30-06:30 (in-game time), according to GTA News.
This initiative to craft real-time world events recalls other popular live-service titles like Call of Duty: Warzone and Fortnite, games that regularly push out limited-time modes, unlockables, and other exclusive content. These often occur during holidays like Christmas, St. Patrick's Day and, of course, Halloween. It's a strategy that seems to work well for these games, as it keeps the public eye on them and keeps players coming back to check out seasonal content. Recent data shows that GTA Online made over $911 million last year, which proves how much these types of events can help when it comes to keeping players engaged.
In the case of GTA Online, it appears that this alien-based event is mostly superficial, as it doesn't seem to offer any unique gameplay bonuses, changes, or novelty unlockables for players to really sink their teeth into. Aircrafts can't approach the UFOs either, meaning that players hoping to board these extraterrestrial hot rods might be out of luck. Still, GTA Online is serving up a host of unique Halloween content, so anyone looking to get into the spooky spirit will still have plenty to do.
Next: Why GTA Remasters May Be Responsible For Red Dead Online's Neglect
GTA Online is currently available on PC, PS4, and Xbox One.
Source: GTA News/Twitter