Halloween Kills Director Takes a Stab at Michael Myers in BTS Image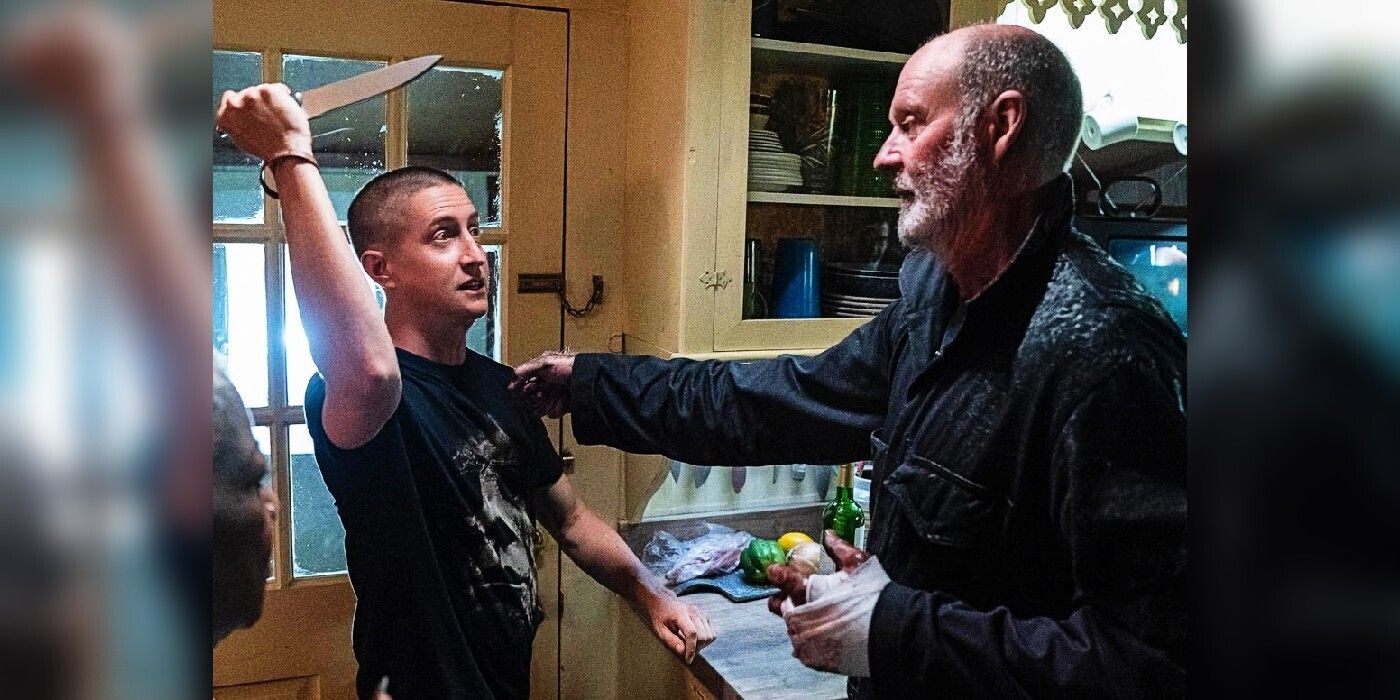 A behind-the-scenes shot from the set of Halloween Kills shows director David Gordon Green picking up a knife to take on Michael Myers himself. The film is the 12th to feature the notorious serial killer Michael Myers, who originally appeared in John Carpenter's 1978 slasher classic Halloween. It's the 2nd in the trilogy of films created by Blumhouse, which are in direct continuity with the original and ignore the other sequels. The film, which hits theaters on October 15, stars Jamies Lee Curtis, Judy Greer, Andy Matichak, Nick Castle, James Jude Courtney, and Anthony Michael Hall. It will also feature the return of original Halloween actors Kyle Richards, Nancy Stephens, and Charles Cyphers.
David Gordon Green has helmed the entire new trilogy, working from scripts co-written by Danny McBride. Both men were primarily known for comedy before, and they previously collaborated on the stoner comedies Pineapple Express and Your Highness. However, they have achieved massive success following the path of Jordan Peele, another comedian who struck gold making horror for Blumhouse.
Related: Halloween Kills: Unmasking Michael For The Finale Is A Bad Idea
David Gordon Green may have swapped over to the scary side (he's not leaving anytime soon, considering he's now working on an Exorcist reboot), but he does still know how to show his goofy side on set. On her Instagram, Jamie Lee Curtis posted a series of three behind-the-scenes photos of the director from the set of Halloween Kills. While boasting that he is a "wonderful collaborator and scary AF filmmaker." She also shows him having a blast, including a shot of him picking up a knife to play around with Michael Myers actor James Jude Courtney. Check out the post below:
Even though the cast and crew had fun on set, Halloween Kills promises to be the bloodiest Halloween yet. It will pick up immediately where the previous film left off, with three generations of Strode women escaping the burning house where they think they have left Michael for dead. Unfortunately for them, he is very much alive and starts a rampage through Haddonfield. They will have to gather the town's forces, including many familiar faces, to take down the ultimate evil.
Halloween Kills, which has the best Rotten Tomatoes score for a Halloween sequel, is set to take horror fans by storm. Hopefully, Green can harness the brutality of his first outing and make a tight, satisfying shocker that leaves them wanting more. With Halloween Ends capping off the trilogy in 2022, he'll need to have an ace up his sleeve to bring the story of Laurie Strode and Michael Myers to a satisfying close. Jamie Lee Curtis obviously trusts him to take her there, which should be reassuring to those worried that the trilogy might lose its way and not stick the landing.
Next: Halloween Kills Will Tie A Special Friday The 13th Record
Source: Jamie Lee Curtis