Netflix Installs Replica Of Terrifying Squid Game Doll In Shopping Mall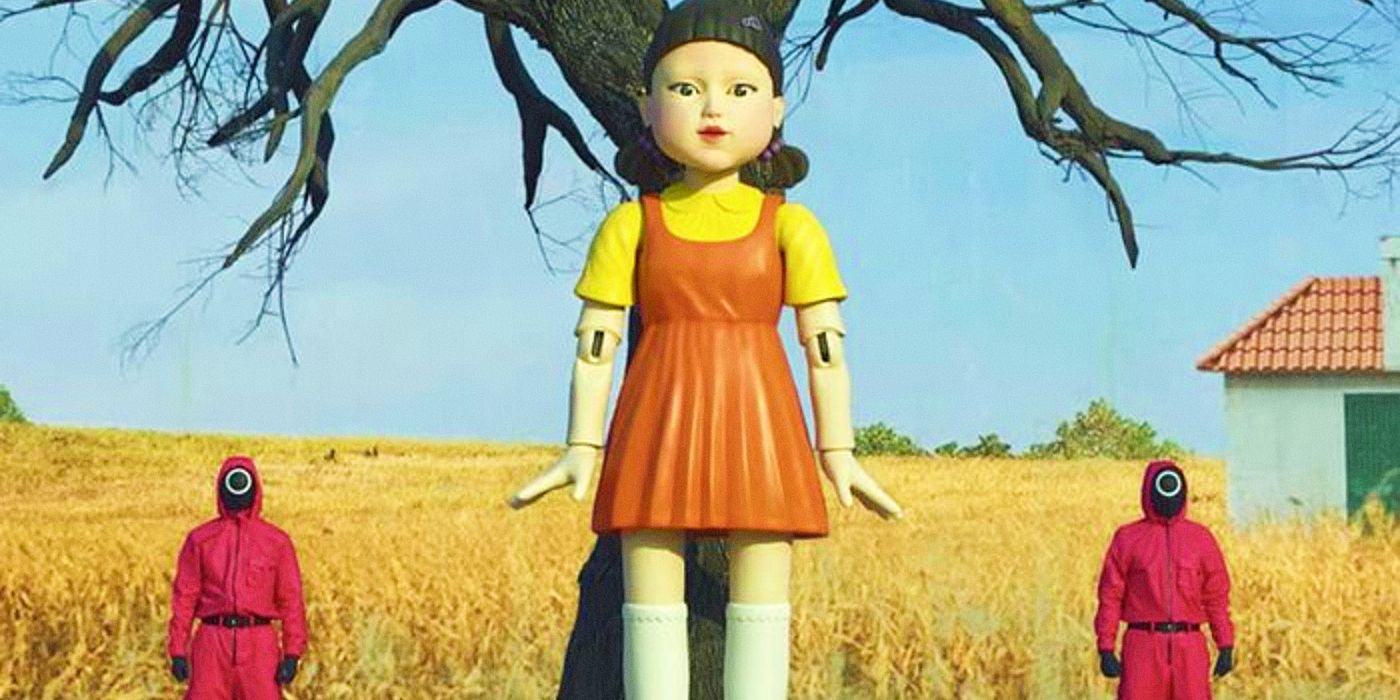 Warning: Contains SPOILERS for Squid Game
Squid Game's terrifying red-light-green-light doll comes to life in a new video shared by Netflix. Squid Game debuted last month and is Netflix's latest thriller series hailing from South Korea. Immediately upon release, the show became an an international smash hit and has spawned a slew of internet references and memes in the short two weeks that it's been available for viewing. In this time, Squid Game has also managed to hold the number 1 title in Netflix's "Top 10 in the U.S. Today" category. The series has proved to be so popular that Netflix co-CEO, Ted Sarandos, himself stated that Squid Game has the potential to be the streamer's biggest hit of all time if early viewership numbers hold.
The show itself follows a down-on-his-luck protagonist named Seong Gi-hun (Lee Jung-jae) as he participates in a mysterious survival game (in the vein of Battle Royale or The Hunger Games) in hopes of winning the grand prize of ₩45.6 Billion KRW (approximately $38.7 million USD). Each of the game's various challenges are inspired by childhood games common in South Korea, with some having Western analogues that non-Korean-speaking audiences may be familiar with; for example, the show's first challenge, "Mugunghwa kkochi pieotseumnida," is similar to red-light-green-light. Squid Game's first challenge certainly left an impression on audiences – especially the massive, doll-like animatronic that facilitates the game. Now, Netflix appears to be promoting their latest hit by bringing the animatronic to life.
Related: Is The Doll From Squid Game Real?
Netflix Philippines recently tweeted a video showing the animatronic come to life, singing the haunting "Mugunghwa kkochi pieotseumnida" melody. It's unclear where specifically the doll is set up, though the posting account seems to imply that it is a shopping mall somewhere in the Philippines. Check out the video below:
Click Here to View the Video on Twitter
Given the impression that the animatronic left on audiences, Netflix is smart to use it in their marketing campaign for the show. Its introductory scene is one of the most pivotal in the entire series, marking the moment where Squid Game's 456 competing contestants first realize that the cost for losing a challenge is death. The streaming service will undoubtedly make the "Mugunhwa" doll a crucial component of their future promotional materials for the show.
K-dramas, K-pop, Korean cinema, and Korean cosmetics have all become increasingly ubiquitous in the past two decades. Academics have labeled the encroaching international influence of South Korean culture as "Hallyu," which is a portmanteau of the Korean words for "Korea(n)" (Han) and "wave" (ryu). As films like Parasite and shows like Squid Game become more lucrative in the West, audiences can expect to see studios investing even more money into South Korean productions in the future.
More: Squid Game: Jun-Ho Is Still Alive - Theory Explained
Source: Netflix Philippines