Skyrim Anniversary Edition Trailer Gives Actual Reasons To Return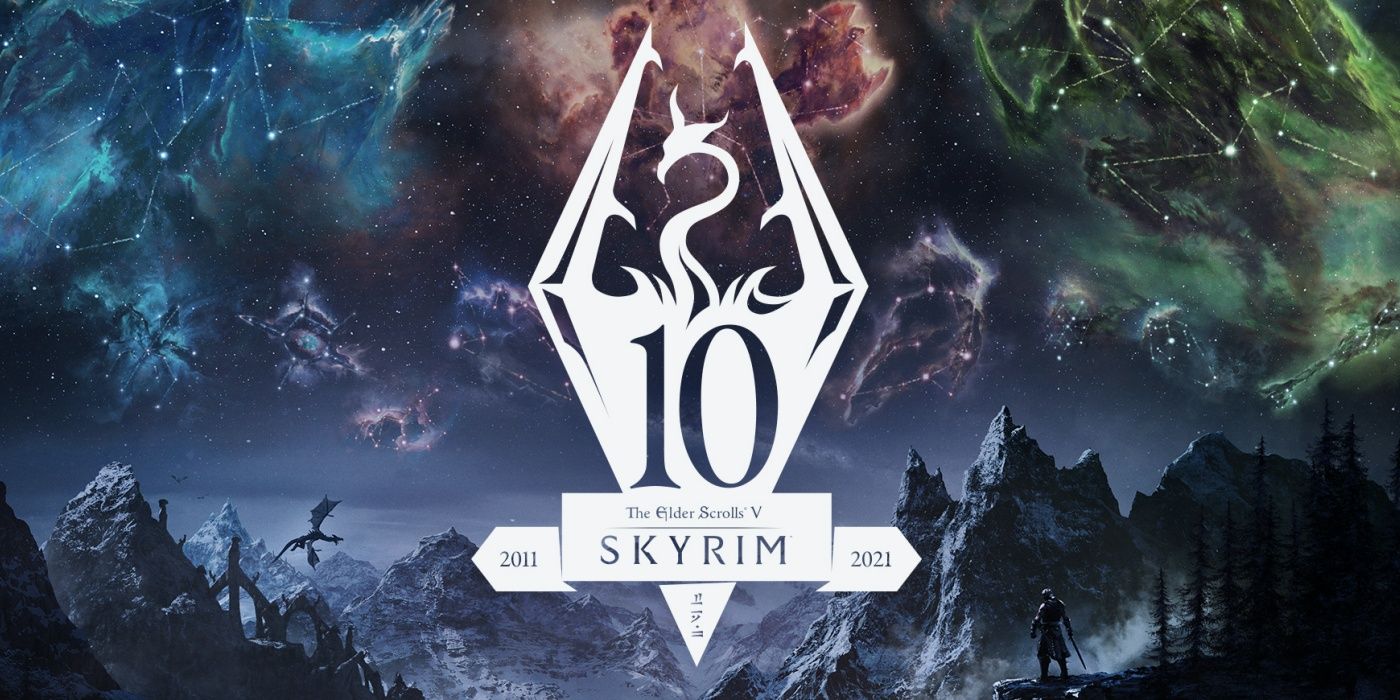 Bethesda Software released a brand-new trailer for The Elder Scrolls V: Skyrim Anniversary Edition, which teases why players will once more want to return to the groundbreaking open-world adventure as Dragonborn. Skyrim's upcoming re-release on consoles and PC coincides with its 10th anniversary. The publisher and Bethesda Games Studios announced the project in August during QuakeCon 2021, promising new gameplay and quests would accompany the launch.
A fishing mechanic constitutes one of the more notable additions, a first for Skyrim despite its multiple releases over the last decade. The RPG's new iteration will also contain more than 500 elements from Bethesda's Creation Club, though players shouldn't expect the title to come packed with 500 different mods. Rather, the Anniversary Edition will boast 74 creations in total; the 500 number enters the picture courtesy of each of the 74 creations' various elements - the likes of items, armor pieces, and quests included. Might all of the above make Skyrim worthy of yet another run? It certainly seems possible.
Related: Skyrim Anniversary Edition: What 500+ Creation Club Elements Actually Means
The new trailer for Skyrim Anniversary Edition provides an overview of all the extra content, including what players should expect from Bethesda's Creation Club offerings. Those who own Skyrim's Special Edition will be entitled to a free next-gen upgrade, which comes with four exclusive creations. "Saints and Seducers" serves as one such bonus, boasting a quest expansion, armor sets, weapons, artifacts, new enemies, and the Rare Curios creation. Survival Mode received some of the spotlight in the overview video, too, as Bethesda used the time to tease the mode's uniquely "immersive challenge." Of course, fishing took center stage for a time, with developers confirming that more than 20 different aquatic species will be available to retrieve from various bodies of water. Bethesda additionally produced new quests for Skyrim Anniversary Edition, including "Ghost of the Tribunal" and "The Cause."
It appears even the most dedicated of Skyrim players will have a reason to revisit the 10-year-old experience. Players don't have to wait too much longer for the opportunity either, considering the Anniversary Edition's scheduled launch falls on the exact date of the 10th anniversary in two weeks.
One of the most important western RPGs of the last decade, The Elder Scrolls V laid the groundwork upon which the likes of The Witcher 3: Wild Hunt would later walk. And though jokes abound about its numerous re-releases, there's no denying that Skyrim is one title deserving of a new lease on life.
Next: Skyrim Anniversary Edition Will Break Special Edition Mods, Dev Warns
The Elder Scrolls V: Skyrim Anniversary Edition hits PC, PS4, PS5, Xbox One, and Xbox Series X|S on November 11.
Source: Bethesda.net, Bethesda Softworks/YouTube