Below Deck: How Fraser Olender Bonded With Jake Foulger On The Show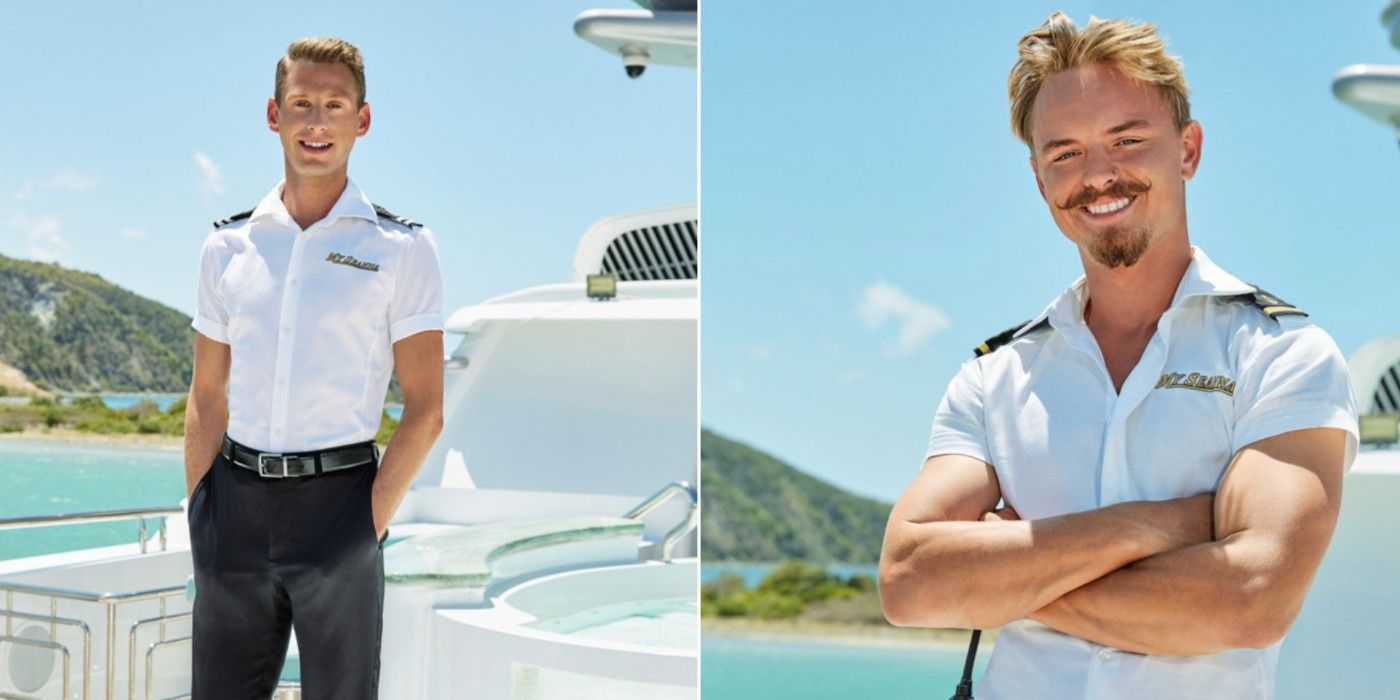 Fraser Olender and Jake Foulger are quickly developing a close friendship on Below Deck season 9, and fans are loving their on-screen interactions. Viewers met the new yachties last month during the season 9 premiere of the Bravo series. Fraser works as the second steward, while Jame was recently promoted to lead deckhand. The two didn't interact with each other much until the crew's second night off when everyone took a dip inside the hot tub. As the night went on, Fraser, Jake, and fellow deckhand Rayna Lindsey got a little too comfortable and started making out.
Jake and Rayna had already developed a connection as the pair shared a few smooches during the last crew day off. However, their friendship turned a bit rocky as Rayna felt Jake was taking his new position as lead deckhand way too seriously. Perhaps the promotion caused Jake and Rayna to fizzle as he was shown sharing a kiss with Fraser in the Below Deck season 9 trailer.
Related: Below Deck: Meet The New Season 9 Cast
In an interview with Cheat Sheet, the second stew admitted that he and Jake have kept in touch since departing the My Seanna. In fact, Fraser admitted that he was the closest with the deckhand. "Jake and I have a really strong bond and a great relationship," Fraser said. "And what's fun is we all got along, which is lovely, as all of our relationships go. Firstly we make friends. At this point in time [in the season] you can't really see real interactions." While Fraser didn't confirm or deny if the couple is romantically involved, he admitted that they shared a unique bond on board. The reality star added that he is still close with the rest of the crew but feels like he'll always have a special place in his heart for the lead deckhand Jake.
"Jake is going to be in my heart for as long as I can see down the line," he revealed. "But I'm still good friends with all of them." Despite flirting back and forth, Fraser admitted that Jake isn't usually his type. Jake's personality won him over, with Fraser praising Jake's witty, fun, and sweet sides. Since Jake is from the UK, Fraser gravitated towards him as he is from there as well. They were able to connect through their British sayings and had that British banter with each other. Jake brought Fraser a sense of home, which is what really drew Fraser to the deckhand. Fraser, who works with third stew Jessica Albert, also teased that he and Jake did more than connect on a friendship level. The stew said that their friendship escalated to something more, but fans will have to wait and see.
Things are certainly heating up between Fraser and Jake. For now, viewers are excited to see how their relationship grows. Will Jake continue his relationship with Rayna, or will he end up falling for Fraser? Fans will have to wait and see how Below Deck season 9 progresses.
Next: Below Deck: What To Know About Charter Guest Justin Richards
Below Deck season 9 airs Mondays at 9 p.m. EST on Bravo.
Source: Cheat Sheet