Bill Burr's Opinion On Star Wars Fans Has Changed Since The Mandalorian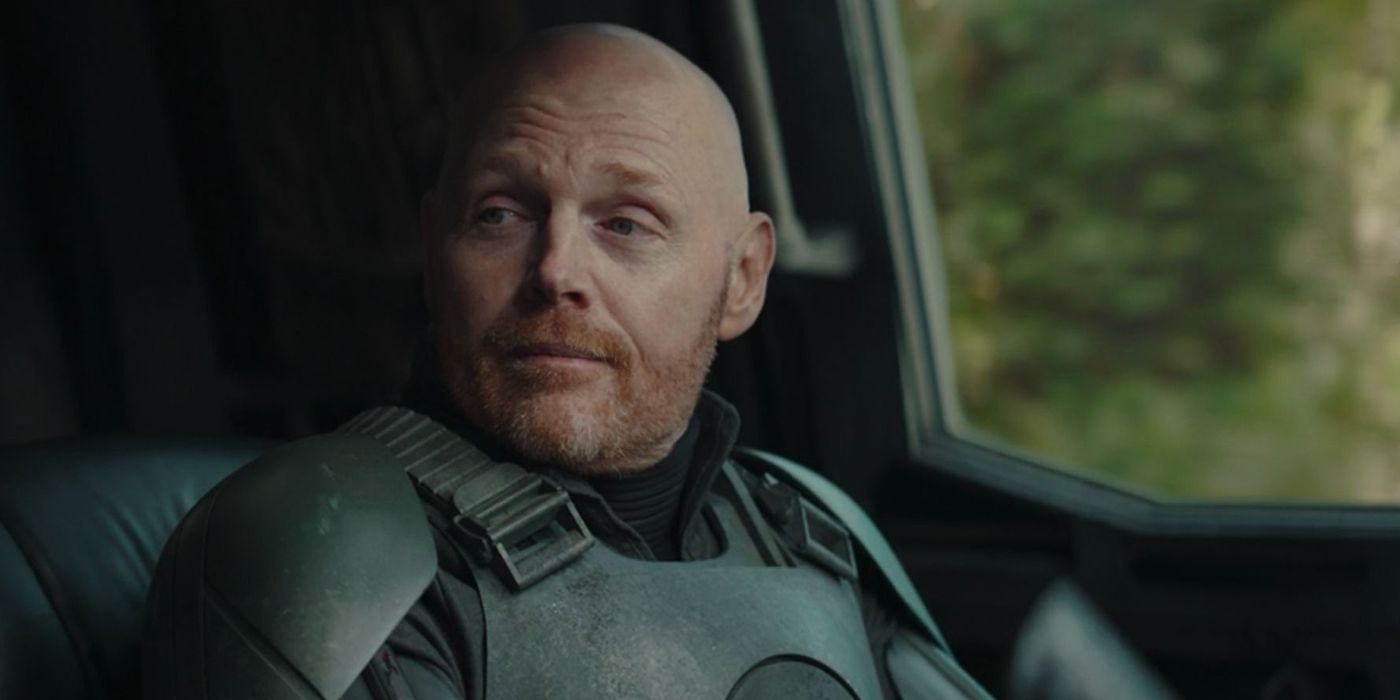 The Mandalorian star Bill Burr exclusively discusses how Star Wars fans compare to others he's encountered in his sports and comedy careers. Burr rose to stardom in the mid aughts in the world of stand-up comedy before garnering more mainstream attention on screen with his supporting role in Breaking Bad as Saul Goodman accomplice Patrick Kuby. The Grammy nominee would begin expanding his work on screen with supporting roles in Comedy Central's Kroll Show, Paul Feig's The Heat and Daddy's Home while also landing a key supporting role in Judd Apatow's The King of Staten Island and co-creating, starring and executive producing the animated Netflix comedy F is for Family.
Burr stars in The Mandalorian as Migs Mayfeld, a former Imperial sharpshooter now living as a mercenary who initially serves as an ally for Pedro Pascal's titular hero before double crossing him on a job. He would return near the conclusion of season 2 to help Mando track down the location of Grogu, better known as Baby Yoda, and subsequently redeeming Mayfeld with a tragic backstory. Though Burr is well-known for his outspoken distaste for Star Wars prior to joining The Mandalorian cast, it seems his run with the show has changed his heart.
Related: The Mandalorian: Why Does Bill Burr's Mayfeld Know Where to Find Moff Gideon
Burr spoke about his time in the Star Wars franchise exclusively with Screen Rant while discussing his upcoming Roku series Immoral Compass. In looking back on joining Lucasfilm's long-running franchise, Burr opened up about his appreciation for the fans of the series and how they compare to others he's encountered in his career. See what Burr said below:
"I will tell you this, Star Wars fans, they're cool, man. They actually have like a chill respectful way they approach you, which was really nice. I come from the sports fan world, they'd say, "Hey Billy b-tcht-ts, go f-ck yourself" and I'm just like, "Hey, how's it going?" [Laughs] So I was used to that, but then they were coming up like, "Hey, Mr. Burr. I really liked your performance" and It's like, "Oh wow, these these are like fully formed adults." [Laughs] I actually had to learn how to converse with them."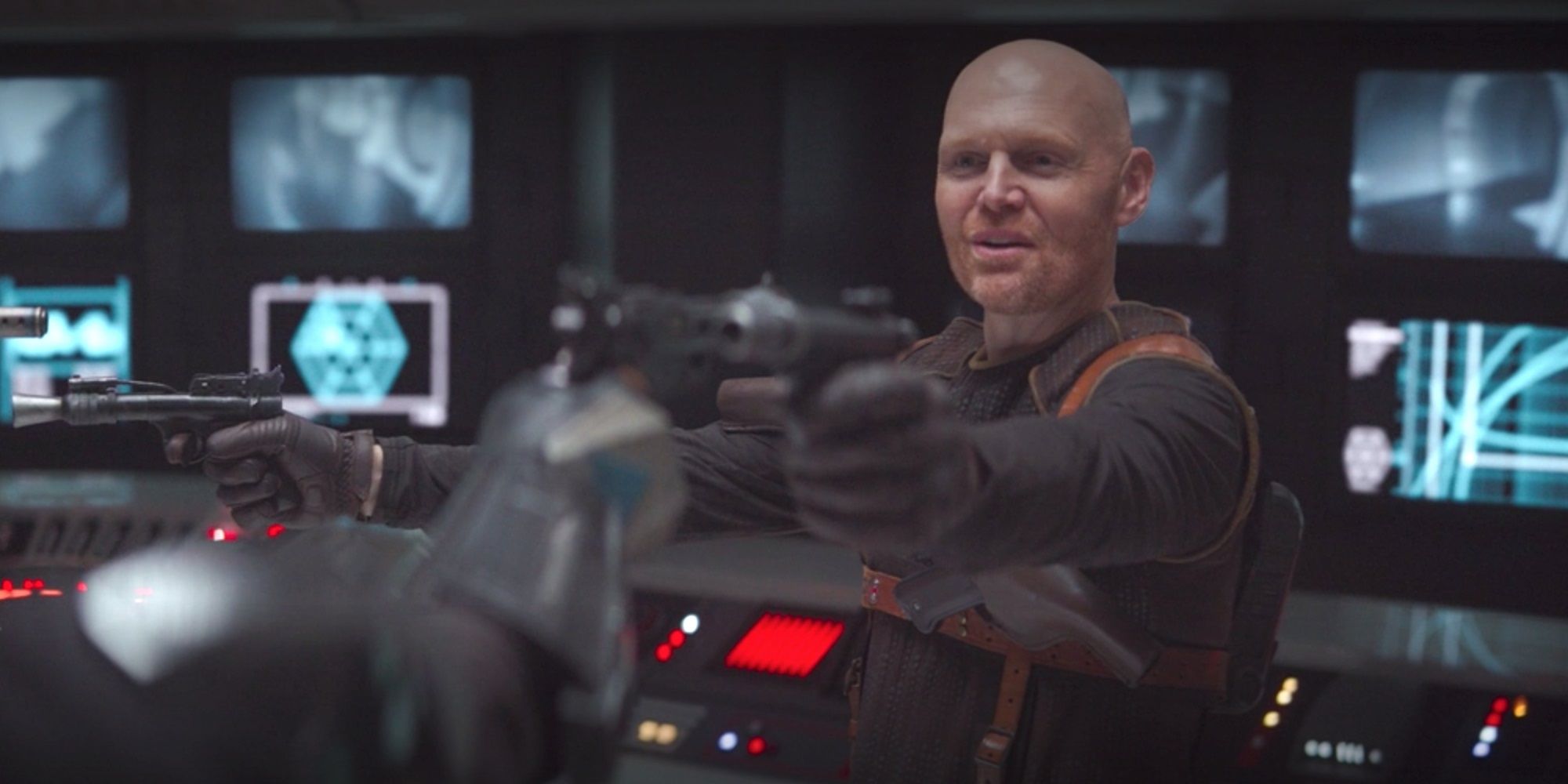 Though it's not clear whether Burr has fully reversed his thoughts on the Star Wars franchise, his appreciation for how fans approach him and praise his work in The Mandalorian is sure to come as sweet for said fans. It is also interesting the star is shown such positivity from followers of the series, given his first appearance drew a somewhat mixed response, namely for his treatment of the breakout character Grogu. The Star Wars fan base is also one of the more notoriously divisive in pop culture history, which subsequently makes their acceptance of Burr both surprising and refreshing change from the typically cynical attitudes.
With Burr now a celebrated part of the Star Wars universe as Mayfeld, fan anticipated is certainly high for the now-ally to return in future Disney+ shows or movies. Though Burr's recent hopes of returning for The Mandalorian season 3 seemingly points to his not appearing in the next chapter, the star does know the game of keeping his lips sealed for such franchises, having downplayed a return mere months prior to his season 2 appearance. While fans will have some time to wait for the next season of The Mandalorian, they can look forward to the next chapter of the Star Wars franchise with The Book of Boba Fett on December 29 and the final season of Burr's F is for Family on November 25.
More: The Mandalorian Can Replace Gina Carano With Bill Burr's Mayfeld Return