Crusader Kings 3: Royal Court Trailer Heralds New Throne Room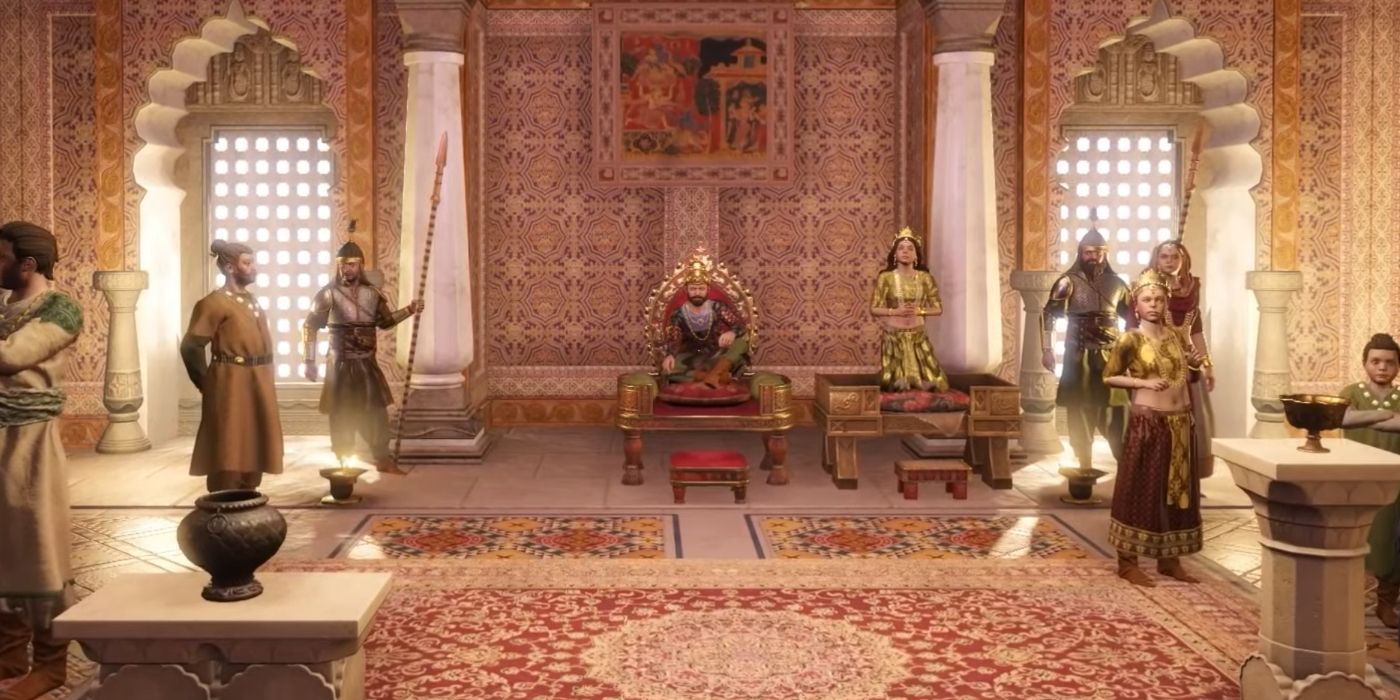 Paradox Interactive has announced that the Royal Court expansion for Crusader Kings III will launch on February 8, 2022. Royal Court is the first true content expansion for Crusader Kings 3, as the Northern Lords DLC from 2020 added flavor content that was centered around the Norse civilization, and didn't add any major features to the game.
Crusader Kings 3 is a grand strategy game that is centered around a ruling dynasty, with the player's main goal being to keep the family alive and prosperous. This isn't easy, as the dynasty needs to face invading armies, unruly vassals, and the influence wielded by the church. The player also needs to keep an eye on their bloodline and what their relatives are due to inherit, as it only takes one unexpected death in the family to start a war for succession, causing everything to tumble down. The game is currently only available on PC, Linux, and macOS, but Crusader Kings 3 is coming to consoles in 2022, with PS5 and Xbox Series X/S ports currently in development.
Related: Crusader Kings 3 Mod Adds Fishing Minigame To Reduce Character's Stress
Paradox announced the Royal Court expansion for Crusader Kings 3 at Gamescom 2021, which will add new content to the game, most notably around the prestige and individual accomplishments of each leader. It has been revealed that the Royal Court expansion will be released on February 8, 2022. The Royal Court expansion will launch alongside a free update for the game, which will add a new culture interface, minor court positions, and more. A new trailer for the Royal Court expansion can be seen on the official Paradox Interactive YouTube channel.
CK3's Royal Court expansion will add a throne room to the game, which is a visual representation of the kingdom's status. The player can hold court in their throne room, allowing them to meet with vassals and courtiers, in order to deal with their problems and pass judgment in a face-to-face manner. It's possible to upgrade the throne room with better furnishings and food, in order to attract talented artists, craftspeople, and thinkers, who will further decorate the throne room with rare items.
The Royal Court DLC for Crusader Kings 3 will also add sweeping changes to the game's culture system. It will be possible for players to make hybrid cultures, in order to take elements from existing ones and forge a new way of life. It's also possible to split from the rules of traditional culture and change it into something better fitting the player's aspirations.
The throne room mechanic in the Royal Court expansion is bound to add even more drama to Crusader Kings III. One of the most appealing aspects of the game is how it can take continent-spanning empires and conflicts that have enveloped the world, and boil them down to squabbles between relatives. The Royal Court will add a personal touch to playing as the ruler in Crusader Kings 3, as players can show the whole world just how rich and powerful they are.
Next: Crusader Kings 2 Adds A Paid DLC Subscription Service 9 Years After Launch
The Royal Court expansion for Crusader Kings III will launch on February 8, 2022.
Source: Paradox Interactive/YouTube