Doctor Strange Faces Doctor Fate in Marvel/DC Crossover Art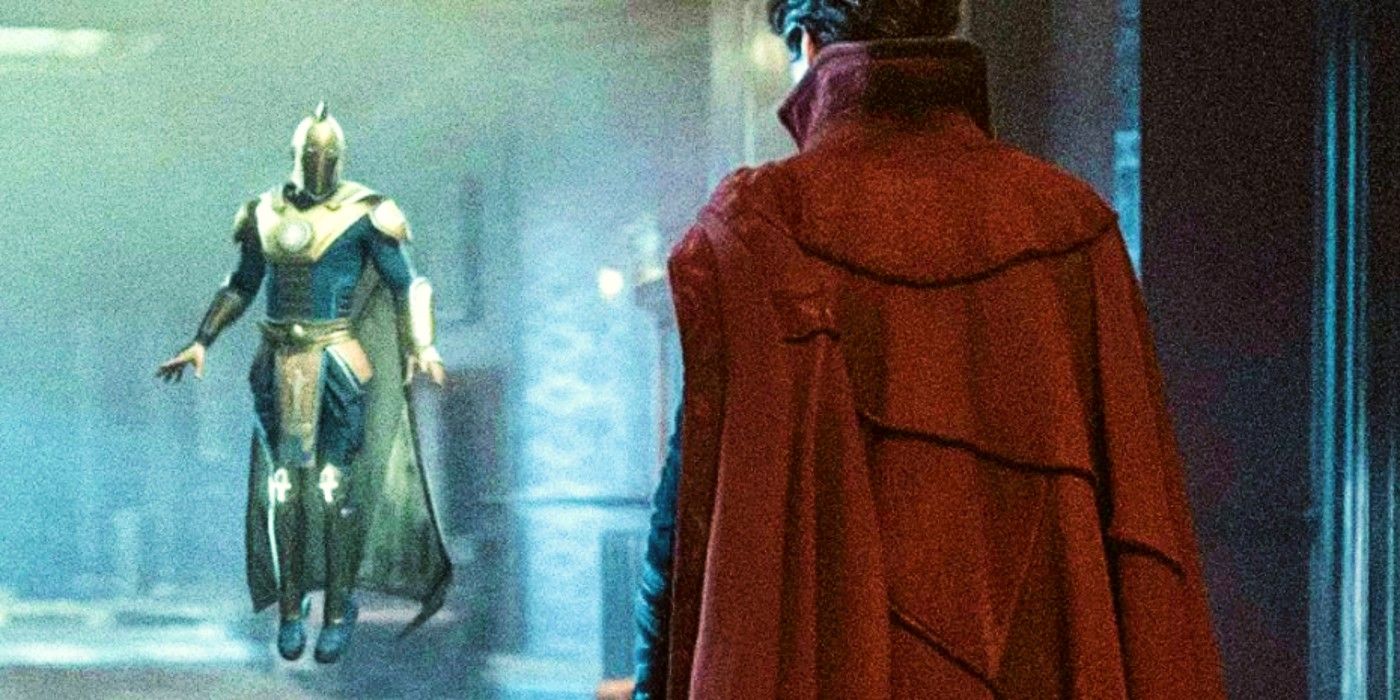 A recently created fan-made image based on the MCU's Doctor Strange has showcased what a confrontation between the Marvel sorcerer and DC's Doctor Fate (who will appear in Black Adam) could look like. After being introduced into the Marvel Cinematic Universe in the 2016 film of the same name, Marvel's sorcerer supreme (portrayed by Benedict Cumberbatch) has become extremely well known amongst general audiences. After his last appearance in 2019's Avengers: Endgame, the character is set to return in this year's Spider-Man: No Way Home and next year's Doctor Strange in the Multiverse of Madness.
Despite being an extremely popular character in DC Comics, Doctor Fate has never been as well known, however, he has previously appeared in a live-action sense on Smallville and will finally be making his live-action film debut in 2022's Black Adam, portrayed by Pierce Brosnan. With a longer track record in his respective cinematic universe, Doctor Strange has had much more time to develop as a character whilst Fate is only being introduced into his. This leaves plenty to be desired, particularly from an audiences' perspective, opening up many possibilities for an ambitious future of the character.
Related: Why Scarlet Witch May Save The Multiverse From Doctor Strange In Phase 4
Digital artist ihasankazi.psd, shared an image to their followers on November 26. The image itself showcases Cumberbatch's Doctor Strange standing at one end of an ominous hallway staring down at Doctor Fate, with the model of the DC character being taken from the video game Injustice 2. The image was captioned with possible dialogue that the two could share with one another, putting forward the idea of Fate needing to confront Strange after the latter tampered with the multiverse.
Click Here to View the Post on Instagram
Within the comic book source material of both Marvel and DC, several crossovers have occurred over the years, such as The Uncanny X-Men and the Teen Titans, Marvel vs. DC, and Amalgam Comics, all mainly taking place during the 90s comic book era. These pieces of work have long since had fans of the material wanting to witness a crossover between the colossal brands on the big screen. There have even been past reports and theories from fans on how such a crossover could happen with the already established MCU and DCEU characters.
With the clear enthusiasm that has been portrayed by fans of the source material in the past, and more recently with fanmade creations such as this photo, the possibility of a Marvel and DC crossover happening is seemingly more possible than ever. Furthermore, with both Marvel and DC having active cinematic universes at the same time, it would only make it easier for any aspiring director to bring the two together for a cinematic battle. Audiences can catch Doctor Strange's next adventure in Doctor Strange in the Multiverse of Madness and Doctor Fate's cinematic debut in next year's Black Adam.
More: Every Upcoming Marvel Cinematic Universe Movie & TV Show In Development
Source: ihasankazi/Instagram