Don't Look Up Photo: DiCaprio, Lawrence & Chalamet Go Grocery Shopping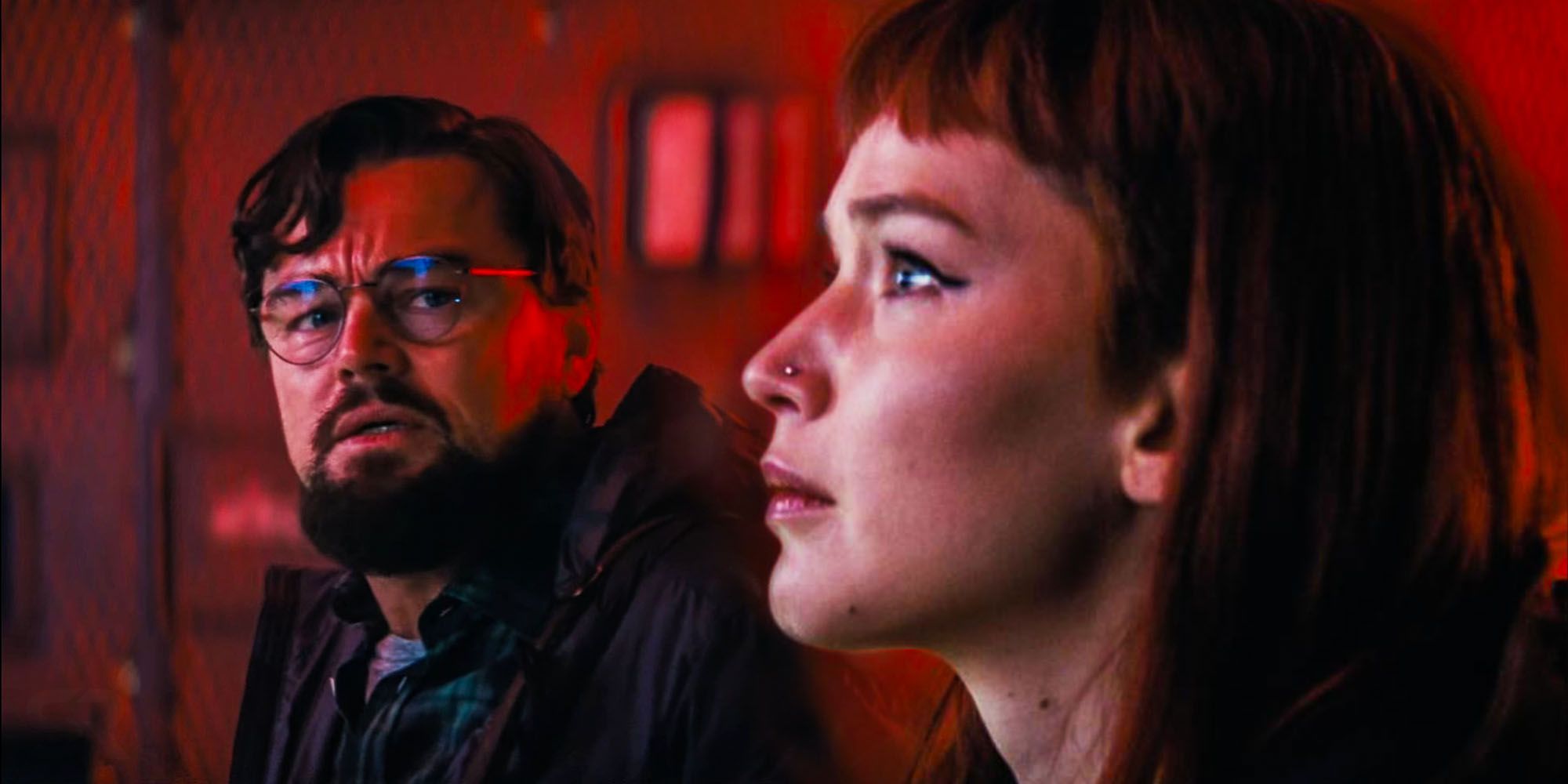 A new image from Don't Look Up shows Leonardo DiCaprio, Jennifer Lawrence, and Timothée Chalamet going grocery shopping. Don't Look Up is the new comedy from director Adam McKay, which follows a pair of astronomers who go on a media tour to warn the population about an impending comet that will destroy the planet. DiCaprio and Lawrence play the astronomers who have to convince Meryl Streep's US President, and the stacked supporting cast includes Jonah Hill, Mark Rylance, Cate Blanchett, Melanie Lynskey, Ron Perlman, Michael Chiklis, Tyler Perry, and Ariana Grande.
The Netflix-produced film is the first from McKay since 2018's controversial biopic Vice, starring Christian Bale as Dick Cheney. DiCaprio's last fiction film was Quentin Tarantino's Once Upon A Time In Hollywood in 2019, while Lawrence was last seen in 2019's X-Men: Dark Phoenix. Chalamet, meanwhile, has two movies currently in theaters: Denis Villeneuve's Dune and Wes Anderson's The French Dispatch.
Related: Every Real Life Figure Leonardo DiCaprio Has Played In Movies
USA Today has revealed a new image from Don't Look Up which features DiCaprio, Lawrence, and Chalamet wandering through a somewhat-messy grocery aisle. Both DiCaprio and Lawrence look mostly normal, if not unusually drab for two A-list actors, while Chalamet appears far more eccentric. The Dune actor is sporting long locks, a backwards cap, scarf, camo pants, and military style boots, all of which seem apt for his character, described as "an evangelical shoplifting skater punk." Take a look at the image below: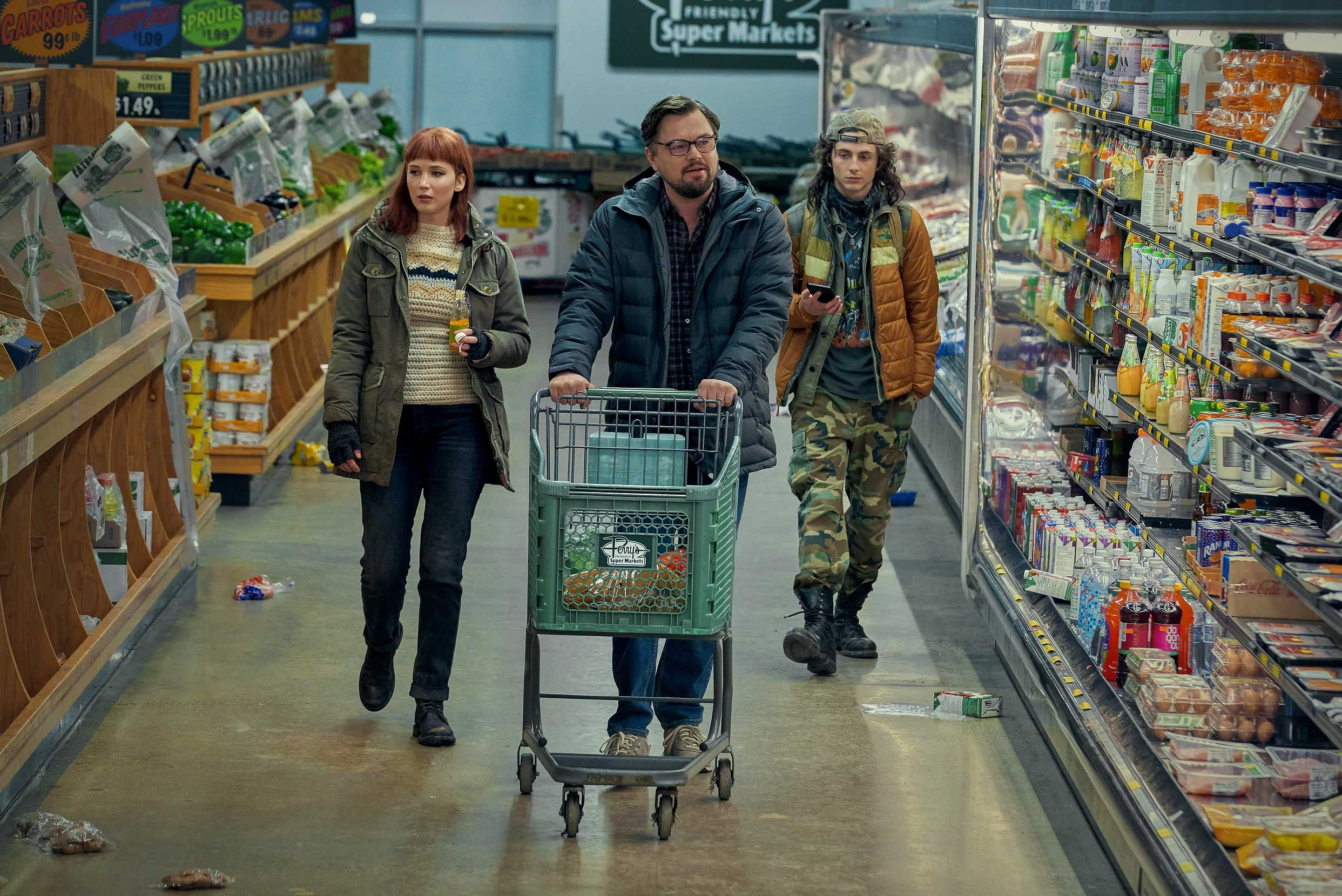 Don't Look Up is the first feature film to debut on Netflix for both DiCaprio and Lawrence, two stars who are normally top-billed for theatrical-only releases. Both actors are Oscar-winners whose names are mentioned with nearly every high-profile project that buzzes through Hollywood, and the limited release planned for Don't Look Up won't really take advantage of their box-office draw. DiCaprio was paid $30 million for his role in Don't Look Up, however, while Lawrence pulled in $25 million, a hefty payday for both which surely explains how they were drawn to the streaming service.
While Don't Look Up isn't a major spectacle-style film à la Roland Emmerich, the star-power alone makes it a can't-miss holiday release. DiCaprio and Lawrence are the prime draws, but McKay, who has directed a number of now-classic comedies such as Step Brothers and Anchorman: The Legend of Ron Burgundy, is also a strong reason for checking the film out - not to mention the excitement of gathering familiar faces like Streep, Hill, and Blanchett, an exciting young talent in Chalamet, and a genuine pop star in Grande together for a single film. So long as the story, execution and performances come together, Don't Look Up could be the comedy hit of the holidays.
Next: Timothee Chalamet's Willy Wonka Origin Must Avoid The Joker Obsession
Source: USA Today