DWTS: Melora Addresses Intense Rehearsal Fight & Passionate Ballroom Speech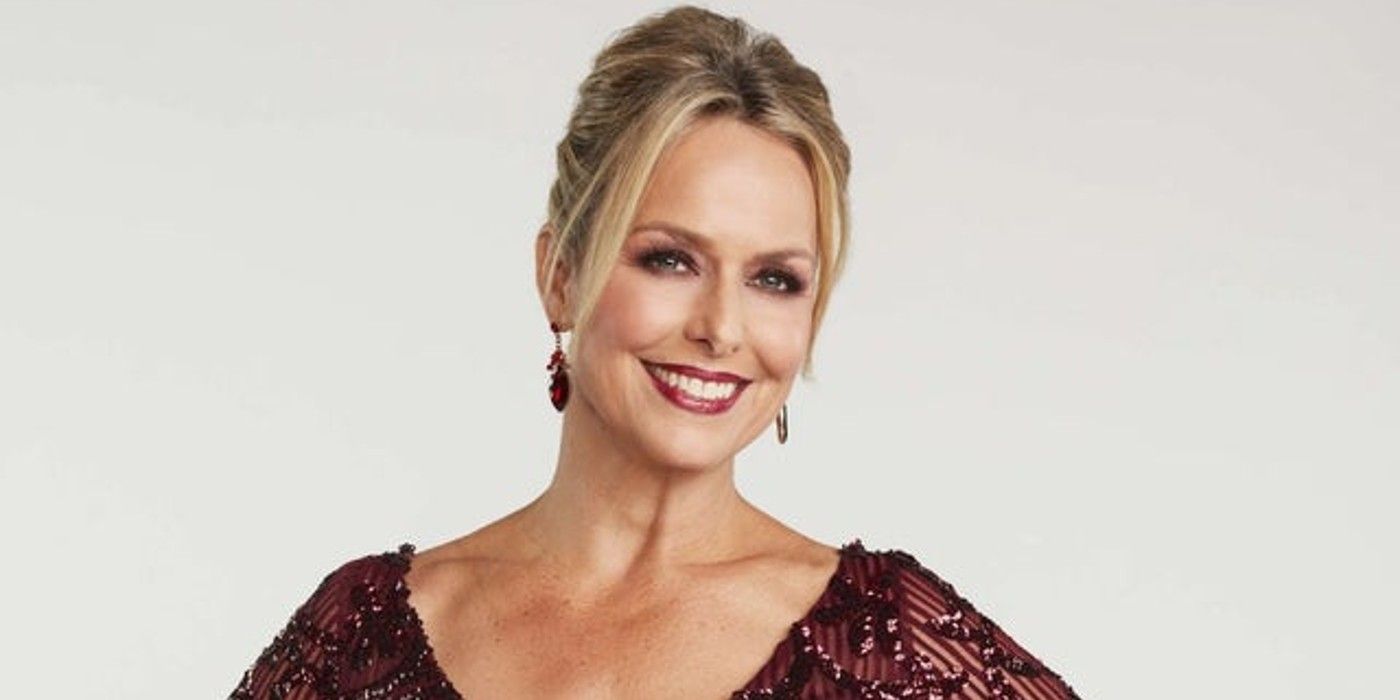 Melora Hardin is addressing her heated confrontation with Dancing With The Stars pro Artem Chigvintsev from this week's taped rehearsal. The duo performed a Paso Doble to Janet Jackson's "If" and finally earned a perfect score. Though their 40 out of 40 points and fan votes allowed the pair to continue to the semifinals, footage from their rehearsal showcased some trouble in paradise. In a package that aired before their performance, Melora could be seen yelling at Artem at the beginning of an Oscar-worthy fight.
In the argument, Melora admitted that she was exhausted physically from rehearsal, as well as emotionally with a double elimination taunting her. Artem, on the other hand, felt impatient with his celebrity partner, though he was doing everything he could to give Melora the reassurance she needed in the stressful competition. Nonetheless, the duo made amends quickly and came back with a stunning performance. Before the judges could reveal their scores, Melora took the moment to begin thanking each and every person that has been a part of her Dancing With The Stars journey. Like the Academy Awards' slow music, host Tyra Banks interrupted her speech to quickly get their scores before the commercial break.
Related: DWTS: JoJo & Jenna React To 'Not Sailing By' After Bottom Two Results
In a new interview with Melora shortly after she was announced as a Dancing With The Stars season 30 semifinalist, the actress told Screen Rant that her fight was authentic and important for viewers to experience at home. "Real relationships require negotiating and compromise and forgiveness, and sometimes there's tension and sometimes you have to find your way with each other," Melora said. "This is real life, and Dancing With The Stars is all-consuming when you're doing it." Though she's experienced a lot of stress with Artem's perfectionism, she understands there's no other option than to work through it in order to get the Mirrorball Trophy in two short weeks. On that note, Melora emphasized that Artem is still a great collaborator, and they've built an authentic friendship on top of their working relationship. "I'm not making up a bunch of crap on this show. You're getting Melora," she said. Artem agreed and admitted that their tiffs only bring them closer.
As for her long speech after her ballroom performance, Melora admitted that she felt like Monday night could have been her last in the competition. "I just felt that it was naive to not consider that it was a real possibility," Melora said. Calling the experience "liberating," Melora was forced to live in the present moment and made the speech in order to feel complete in case she was sent home. If Melora ended up in the bottom two, the actress admitted she would have been fine with it. "It was a beautiful night for me. To be honest, I would have been okay going home tonight," Melora said. "I'm really, really happy that I didn't because I really have something really special that we're going to do next week. I want to go to the end, but I'm good. This has been an incredible experience."
Melora is a trooper and showing America what it's really like to be thrown into a high-strung competition. Furthermore, she's breaking previously set boundaries on Dancing With The Stars and proving that women of a certain age can still learn how to dance and find success in the competition. Melora's dances are stunning week after week, and she deserves the Mirrorball Trophy in two short weeks.
Next: Sasha Farber Claims This Week Was The Hardest Week Of His DWTS Career
Dancing With The Stars airs Mondays at 8 p.m. EST on ABC.
Source: Dancing With The Stars/YouTube