GTA Trilogy Player Gets Busted When Cop Grabs Him Midair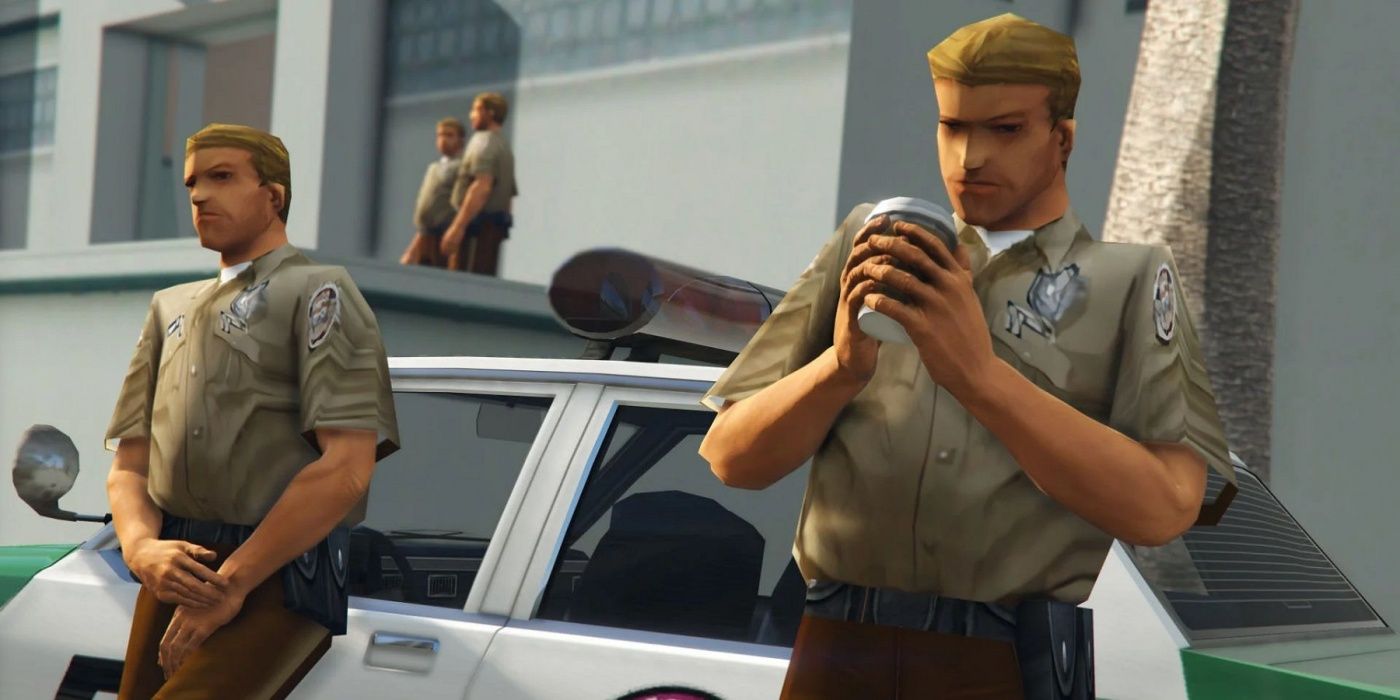 A Vice City police officer in Grand Theft Auto: The Trilogy - Definitive Edition recently busted a player while their character was hovering in midair. Rockstar Games and publisher Take-Two Interactive launched the remastered collection of classic GTA titles earlier this month. To the dismay of many a player, each game boasts myriad issues that range from graphical glitches and performance hiccups to the strangest of gameplay bugs.
The studio behind the remasters, Grove Street Games, remains hard at work on addressing the problems currently plaguing GTA Trilogy. But the damage is already done to a degree, with some industry pundits and players even likening this particular disastrous launch to that of Cyberpunk 2077 in December 2020. There does exists somewhat of a silver lining, though, given the sheer number of hilarious glitches that have resulted in equally hilarious gameplay videos. One recent oddity, in fact, involves an overachieving Vice City cop.
Related: Grove Street Games CEO "Enjoying" GTA Trilogy Scrutiny
GTA Trilogy's various bugs occasionally result in unfortunate circumstances for players, as demonstrated in a gameplay clip from Reddit user UndeadWarrior25. The Redditor shared a short video that begins with Vice City protagonist Tommy Vercetti speeding down the street on a motorcycle. In one wrong move, the player accidentally bails on their bike after colliding with a street curb. Instead of offering a helping hand, one of Vice City's finest busts Tommy for reasons unknown. Worse still, the officer stops the character midair while he's falling from the motorcycle accident. Check out the amusing scene in the clip featured below:
This seems a comedy of errors started by a player's simple mistake, then exacerbated by an overeager police officer whose response was no doubt influenced by yet another of the GTA Trilogy's in-game glitches. Countless other users have likely run into similar issues since the collection's release last week.
Supposedly, Rockstar Games may also consider remastering the original Red Dead Redemption, according to unsubstantiated reporting out of reputable sources such as Kotaku. Should the seminal open-world title actually receive the remaster treatment, here's to hoping it fares far better than its GTA Trilogy counterpart. It wouldn't need as much of a facelift in terms of graphical enhancements, though, allowing it to avoid the awkward character models on display in the Grand Theft Auto collection.
Next: GTA Trilogy Definitive Edition Memes Mock New Graphics
Grand Theft Auto: The Trilogy - Definitive Edition is out now on Nintendo Switch, PC, PS4, PS5, Xbox One, and Xbox Series X|S platforms; it hits Android and iOS in 2022.
Source: UndeadWarrior25/Reddit