Iko Uwais: The Martial Artist's Movies Ranked, Worst To Best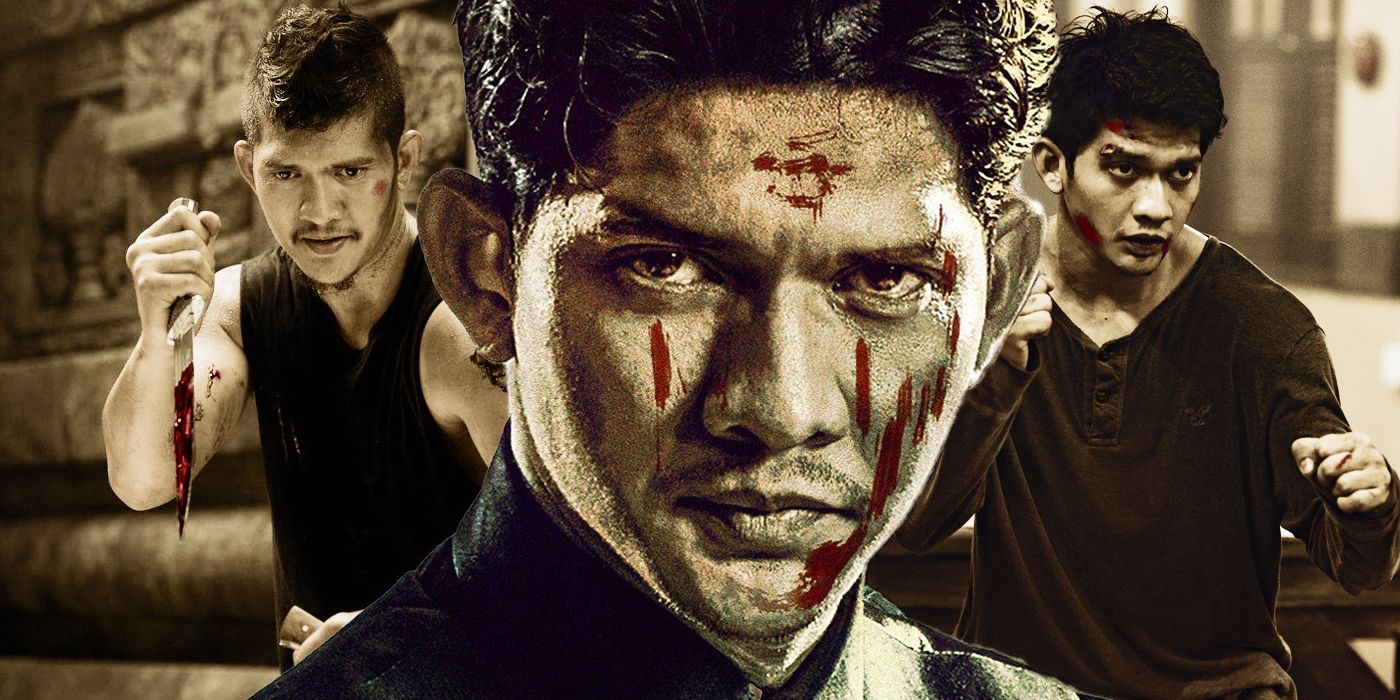 How do the movies of Iko Uwais rank, from worst to best? In the last decade or so, Indonesia has risen to become one of the epicenters of modern martial arts films, and Iko Uwais is one of the nation's most well-known action stars. A practitioner of Pencak Silat, Uwais first gained attention with 2009's Merantau before helping to change the entire landscape of action movies with 2012's The Raid: Redemption and its 2014 follow-up The Raid 2. Since then, Uwais hasn't slowed down in wowing audiences with his screen presence and martial arts ability.
In more recent years, Uwais has made the leap to Hollywood productions and granted, he's been lamentably wasted in a couple of them. For all the strengths of Keanu Reeves' directorial debut Man of Tai Chi, Uwais' fight scene with Tiger Chen was far more minor than it should have been, and he was truly left by the wayside in Star Wars: The Force Awakens. Much better results have been seen in Uwais' roles in the sci-fi movie Beyond Skyline and the action ensemble Triple Threat, with Uwais even going on to anchor the Netflix supernatural martial arts series Wu Assassins.
RELATED: Bruce Lee's Jeet Kune Do Explained (& Why It's So Different)
Nonetheless, Uwais has yet to be the leading man in a less-than-terrific martial arts flick, and even in supporting roles, he consistently elevates the movie's he's in. Uwais is also equally electrifying in villain roles, a fact not lost on the makers of The Expendables 4, and the kinds of action scenes he's capable of delivering are what martial arts fans dream of. Here is a rundown of Iko Uwais' movies, from worst to best.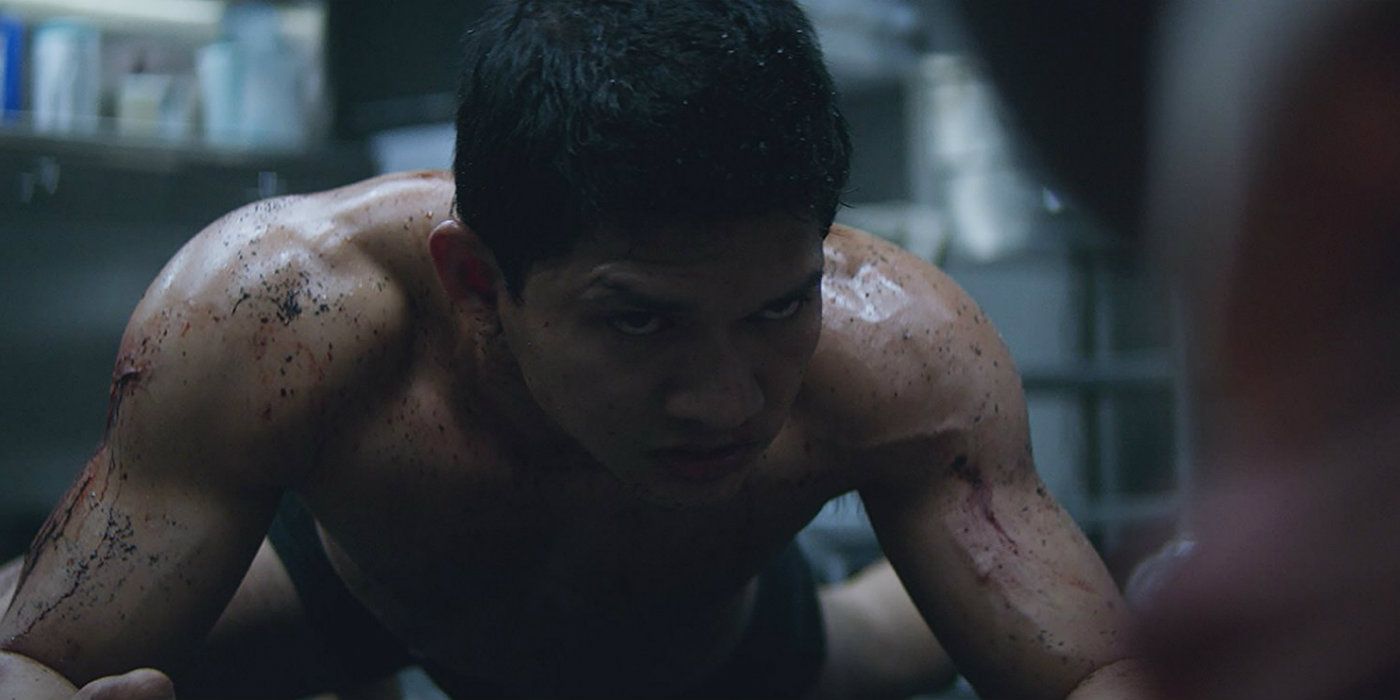 Arriving late in the summer of 2018, Mile 22 is a case of an overseas action star being not being utilized to his full capability who nevertheless also makes the film he's in substantially better than it would have been without him, not unlike Donnie Yen's early days in Hollywood. Mile 22 star Mark Wahlberg as CIA agent James Silva, whose team is tasked who transporting Uwais' Li Noor 22 miles to an airport to allow him to pass on information on secret activities by his government. Director Peter Berg keeps the action moving swiftly, but Uwais' fight scenes are filmed with the same choppiness and shaky cam of the rest of the movie - a far cry from the outstanding action scenes he's done elsewhere, and, frankly, that Berg has too (i.e. The Rock versus Ernie Reyes Jr. in The Rundown).
That's also sadly more than can be said for the horrendously underutilized Ronda Rousey as Silva's partner Sam. Mile 22 was the intended first part of a series, though there doesn't seem to be any forward momentum on that front. Despite lots of potential, some decent if choppy fight scenes, and a splendid twist in its closing moments, Mile 22 is the weakest Iko Uwais movie, with the energy he brings to the film only showing how much stronger it could have been.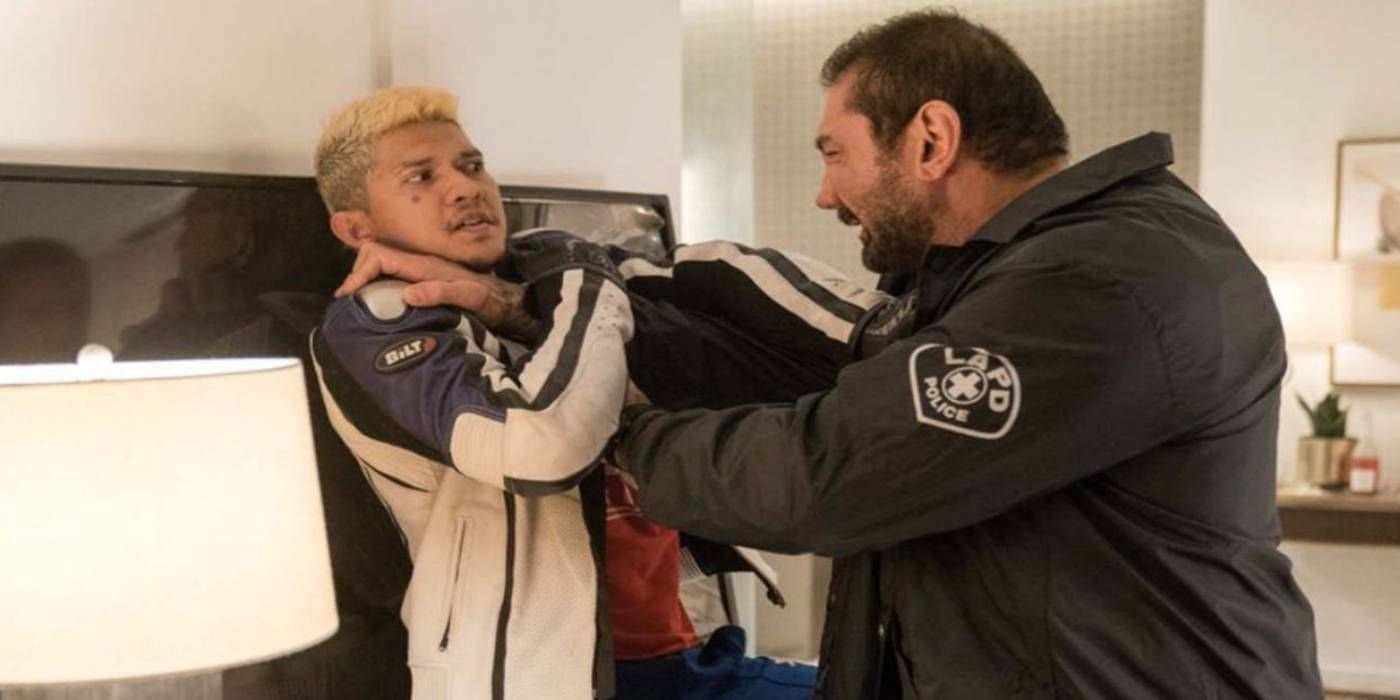 A rather minor footnote in the career of Iko Uwais, Stuber is a serviceable buddy cop revenge romp. Dave Bautista portrays LAPD cop Vic Manning, who pursues a vendetta against his partner's killer, crime boss Oka Tedjo, played by Uwais. The catch is that Vic has recently undergone laser eye surgery, leaving him temporarily visually impaired and forcing him to pull Kumail Nanjiani's Stu Prasad into the mix as his Uber, or rather "Stuber," as Stu has nicknamed himself on the Uber beat.
Bautista ventured into more dramatic territory with Army of the Dead and his admittedly minor role in Denis Villeneuve's Dune. However, his knack for physical comedy shouldn't be overlooked either, as he shows himself to be surprisingly adept at the Mr. Magoo-inspired blind hijinks that the script calls upon him to perform. As a comedy of the pairing of two opposites, Stuber gets the job done in Bautista's buddy-movie banter with Kumail. Uwais's appearance is relatively minor, which could theoretically have been due to scheduling overlaps, and the movie gets some decent mileage out of his martial arts abilities without being anything too spectacular. Stuber's strongest asset is the buddy comedy banter between Bautista and Nanjiani, but fans of Uwais might still want to give it a look for his action scenes.
RELATED: Ip Man: The Martial Arts Movie Series Ranked Worst To Best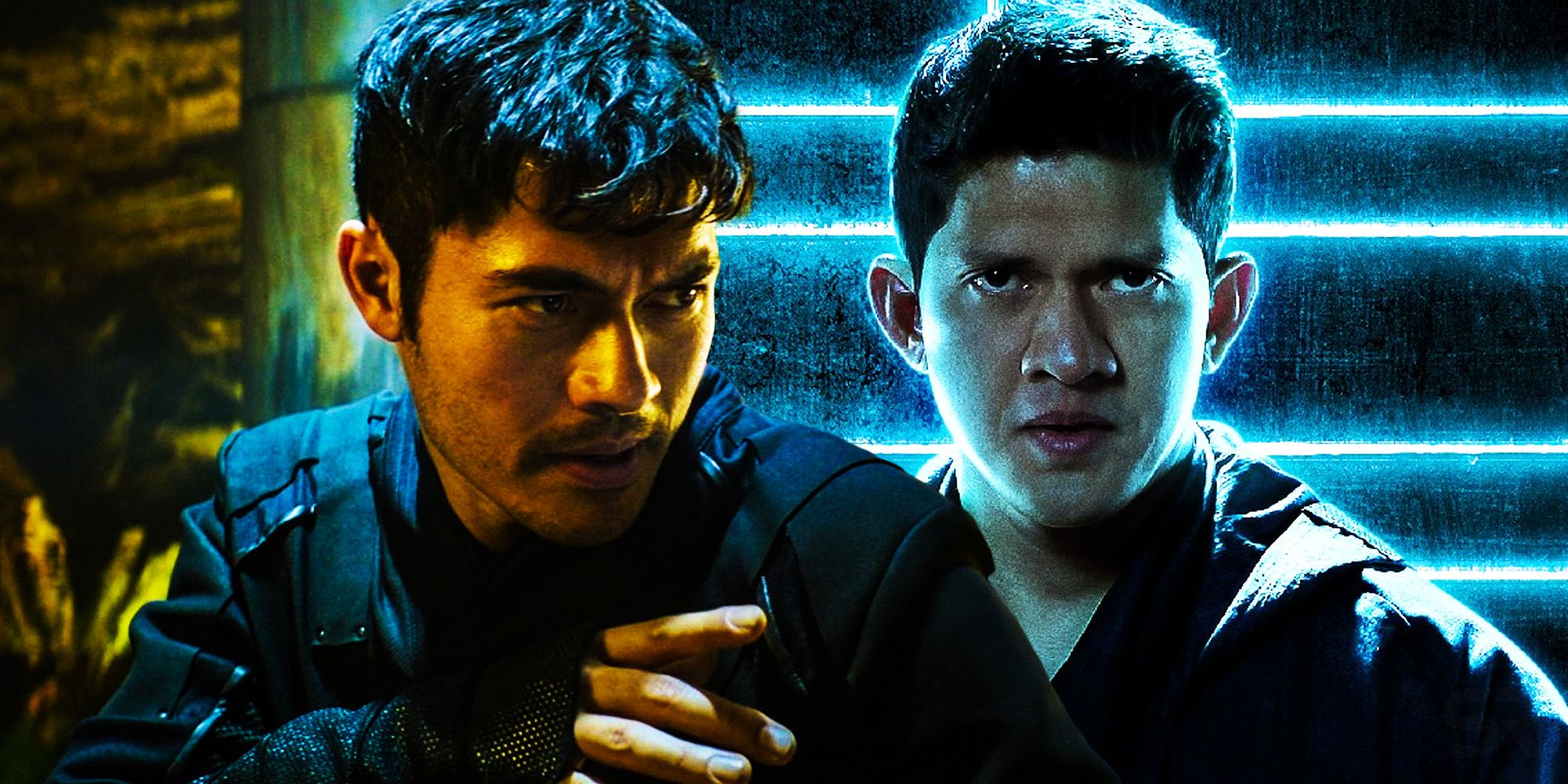 Uwais took on his first mentor role in Snake Eyes: G.I. Joe Origins, and while the reboot has a lot going for it, a few choices hold it back from matching the modern ninja movie bar established by the Ninja films anchored by Scott Adkins. Henry Golding portrays an underground fighter known only as Snake Eyes, who saves the life of Thomas Arashikage (Andrew Koji) during a confrontation with a rival gang. Snake Eyes is rewarded with the chance to join Thomas in the Arashikage ninja clan, while he has his own agenda on his mind about avenging the murder of his father. Golding and Koji are both excellent in their roles as friends fated to become enemies, Koji in particular giving a true star-making performance after first breaking out on the martial arts Western series Warrior. Iko Uwais, also gets to channel a wise Ninjutsu mentor as the Arashikage trainer Hard Master, and steals some of the best moments in the movie's fight and training sequences, with Snake Eyes solidifying Uwais as a martial arts movie legend. The one-on-one with Snake Eyes and Hard Master is arguably the best training scene in the movie, Snake Eyes tasked with snatching a rice bowl full of water from Hard Master without spilling any water, and being reminded that humility is just as important in martial arts as combat precision.
Unfortunately, Snake Eyes also is wounded by the use shaky cam and fast editing. The good news is that it doesn't reach Bourne Identity-levels of incomprehensibility in Snake Eyes, with the movie's action scenes being just clear enough to follow. Still, no ninja movie, least of all a Snake Eyes origin story, should have to contend with the effects of shaky cam at all. Snake Eyes has all the trappings of what audiences love about ninja movies, an origin story for one of G.I. Joe's most popular characters, and teases for the Joes themselves. While its shaky cam unfortunately takes it off-course from hitting a perfect bull's eye, the performances of Golding and Koji make it still worth checking out, along with seeing Iko Uwais in a wise mentor role for the first time.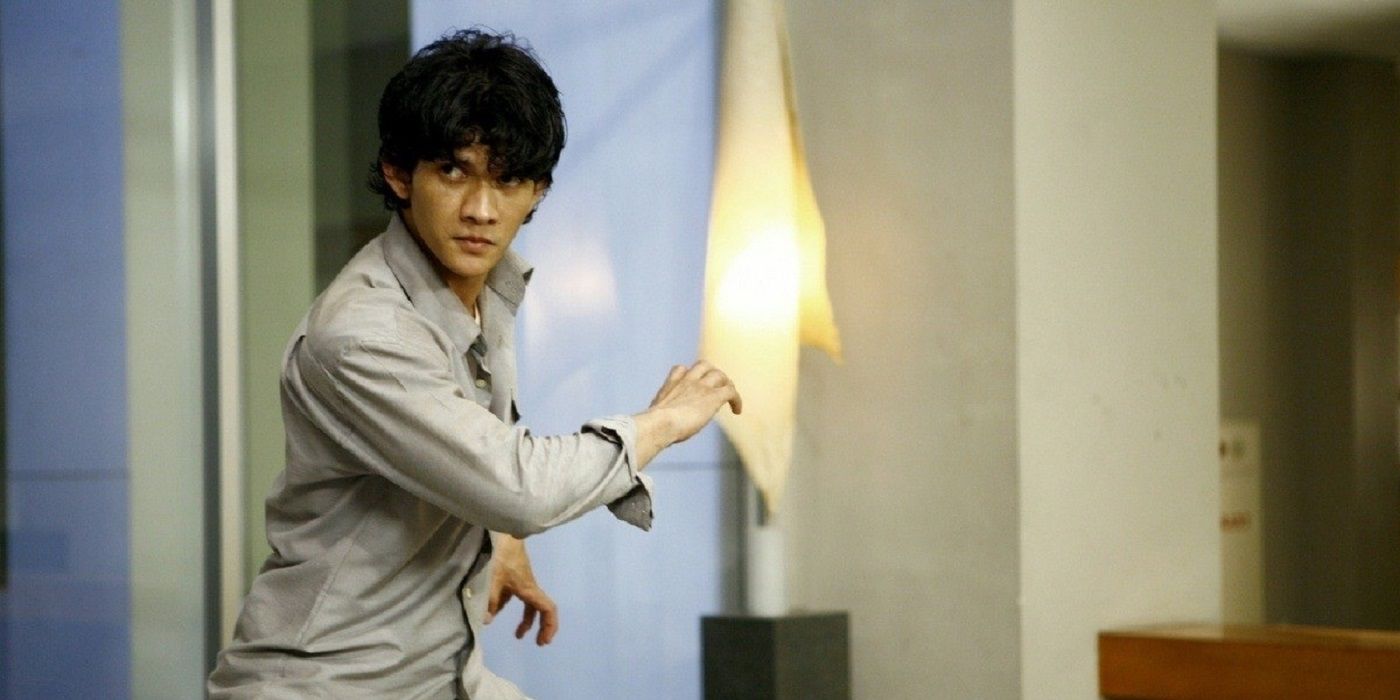 The film debut of Iko Uwais, Merantau is also notable for being the big break Welsh-born filmmaker Gareth Evans, and it foretold great things to come for both of them. Uwais portrays Yuda, a young villager and Silat practitioner sent to Jakarta on a pilgrimage known as "merantau," and soon finds himself trying to rescue Sisca Jessica's Astri and her young brother Adit, played by Yusuf Aulia, from human traffickers. For being a first timer in a movie, Uwais carries Merantau impressively as a genuine, Jackie Chan-like underdog in over his head and a warrior as soon as the situation calls upon him to be. The same is also true for Evans, whose talent as an action filmmaker was beyond undeniable long before he and Uwais took the world by storm with The Raid films.
Yayan Ruhian also appears in the more innocent (for him) role of Erik, he and Uwais facing off in an elevator fight that Captain America: The Winter Soldier would be proud of. The Silat action of the film is astonishing from start to finish, with Evans and Uwais delivering an emotional punch in the face after the latter's final battle with Mads Koudal and Laurent Bousan's big bads. With Merantau, Uwais and Evans were overnight heavy hitters in the world of martial arts films, and needless to say, it only got better for both of them from there.
RELATED: Why Jackie Chan Turned Down Hong Kong's Biggest Kung Fu Studio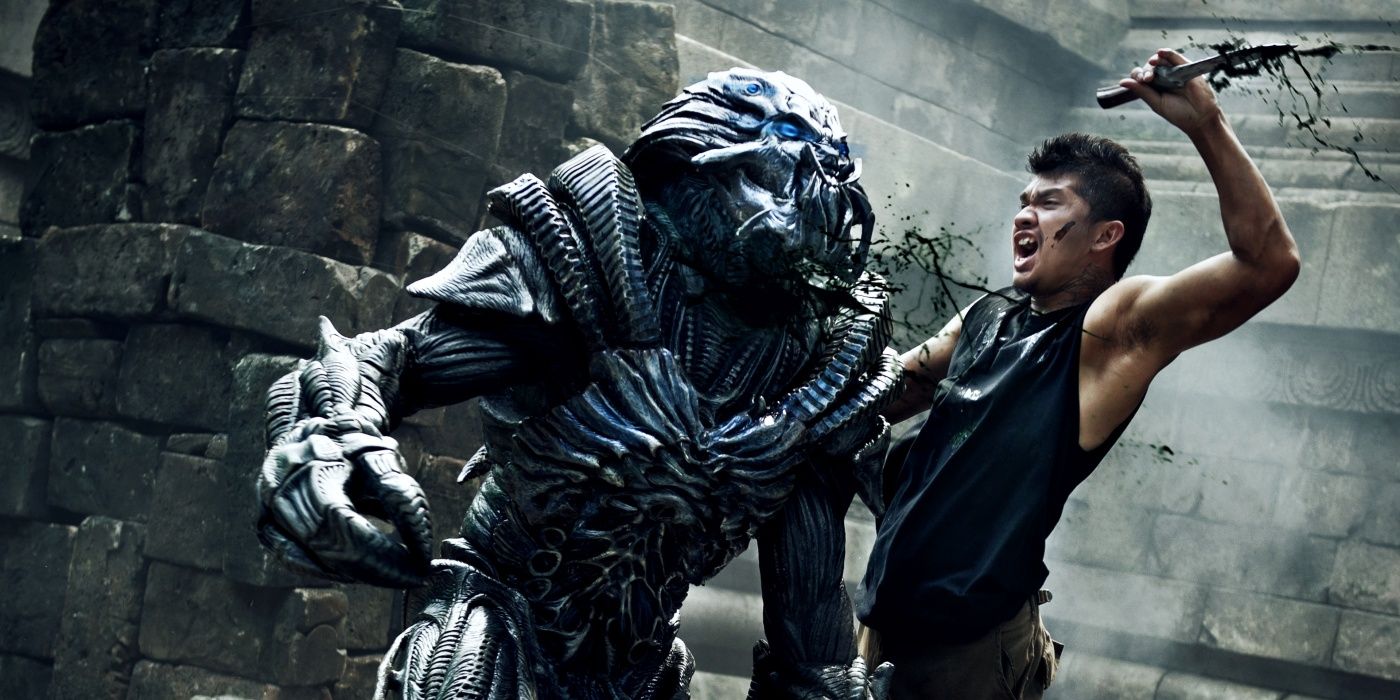 Writer-director Liam O'Donnell rewrote the rule book on alien invasion movies with Beyond Skyline, injecting martial arts into an Independence Day-scale extraterrestrial conquest and birthing what is now a thriving sci-fi action series. Taking place concurrently with the original Skyline, Beyond Skyline brings together a new collection of human survivors, including Frank Grillo's Mark Corley and Uwais' Sua, who make a last stand against the invading aliens in the jungles of Laos. Beyond Skyline breathed new life into what had been a dormant story after Skyline's cliffhanger ending to its almost found footage-esque story, giving a much earlier glimpse into the invaders transplanting human brains into the bodies of mechanized alien warriors, codenamed "pilots". The film also cleverly holds off on the entry of Uwais and his co-star from The Raid movies Yayan Ruhian until midway through.
The final showdown of human versus aliens in an ancient temple is the kind of thing action and sci-fi fans didn't know they needed, visually encapsulating O'Donnell's melding of genres literally worlds apart into one seriously fun popcorn flick. The series continued in 2020 with Skylines, admittedly sans Uwais and Grillo, though Ruhian returned in an eye-catching cameo. Hopefully, Skyline 4 can bring the whole band back together, and the fact that that's even a possibility comes down to Beyond Skyline turning the Skyline sci-fi movie series into the best ongoing alien-movie franchise the world currently has.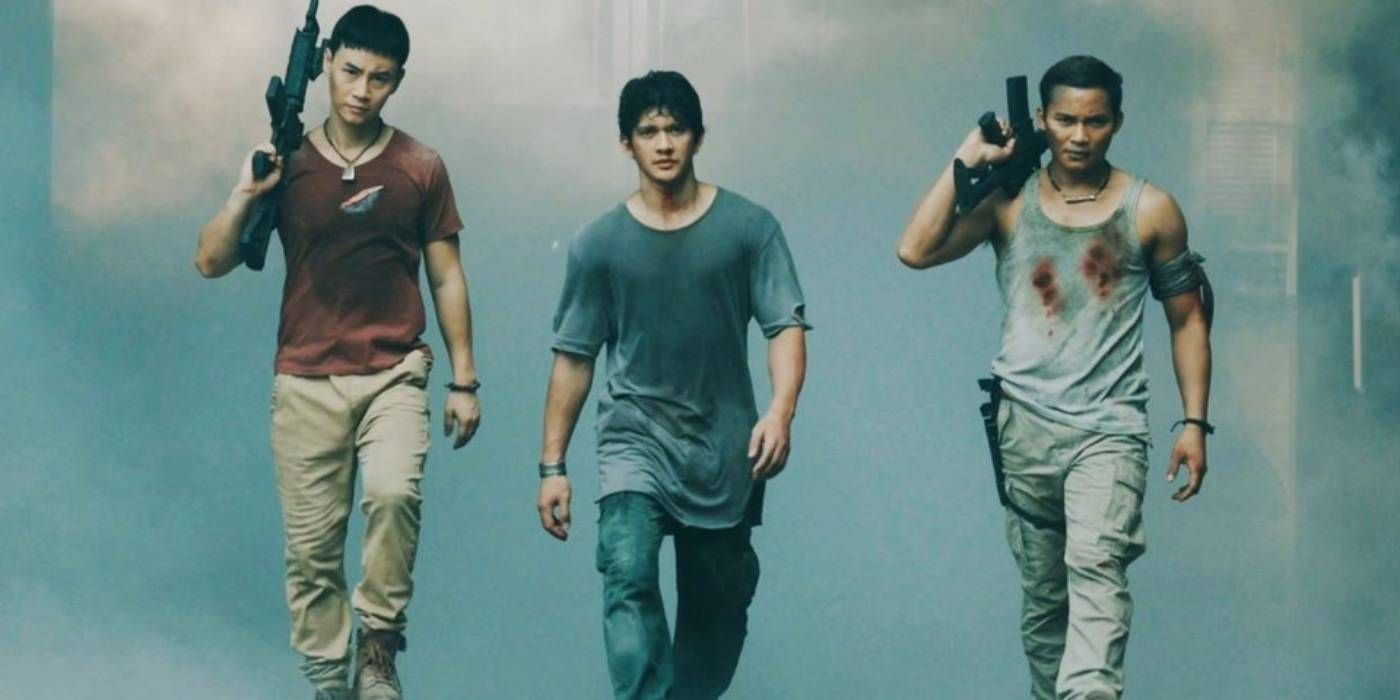 Directed by stunt veteran Jesse Johnson, Triple Threat takes a page out of the playbook of The Expendables, assembling an ensemble of some of the most amazing martial artists in modern action movies, with Uwais appearing alongside Tony Jaa, Tiger Chen, Scott Adkins, Michael Jai White, Jeeja Yanin, Michael Bisping, and Ron Smoorenburg. Uwais portrays Jaka, a young man on a mission of vengeance after his wife is killed when a mercenary team assaults his village to free their imprisoned leader Collins, played by Adkins (stepping into big bad territory after his role as Jason Statham's adversary in The Expendables 2). He soon comes to learn that their former team members Payu and Long Fei, played by Jaa and Chen, are also out to bring them down in their efforts to take out Celina Jade's wealthy anti-crime benefactor Xiao Xian, leading the three to join forces.
Originating from a concept developed by Tiger Chen, Triple Threat is an incredibly economical action movie, only intermittently pausing to catch its breath in the full knowledge of what its audience is there to see. Within the titular trio of heroes, Uwais' Jaka is the clear brains of the operation, manipulating his enemies like pawns on a chessboard, only the prodding of suspicious Devereaux, played by Adkins' Undisputed 2 co-star Michael Jai White, threatening to expose his intentions. The movie also rectifies the aforementioned blemish of Man of Tai Chi, letting Uwais and Chen go toe-to-toe in a Muay Thai ring. The monumental final smackdown in an abandoned building would've been a great curtain closer in any scenario, but the build-up it's given from the movie's accelerated pace only makes it that much more of a martial arts-driven rush. Triple Threat 2? Make it happen!
RELATED: What To Expect From Wu Assassins: Fistful Of Vengeance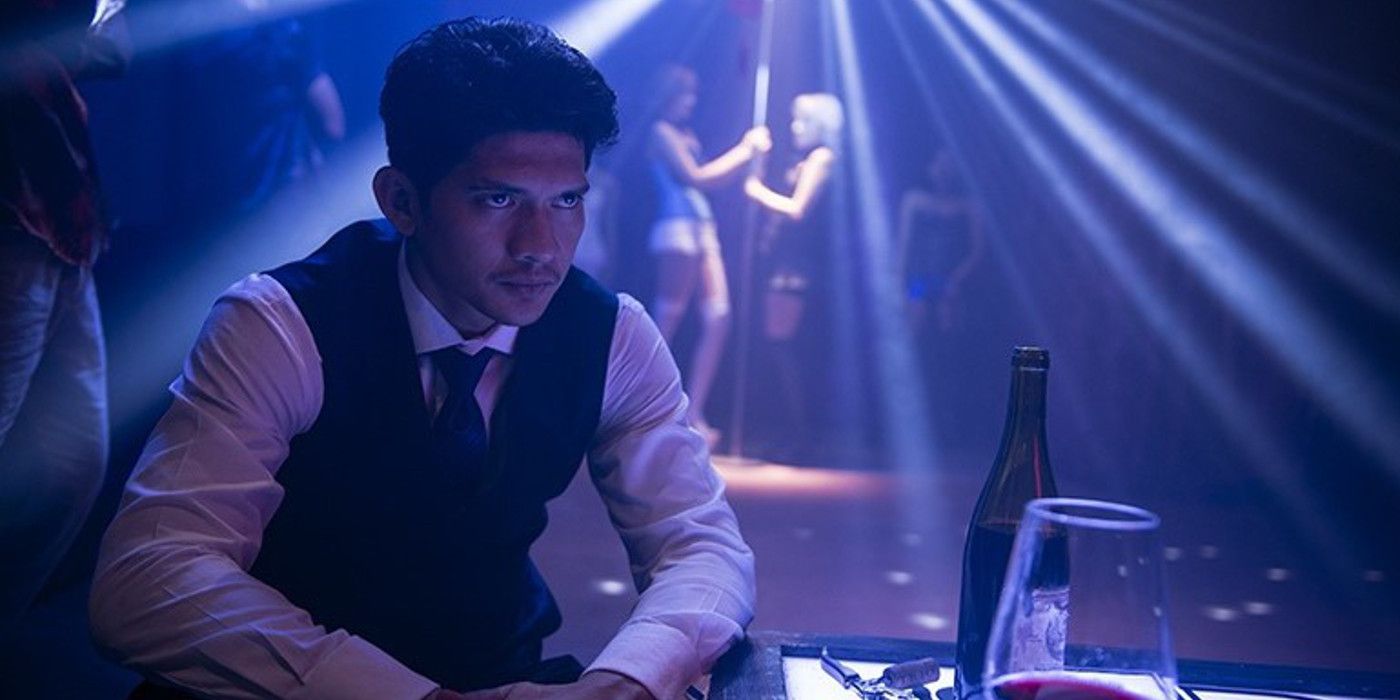 Just getting a movie off into the take-off phase can sometimes be a tumultuous battle, and Timo Tjahjanto's The Night Comes For Us spent several years struggling to get out of pre-production and in front of the cameras, with his efforts paying off in spades. In The Night Comes For Us, the anti-hero protagonist Ito is played by Judo champion and Sub-Zero actor Joe Taslim, a conflicted enforcer for the Six Seas gang. Ito finds himself protecting a young girl named Reina, played by Asha Kenyeri Bermudez, and pursued by his old ally Arian, played by Uwais, who hopes to rise to the top of the gang by capturing his one-time friend. Uwais is clearly having fun in his first full-fledged opportunity to show what he can do as a villain, while Taslim's Ito is appropriately sympathetic even though he's clearly got plenty of blood on his hands.
Coming from horror films, Tjahjanto didn't exercise the slightest restraint in The Night Comes For Us, which is enough of a bloodbath to make The Raid movies look like Dora the Explorer. The film's action scenes are intensely visceral displays of bodies being beaten to a pulp and torn to shreds, with Ito and Arian's final confrontation being one of Uwais and Taslim's best battles. Furthermore, a spin-off focused The Operator, the film's shadowy female assassin played by Julie Estelle, could be the path forward for The Night Comes For Us to continue its story. As the real breakout character of the film, and after the movie's ambiguous final moments, it's hard not to be on board to follow The Operator in a solo The Night Comes For Us spin-off, something that Tjahjanto already has mapped out.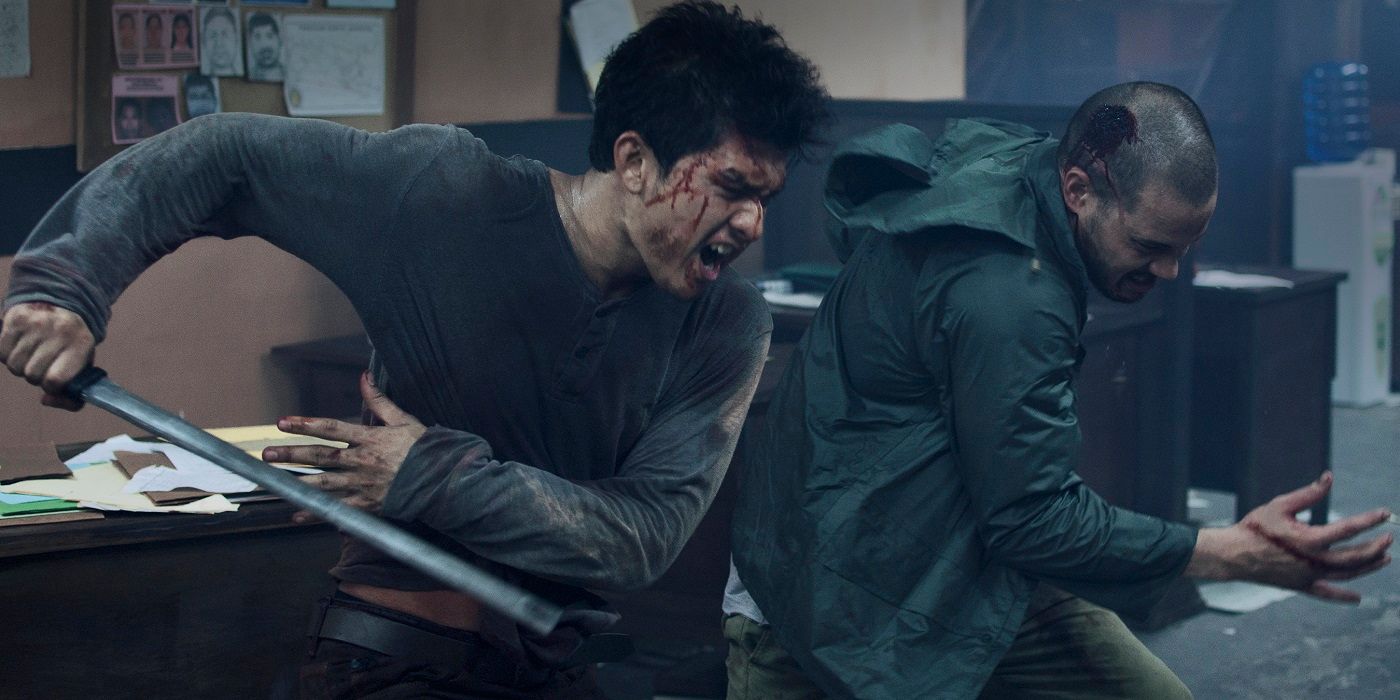 Timo Tjahjanto and Kimo Stamboel, collectively known as The Mo Brothers, directed Uwais in perhaps his most emotional film to date, along with one of his most unrelentingly harsh ones, Headshot. Uwais plays a young man who awakens in a hospital stricken with amnesia, going by the name "Ishmael" due to his doctor, Chelsea Islan's Dr. Ailin, flipping through the pages of Moby Dick. It soon becomes clear he was once a member of a criminal gang led by Sunny Pang's Lee. Like Jason Bourne's story in The Bourne Identity with the DNA of a horror movie, Headshot is brutal in physical and emotional terms, its fight scenes just getting more and more intense as the movie progresses while Ishmael grapples with the realization that Lee and his cohorts Rika and Besi, played by Julie Estelle and Very Tri Yulisman, literally see him as family.
The idea of an amnesiac killing machine isn't exactly a groundbreaking premise, but the Mo Brothers make Headshot into a true tearjerker in Ishmael's efforts to leave his old life of violence behind even as the vicious Lee tries to pull him back into it, with the entire theme captured marvelously in a single shot near the end of the movie. With the possible exception of Merantau, Headshot will make you cry more than any other Iko Uwais movie just as much as its thoroughly harsh martial arts fights absolutely astonish.
RELATED: John Wick: Every Action Star Who Should Be At The High Table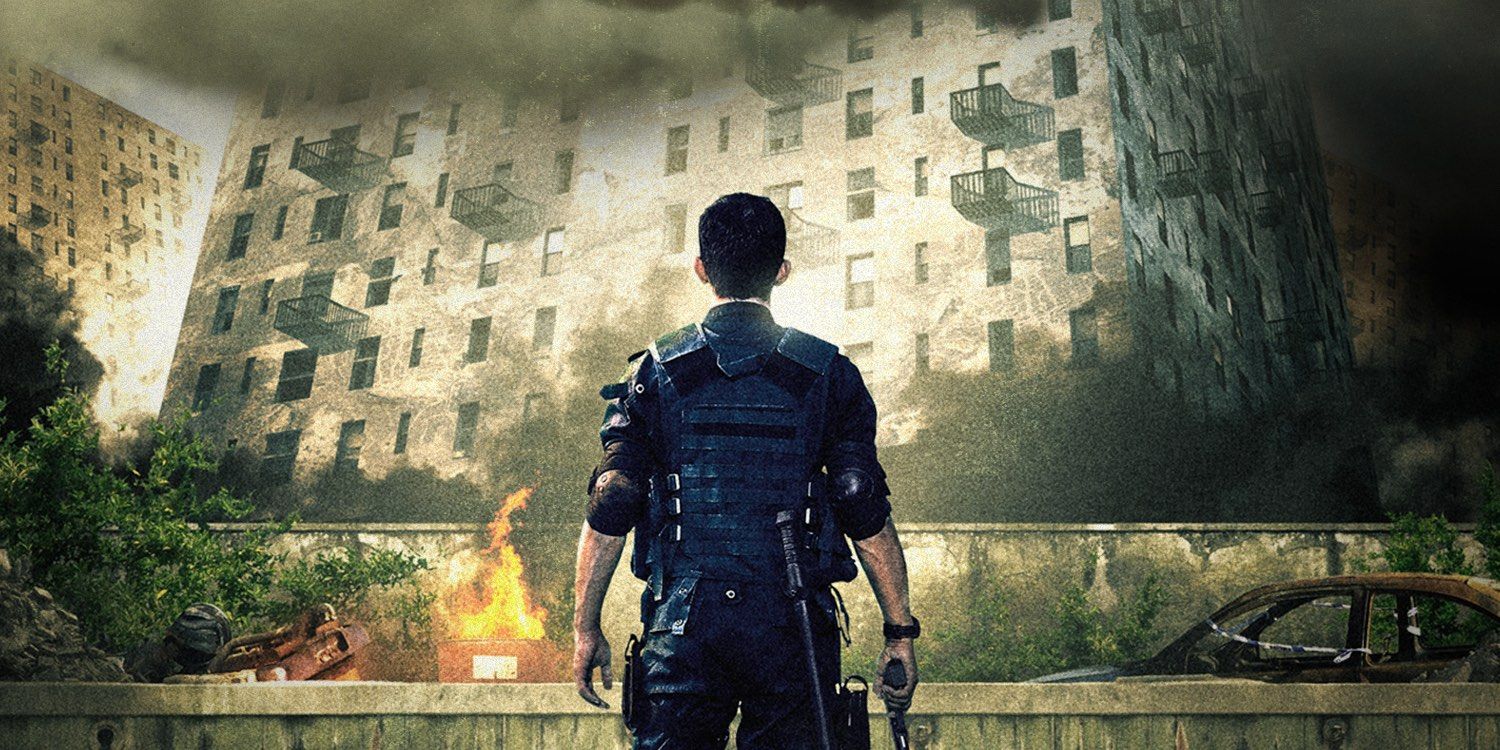 After breaking out with Merantau, Uwais reteamed with director Gareth Evans for 2012's The Raid: Redemption, and it's far from an overstatement to call it one of the best action movies ever made. Uwais portrays Rama, a young Jakarata cop whose unit invades a tenement building that's an insane asylum of the most vicious killers and criminals in the whole city. It isn't long before their cover is blown, leaving the surviving members of the team to fight for their lives while Rama tries to pull his estranged brother Andi, played by Donny Alamsyah, out from the life of crime he has left their family for. The Raid has often been likened to a survival horror movie, its action scenes chilling, blood-soaking battles of Rama and his allies just trying to not get slaughtered by psychopaths emerging from their apartments like ravenous zombies on the attack.
Uwais channels the same everyman warrior that he was in Merantau, though Yayan Ruhian all but steals the show as the ruthless Mad Dog, a name well-earned in his scorching smackdown with Rama and Andi. The Raid became the new yardstick by which martial arts films are measured, and it's still used as a template for imbuing action scenes with plenty of fight-or-flight grit. Even the superhero genre would begin looking to The Raid, as seen in fight scenes in Arrow, Daredevil, and Batman v Superman: Dawn of Justice. An immediate action classic was born with The Raid, its influence still strongly felt in martial arts films and shows like Warrior, which was originally conceived by Bruce Lee, but Evans and Uwais wasted no time in showing there was still more fuel in the franchise's tank.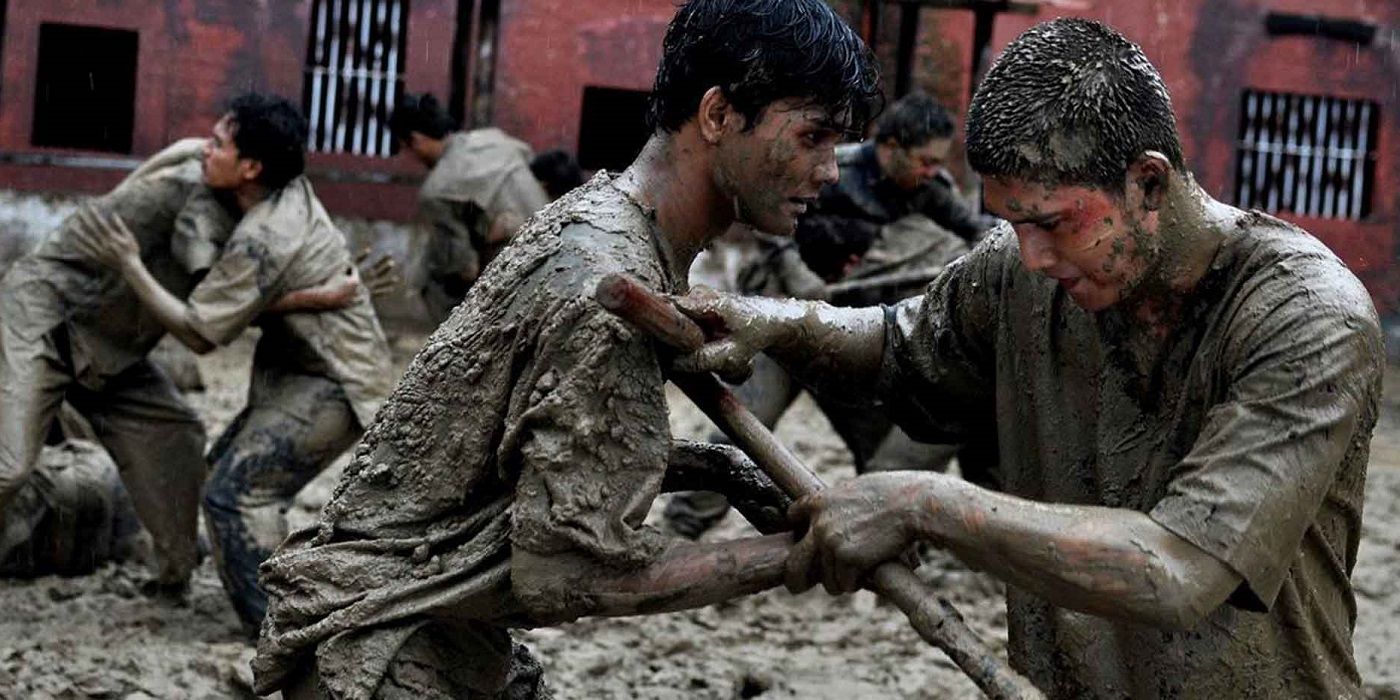 2014's The Raid 2 actually began life as a completely different project called Berandal that Gareth Evans was unable to secure financing for, leading him to instead make The Raid with Iko Uwais. Evans later hit upon the idea of reworking the Berandal script to make it a sequel to The Raid, and thus was born The Raid 2. Picking up after the ending of its predecessor, The Raid 2 follows Rama as he goes undercover in a prison to befriend Arifin Putra's Uco, the son of one of Jakarta's big crime bosses, in an effort bring down the crime families running the city.
Where The Raid was a survival horror movie, The Raid 2 is a crime film of warring criminal organizations in the vein of Goodfellas or The Godfather, Rama on an infiltration mission while Alex Abbad's up-and-coming gangster Bejo throws a wrench into everything with his plan to get the opposing crime families to wipe each other out in order to claim their territory. Despite its much longer run time of two and a half hours, The Raid 2 never feels slow, and its action scenes are arguably even better than its predecessor, from Rama fighting other prisoners in a bathroom stall to a car chase on the level of what Mad Max: Fury Road had to offer the following year.
The villains are like the pack that Mad Dog might've run with, including Very Tri Yulisman and Julie Estelle as Baseball Bat Man and Hammer Girl, along with Yayan Ruhian returning in the new role of the tiny but fearsome gang enforcer Prakoso. The movie's knife fight finale is also rivaled only by the Tak Sakaguchi-led assassin movie Re:Born, The Raid 2, like predecessor, saving its best part for last in Rama's kitchen battle with Cecep Arif Rahman's unnamed assassin, the latter making an amazing big-screen debut in his first movie, and who would later go on to battle Keanu Reeves alongside Ruhian in John Wick: Chapter 3 - Parabellum. The Raid 2 is built on the original's bar-raising impact to deliver both an intricate crime drama and another martial arts classic, and is easily the best Iko Uwais movie to date.
NEXT: Undisputed: The Martial Arts Movie Series Ranked Worst To Best