Pokémon Converse Shoes Feature Pikachu, Squirtle & More Gen 1 Classics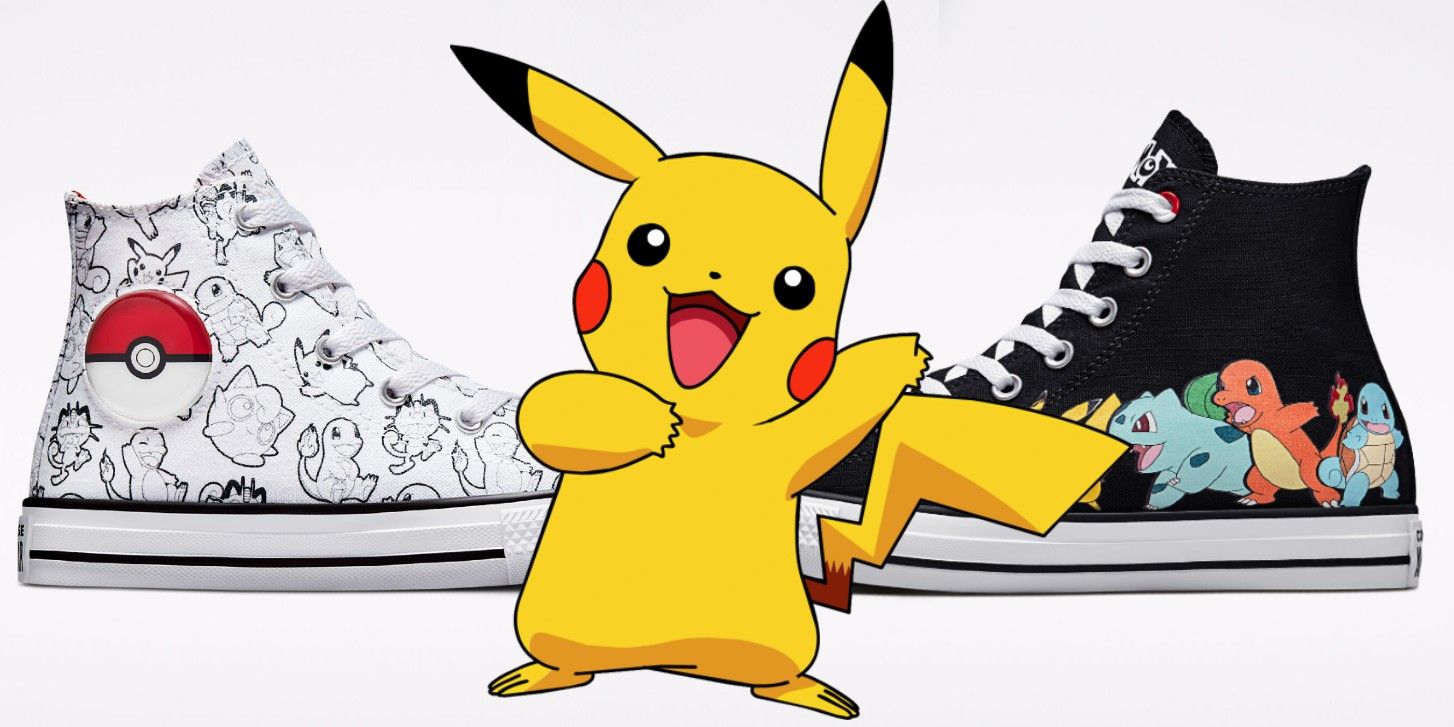 World-renowned shoe brand Converse has teamed up with Pokémon for an officially-licensed collection starring Generation One favorites including Pikachu and Squirtle. Available just in time for the holiday season, the latest Pokémon collaboration closes out the franchise's 25th-anniversary celebrations, which have included other big-name Pokémon partnerships including musical collaborations with stars such as Katy Perry and J. Balvin.
As one of the biggest and most recognizable franchises in the world, Pokémon merchandise is heavily associated with the brand, with fans able to get their hands on almost any Pokémon product imaginable. With nearly 900 pocket monsters in the roster, there's near-endless opportunities for merchandise, which doesn't just include typical items like plushies, but even Pokémon-shaped furniture. As well as having its own ranges, The Pokémon Company has previously teamed up with various famous beauty and fashion brands, offering themed make-up, clothing, and accessories. Brand collaborations have been so popular that they've even made their way into Pokémon games, with North Face x Gucci clothing available in Pokémon GO earlier this year.
Related: Pokémon's Gengar Is Now A Creepy Cozy Armchair
Images of the upcoming Pokémon collaboration were first shared to Twitter by PKMN_Style (via NintendoLife), before the full collection was revealed by Converse. The range includes a selection of unisex Chuck Taylors in various colors, with the classic Converse logo reimagined as the iconic red and white Pokéball. Featured pocket monsters include Pikachu, Meowth, Squirtle, and even Jigglypuff, with some designs also available for toddlers and kids. The shoe collection is rounded out with a small selection of licensed Pokémon clothing, including sweaters, a backpack, and cap. The full Pokémon and Converse range will be available online from December 12, at 10:00 CET.
See the post on Twitter here.
The Pokémon x Converse collection is likely to be a popular one, in part due to the diversity of the range, as well as the decision to star classic Generation One Pokémon. Fans have the option of colorful, unmissable designs, but can also opt for greys and whites with more subtle patterns. There's also a variety of different shoe styles to choose from, meaning any Pokémon fan is likely to find something to suit them. Those hoping to get their hands on any of the items might have a battle on their hands, with demand expected to be high in the run-up to Christmas.
Converse hasn't disclosed how much stock is available for their next collaboration, and with Pokémon being as popular as it is, this could be a problem. Not only is Pokémon currently celebrating its 25th-anniversary, but also the launch of the recently-released Pokémon Brilliant Diamond and Shining Pearl, making merchandise in high demand. 2021 has seen an increase in scalped goods including Pokémon cards, and while it's a good time to be a Pokémon fan thanks to a host of new merchandise releases, it's also getting harder and harder to acquire special edition Pokémon goods. Hopefully Converse will be able to keep up with demand when the collection drops next month.
Next: Why Older Pokémon Games Are Harder To Play
Source: PKMN_Style/Twitter, Converse (via NintendoLife)