RDR2's Lack of Freedom Compared To Fallout: New Vegas In Meme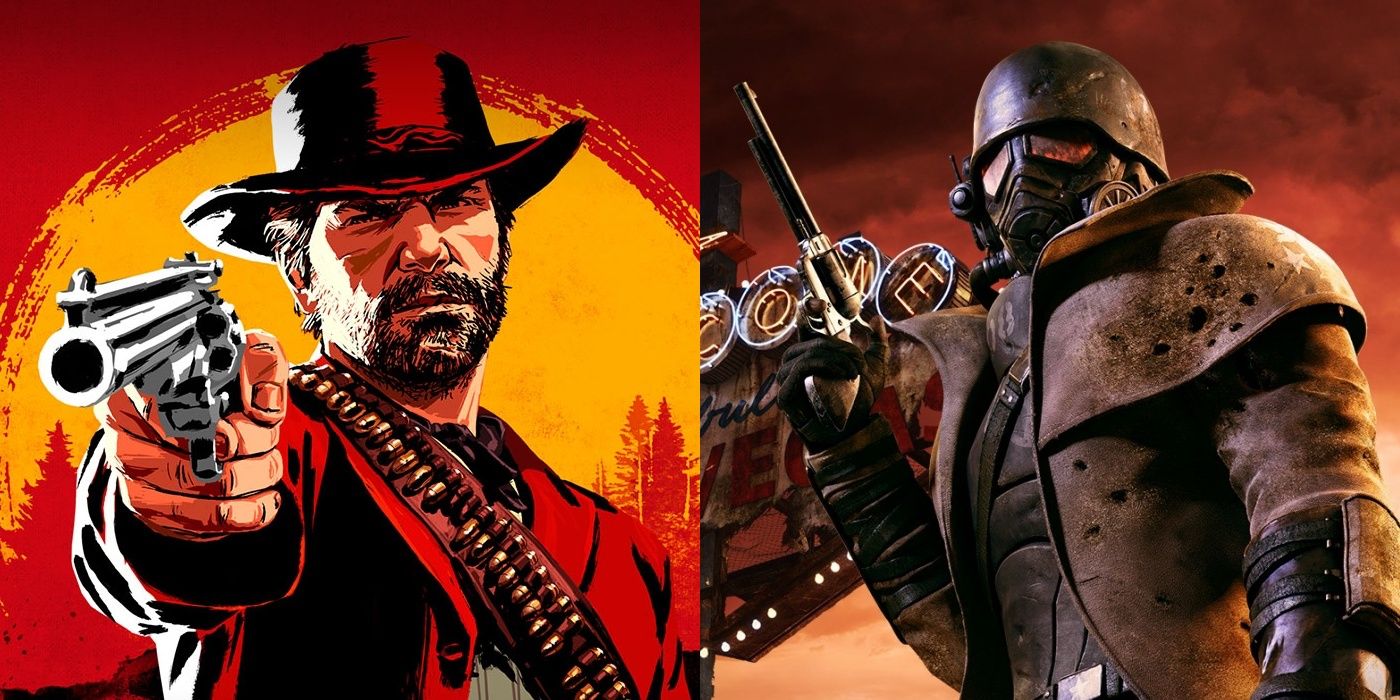 A popular meme from Reddit compares the absence of true freedom in Red Dead Redemption 2 to Fallout: New Vegas. As the king of open-world sandbox adventures, one would think Rockstar Games filled its titles with an over abundance of choice. But while RDR2's enormous open world allows players to roam freely and take part in many illicit in-game activities, the genuine sense of freedom and choice grinds to a halt during story missions.
Some story quests force protagonist Arthur Morgan down a mandatory golden path that users must follow lest the mission fails. More often than not, there exists very little room for creative solutions in Red Dead Redemption 2. If Rockstar wants a task completed in stealth, Arthur better make like a church mouse. In the event that a different objective calls for a seemingly needless firefight, the character has no other option but to engage as requested. Such constraints can put a damper on things, especially when considering how other open-world games such as Fallout: New Vegas handle player freedom in this regard.
Related: Red Dead Redemption 2 Art Imagines Van Der Linde Gang Old
Reddit user Savage_Aly87 recently posted a meme that compares Red Dead 2's lack of freedom to the multitude of options on display in the Obsidian Entertainment-developed Fallout: New Vegas. The meme mocks the Red Dead prequel's refusal to let players experiment on missions, with a line that reads, "You didn't follow the yellow line on the mini map? Mission failed!" However, New Vegas, the meme jokes, will let a user slay a town of people and feast on their remains.
As with most posts of this nature, the above Red Dead Redemption 2 vs. Fallout: New Vegas meme doesn't address its own argument's litany of nuances but it still cleverly gets the point across. And make no mistake, New Vegas is riddled with problems, as well. Killing may not raise too many red flags, though stealing a victim's items gets logged as theft. Plus, bad karma awaits for those who dispatch a lone faction member, even if their gang can't possibly know about the player's actions.
No open-world game is perfect, then. They all boast quirks that seem illogical in the grand scheme of things, but such is the nature of open-ended game design. Perhaps the continued advancements in technological power will someday allow developers to truly invest in the purest form of player freedom when it comes to the likes of Red Dead Redemption and Fallout: New Vegas.
Next: Red Dead Redemption 2 Video Shows Arthur Morgan Singing The Gummy Bear Song
Red Dead Redemption 2 is available on Google Stadia, PC, PlayStation, and Xbox platforms.
Source: Savage_Aly87/Reddit