Rhys Thomas Interview: Hawkeye | Screen Rant
Clint Barton (Jeremy Renner) will finally get his chance in the spotlight when Hawkeye premieres on Disney+ on November 24. The six-episode series follows the Avenger over the holidays as he meets young fan and fellow archer Kate Bishop (Hailee Steinfeld) and deals with the repercussions of his past as Ronin. The series takes inspiration from the Hawkeye comics by Matt Fraction and David Aja.
Related: Hawkeye Complete MCU Timeline Explained
Screen Rant spoke with Hawkeye director Rhys Thomas about the theme of the series, the villains, and how Rogers: The Musical came together.
Hawkeye is the last founding Avenger to get a solo story. And I want to know, going into this, what was the number one question that you wanted to answer coming into the show or goal you had for this series?
Rhys Thomas: Oh, that's good. I don't know if it was necessarily a goal, but I was just intrigued, I think like everyone else, I just wanted to know more. And again, I just loved this idea of this real guy that has dealt with so much and his superpower being kind of just who he is and nothing more. And seeing the toll that that's taken and seeing him maybe come to some peace or not - and can he? It felt like just an interesting opportunity for a character study. And then if it could be done in a slightly absurd way, then we're all the better for it.
Every single Marvel Disney+ show has had a completely different tone and I'm loving that. WandaVision was such a wonderful exploration of grief and Falcon and the Winter Soldier explored identity. What would you say the main theme of Hawkeye is?
Rhys Thomas: To me at least, and again I can only speak for me, it's kind of about the messiness of being a superhero, but of being a real person. It's almost existential to me. I don't have a short answer. I guess my summation in my head was a little bit... because you got these two characters kind of vying for two sides of Hawkeye. Clint has this identity as Hawkeye that everyone knows, but you know that maybe in Clint's mind, is he Hawkeye or is he Ronin? That's the question I feel like he probably lives with. Those are the two sides of where he came from and where he is going.

And then you've got someone who only sees him as Hawkeye. And so it's a little bit about him coming to understand, I think, what that means. And if he can come to terms with that, then maybe he can move on.
There are a bunch of different potential villains in this show and people that are revealed within the first couple of episodes. Is there a clear, big, bad in this show?
Rhys Thomas: I mean, I don't want to give anything away, but that's the fun of the show again. And the fun of having six episodes is that we kind of get to play with that. It gets to shift gears at different points and it'll have twists and turns. And so that's my general, safe Marvel answer.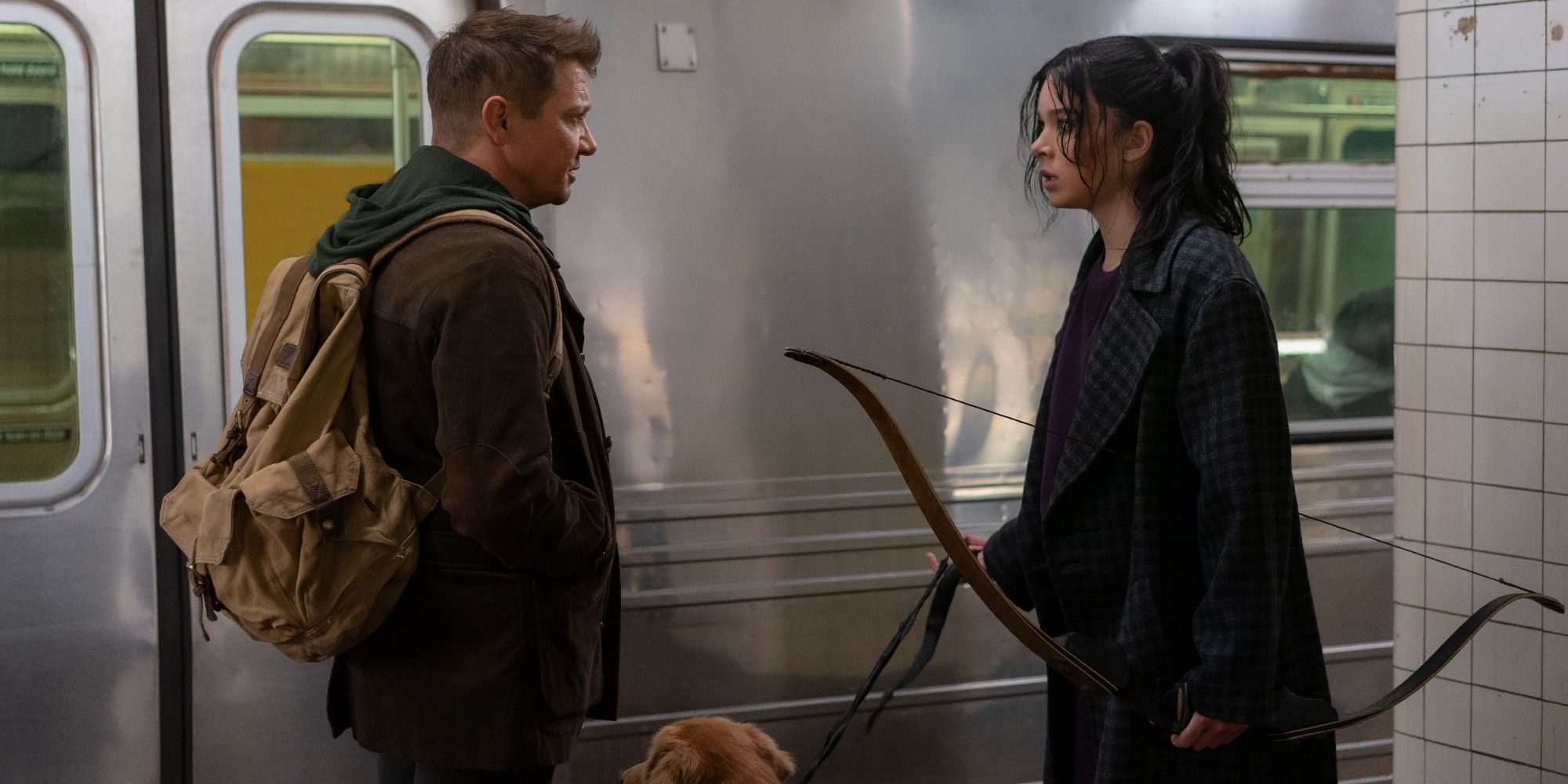 I want to ask you about Rogers: The Musical, which we get right off the bat. It was even better than I anticipated. I thought it was going to be so much fun in the trailer, but I just loved it. Is there enough to do an actual Rogers: The Musical and what went into that scene? Did I see Adam Pascal in there?
Rhys Thomas: Yeah. Yeah, no. It was Marc Shaiman and Scott Wittman. I got to work with them in conceiving it. It was a full theatrical production, which again, I pitched it innocently early on. It felt like a really amusing way to meet Clint. And then, yes, I kind of also tried quickly backtracking, because I suddenly, I was like, "Wait, what are you talking about? We got to write music and we got to stage it and build..." It's a whole thing.

And also, it's an MCU musical, so what are fans going to want? And so you sort of panic. But Kevin Feige really sort of took hold of it and wanted to do it and so there we were. Again, I wanted to treat it like a real Broadway production. So you bring in real Broadway performers and kind of go for it. I mean, my job was to try and keep that absurdity alive as well, which is why... that's my excuse for why it's not that good.
Oh, it's great. Please tell me there's an extended cut of that, that we could get at some point.
Rhys Thomas: Fingers crossed. I mean, we had great fun shooting it. Maybe everybody can petition Marvel and it can evolve.
Next: Hawkeye's Captain America Musical Answers Endgame Question
The first two episodes of Hawkeye will premiere November 24 on Disney+.